For the third year in a row, Google hosted its "anywhere school" event to reveal new products, updates, and features that will be released during the 2022-23 school year.
The fact that Google has this event on the calendar is an indication that it really does listen to its education customers and is eager to share new features to improve teaching and learning.
Back in the day, Google used to randomly drop new features and updates without any warning. This happened to me in 2010 when I took my students to the computer lab to work on a Google Drive project and discovered that the entire product had a fresh new layout. 😬
Surprises like this are disruptive for teachers and administrators, so the anywhere school launch even is an opportunity for Google to announce specific new features and products and to give some insight into some of the challenges and broader themes it is looking to address.
The 2022 virtual event was much shorter (40 min) than previous years and had a significantly smaller set of announcements which centered around three tools: Chromebooks, Classroom, and Google Meet.
You can watch the entire event here, or read my summary below!
Chromebook Updates
Chromebook was the star of this year's anywhere school event with two significant announcements:
Screencast for Chromebooks
Screencast is a new video application exclusively available for Chromebooks. Screencast will record your screen, webcam, and allow you to annotate all at the same time.
The most interesting aspect of Screencast is the ability to view and edit the video transcript with just a few clicks.
I received early access Screencast which I have been using for a few weeks. It's awesome and will be an amazing tool for capturing lessons and flipped classroom material.
Screencast will be available for all Chromebooks running ChromeOS v.103+ which is scheduled to be released in late June 2022.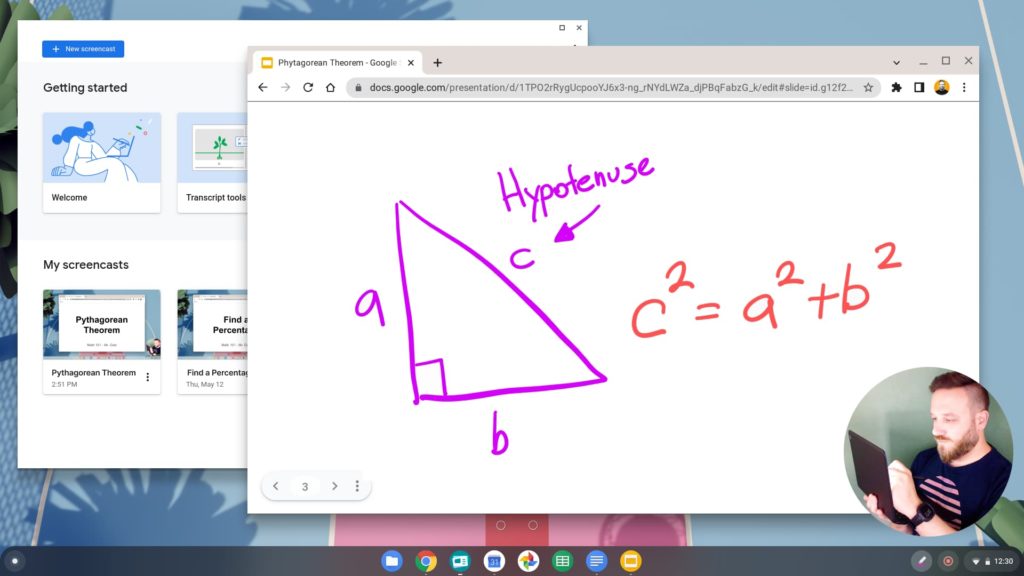 Podcast Episode: Google Product manager Morgan Weisman joins me to discuss all of the announcements from the anywhere school event.
Cast Moderator
Allowing students to share their learning should be an essential goal for all classrooms, but teachers need better tools for managing the screen at the front of the room.
This is the challenge that cast moderator aims to solve!
"Cast moderator enables educators and students to share their screen, whether sharing a presentation, video, or a worksheet, wirelessly to a central display, using a secure access code. Educators can keep class on track by controlling when the code gets displayed and instantly turning off a disruptive cast in their classroom with the click of a remote or from the teacher's own Chromebook."
Google is looking for schools to pilot Cast Moderator this summer.
Cast Moderator will be available starting in 2023. Pricing and hardware specifications have not been announced.
Figma for Chromebooks
This next announcement was a bit of a surprise.
Figma is a web-based product design tool used to create wire-frames and mock ups for web-sites, apps, and complex processes. Figma is used by design teams at companies like Netflix, Twitter, and Square.
Figma feels a like an extreme version of Jamboard.
Starting at the end of June, Figma is opening a beta program for high schools that are using Chromebooks. Click here to sign up!
I don't know much about Figma, but I'm excited to learn more!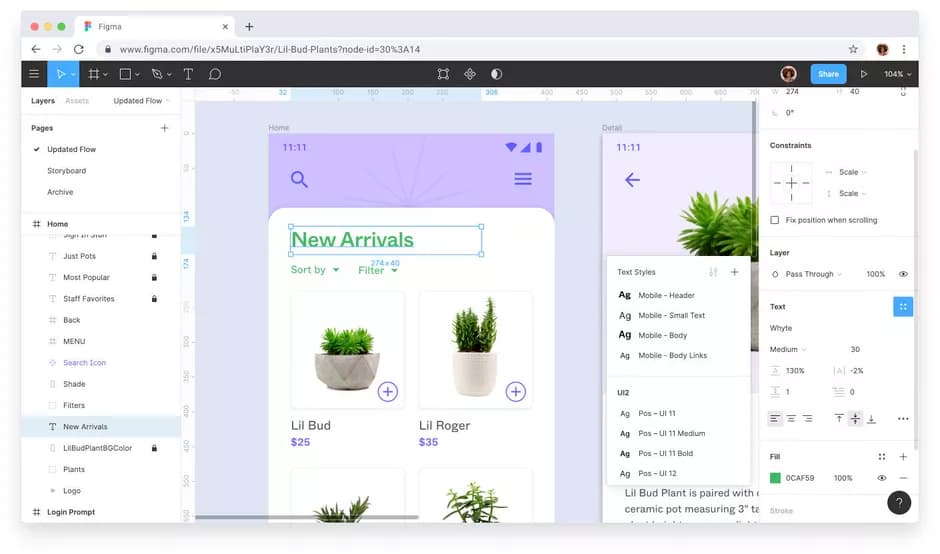 Google Classroom Updates
You can expect to see three incremental improvements to Google Classroom by the fall:
Improved YouTube experience – Teachers will see an improved interface for browsing and selecting YouTube videos through Google Classroom.
Grade export improvements – New prompts will make it easier to manage the connection between Google Classroom and your district gradebook.
Notification improvements – Classroom email notifications are being redesigned. Teachers will be able to reply directly to email notifications to respond to student questions.
Originality reports – run reports on MS Word documents and files in additional languages.
In addition to these incremental improvements, Google made three big announcements related to Google Classroom, but it would be a stretch to call them "new."
$ Practice Sets
Practice Sets for Google Classroom is a new way for teachers to assign guided skill-building exercises to students.
Google announced practice sets back in March, so I wouldn't call this a new feature, but they did officially announced that early access would begin this summer with a full roll-out tentatively planned for the fall.
Click here if you are interested in testing practice sets in your classroom.
Here is a quick summary of practice sets:
Teachers can quickly digitize practice material from a PDF or directly from a camera
Students will have multiple ways to provide answers including typing and drawing.
Hint cards and related videos will automatically pop up if a student gets stuck.
Improved auto-grading will support teachers in providing feedback to students.
Podcast Episode: Introducing Practice Sets for Google Classroom
Practice Sets will be a premium feature for Google Workspace for Education which means your district will need to upgrade to the Teaching and Learning or Education Plus editions in order to join the beta program or use practice sets when they launch later this year.
Add-ons for Google Classroom $
Add-ons for Google Classroom were announced nearly a year ago and have been a regular source of speculation as the roll-out has been delayed multiple times.
Just like add-ons for Google Docs or Slides, add-ons for Classroom will bring your favorite edTech tools into Google Classroom without the hassle of logins and managing multiple tabs.
School administrators will be able to manage and deploy add-ons for their entire district through the Google Admin Console and Google Workspace Marketplace.
Google did announce that the initial list of add-ons has been expanded to include the following popular edTech products:
Adobe Creative Cloud Express
Book Widgets
CK12
EdPuzzle
Formative
Genially
Google Arts & Culture
IXL
Kahoot
Nearpod
Newsela
Pear Deck
SAFARI Montage
Sora
Wordwall
Add-ons will be available later this summer to schools using the Teaching & Learning or Education Plus editions of Google Workspace.
Expanded Data Sync Capabilities
The third and final major announcement to Google Classroom is a partnership with Instructure, the company behind Canvas, to sync data with Google Classroom.
Districts who want to sync Google Classroom with their student information system have the option to sync SIS data to Google Classroom using Elevate Data Sync.
I hadn't heard of Elevate Data Sync, but after some quick research I learned that this product is similar to Clever and is frequently used outside of the United States.
The integration between Google Classroom and Elevate Data Sync will enable data transfer in multiple languages across 15 countries.
Wait…that's it?
While I am excited about practice sets and add-ons for Google Classroom, I was hoping to see a few announcements related to widely requested features such as the ability to lock assignments, post images in discussion questions, and better support for group work.
During my interview with Googler Morgan Weisman, I asked if we can expect to see any additional improvements to Google Classroom during the 2022-23 school year:
"I definitely think we will see some incremental changes to Classroom throughout the school year, like the ability to post assignments for multiple classes that we recently released. We read all of your feedback and have a list of improvements we are working on."
Google Workspace Updates
The focus of the 2022 anywhere school event was definitely on Chromebooks and Google Classroom, but there were a few announcements related to Meet and Drive:
Google Meet Updates:
$ Live stream public events directly to YouTube
$ Host Q&As and Polls in live stream: Users in a livestream can now participate in Q&As and polls.
$ Auto-transcribe Meet calls directly into a Google Doc: Keep a record of meetings with less storage than a recording and provide an easier way to edit, review, search and share lessons with students.
Improved Meet admin controls: New settings in the Google Admin Console give IT administrators the ability to disable screen sharing, polls, Q&As, and whiteboarding within Google Meet.
Picture-in-Picture: Hosts can now see up to four meeting participants while presenting and navigating different tabs and windows, when running Meet on Chrome browsers.
Features marked with a $ require a subscription to the Teaching & Learning or Education Plus editions of Google Workspace for Education.
To round out the updates, Google announced accessibility improvements to Google Drive and support for alt text when adding images to a Gmail message.
What does it all mean?
There are a few important takeaways from this years anywhere school event:
A little dose of reality…
I think Google has been overly optimistic in recent years, promising more than they were able to deliver.
During the 2021 anywhere school event Google announced ~21 new features. This year they announced 12 features.
This reduction seems to indicate more measured expectations for the coming year. While Google is an enormous company, it doesn't have unlimited resources, and needs to prioritize its projects.
Google has put a lot of effort into practice sets and add-ons. Let's hope these new features live up to the hype.
I was a little disappointed by the limited number of incremental improvements to tools like Classroom and Drive, but I think we will see more of these smaller updates throughout the year.
Google is listening…
Google really does carefully listen to the needs and challenges faced by its customers.
When I interviewed Taryn Sullivan about practice sets she described the tremendous amount of market research that goes into identifying and solving a customer need.
New products like cast moderator and screencast directly target challenges faced by classroom teachers.
Upgrade required!
All of the major features that Google announced (practice sets, screeencast & cast moderator) require a district commitment to Google's ecosystem:
Cast moderator and screencast will only work on Chromebooks
Practice sets requires a premium subscription to Google Workspace for Education.
Many of the smaller updates to Google Meet, Classroom, and the admin console also require access the premium tier of Google Workspace for Education.
This is a trend that I expect to continue. If you are a school administrator, it's time to start having conversations about upgrading Google Workspace because the free version is going to begin feeling very limited.
Are you excited or disappointed?
I enjoy launch events like this…they give me lots to write about and new ideas for podcast episodes and videos!
Are you excited about these new announcements or are you disappointed that Google didn't fix one of your frustrations with Google Classroom or Drive?