Get a digital pen for your Chromebook!
A touchscreen Chromebook is even better when you add in a digital pen.
Teaching during the COVID pandemic made this abundantly clear to me…some things are just easier to do with a pen.
A touch screen with a Chromebook pen makes it much easier to draw, diagram, show steps, and quickly jot down notes.
Should your district purchase touchscreen Chromebooks? I break down the options in this detailed blog post.
Only a handful of Chromebooks come with an included digital pen, but that doesn't mean you can't purchase a digital pen.
Unfortunately, finding the right digital pen for your Chromebook has not been an easy task.
I know because I have purchased and tested a half-dozen digital pens with my Chromebook.
Some were terrible…and others don't work at all.
Let me fill you in on what you need to know and help you get a digital stylus that will work with your Chromebook
Which Chromebook pen do I need?
I wish I had a simple answer for you, unfortunately the digital pen market is a bit confusing.
There are three types of digital pens. Let me help you determine which pen your Chromebook can use.
Capacitive Stylus (passive)
A capacitive stylus will work with any touchscreen device, but the results aren't very inspiring.
A passive stylus works just like your finger. They are also the cheapest digital stylus because they don't require sophisticated electronics or batteries.
You've probably used a capacitive stylus before…they're the ones with the big rubber tip at the end.

Capacitive pens are cheap, but they can't measure pressure or sensitivity and don't offer special settings for brush strokes, saved colors, etc.
You can get them for free (just visit your favorite vendor at an edtech conference), or find them on Amazon for just a few dollars.
If you are a teacher and you wan't to write on mark student assignments, you won't be very pleased with this type of Chromebook pen.
Let's take a look at a second option.
EMR Stylus (by Wacom)
EMR is a very sophisticated touchscreen protocol developed by Wacom, the company that makes various digital pens, drawing pads, and touch screens. 
EMR pens are AWESOME! You will love them!
Before you go out an order an EMR pen, you must make sure that your chromebook has an EMR digitizer (a special type of touchscreen).
A number of Chromebooks include EMR digitizers (screens) including popular classroom devices from Acer, HP, Lenovo, and CTL.
Check to see if your device is on this list of supported EMR Chromebooks.
The downside to the EMR technology higher device cost. You won't find a $200 Chromebook with an EMR digitizer. These tend to be higher priced devices.
What stylus should you get for your EMR Chromebook?
I recommend the Noris Digital Stylus. It looks just like a pencil and can be purchased for around $25.
If you don't have an EMR stylus, don't worry…there's another option for you!
Active Stylus
An active stylus contains internal electronics that communicate with your device. This allows your pen to communicate pressure, angle, and user preferences, providing a custom user experience. 
The Pixelbook pen and Apple Pencil are both examples of active styluses. Both of these pens work very well (and are obscenely expensive).
An active stylus will work with most touchscreen Chromebooks, but the results vary widely because there is no agreed upon standard for these pens.
I purchased a handful of active pens and got wildly different results.
Some of the pens I bought were hot garbage…I couldn't even draw a straight line.
Others were decent (this one was okay)…not as accurate as an Apple Pencil, but workable.
If all of these details are starting to overwhelm and confuse you, you aren't alone!
Don't quit on me yet….I have one more option to tell you about!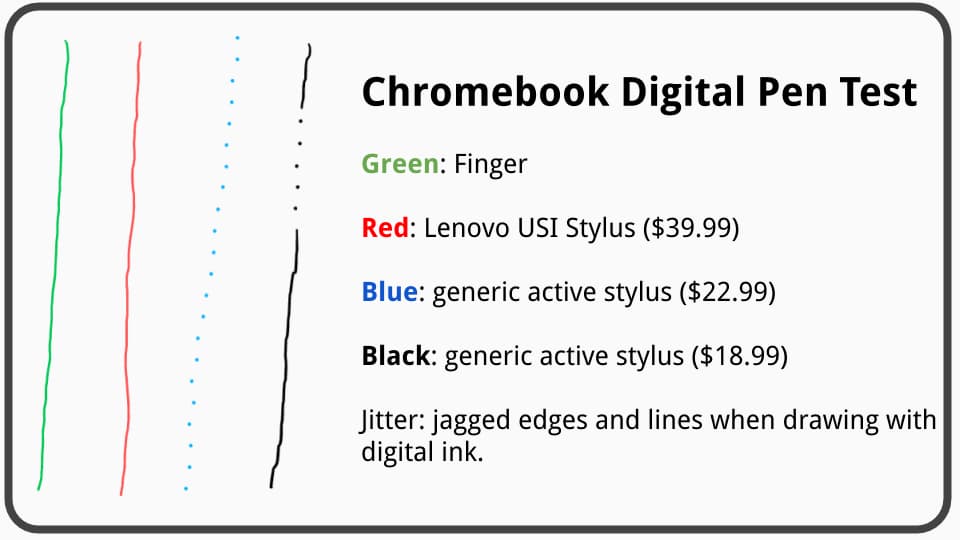 USI: the solution to the confusion!
Because there is no standard for how laptops and digital pens talk to one another, performance can vary widely.
This is the problem that the Universal Stylus Initiative (USI) set out to solve.
USI is a group of companies (Google, Lenovo, Bic, Dell Wacom, and more) who are working together to develop a set of rules that govern how digital pens and devices work together (kind of like how USB makes it easy to plug stuff in to your computer).
Want to learn more about USI? Listen to this podcast episode featuring Peter Meuller, chair of the USI committee.
Google is a major supporter of USI and is requiring that pen-enabled Chromebooks come standard with USI support.
USI will make it easy for Chromebook manufacturers to include pen support and make it easy for pen manufacturers to ensure that their writing tools work effectively on a wide range of devices.
USI is a win for schools who will no longer need to worry about device compatibility. Standardization will also drive down the cost of the pens making them much more affordable.
Get a USI pen for your Chromebook!
While USI has been under development for several years, USI pens have only recently become available for purchase.
Finding a USI pen has not been easy, but I was able to order this pen from the Lenovo. website.
While the Lenovo stylus was a bit on the pricey side ($39), it vastly outperforms all of the other pens that I have tested.
To test the accuracy of a digital pen I slowly draw a straight line to look for jitter – jagged imperfections in the line. A good pen will have little or no jitter.
My new USI pen works on my Lenovo Duet and the HP x360.
In fact, all but one of the Chromebooks launched in 2020 include USI pen support, a trend I expect will continue.
Right now there are only a few USI pens on the market.
As more pens become available, the price will go down as well. Eventually, I think you will be able to purchase USI pens for a few dollars.
Is USI good for Chromebook Classrooms?
USI promises to make it easier for companies like HP, Lenovo, and Dell to work with the companies that design digital pens.
USI is a platform on which companies can develop inexpensive pens for classroom use or highly accurate pens used for digital art and animation.
Over the next 6-12 months I expect to see a number of new USI pens hit the market at various price points.
Ultimately, USI will provide simple and affordable pen support for touch screen Chromebooks which will allow students and teachers to draw, diagram and jot down notes with ease.