Why You Should Manage the Wallpaper on Student Chromebooks
The Google Admin console is filled with lots of features to help school districts manage their Chromebooks.
Some of these features are very technical while others are classroom focused.
Every once in a while, you'll discover something that makes you stop and think…wait…what? Why is that there?
The ability to manage the wallpaper on district-owned Chromebooks is one of the surprising features hidden inside of the Chrome management settings.
At first glance, you might think "I've got enough to worry about with apps and extensions and web filtering…the last thing I need to do is manage student wallpaper!"
But take another look, because wallpaper isn't just for aesthetics or to prevent students from using inappropriate images as their device background – you can it for communication.
Think of the desktop image on your Chromebook fleet like little billboards strategically placed throughout your classrooms, media centers, and offices. What do you want to say?
Chromebook Wallpaper Inspiration
Here are a few examples of how school districts are using desktop wallpaper to communicate with students.
Forest Park Middle School in Franklin, Wisconsin pushed out desktop wallpaper at the end of the school year to remind students of the Chromebook return procedure.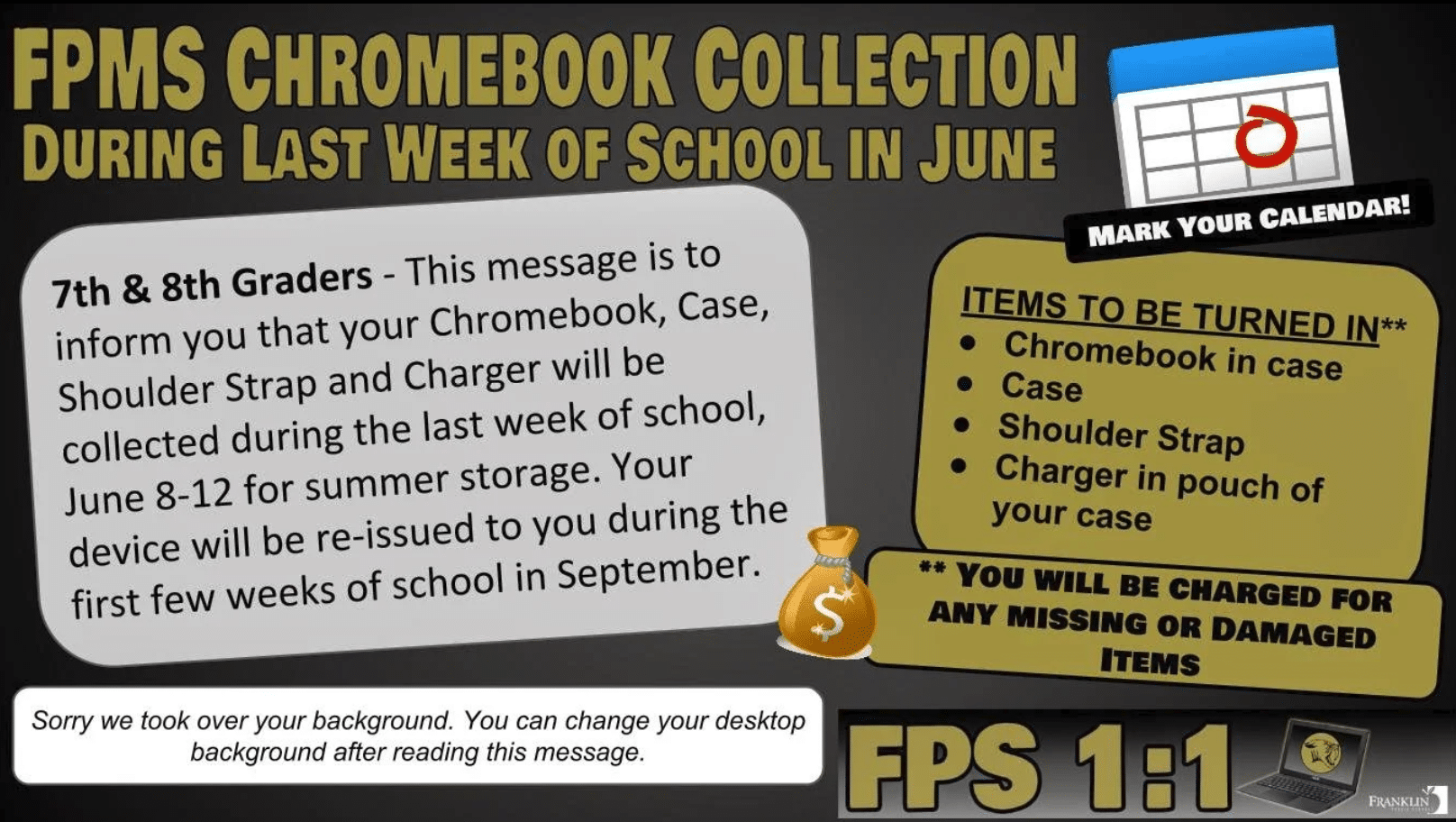 Wheatley Park School in Oxford, England builds school community by pushing out weekly wallpaper updates featuring the Word of the Week and one of the school's community values.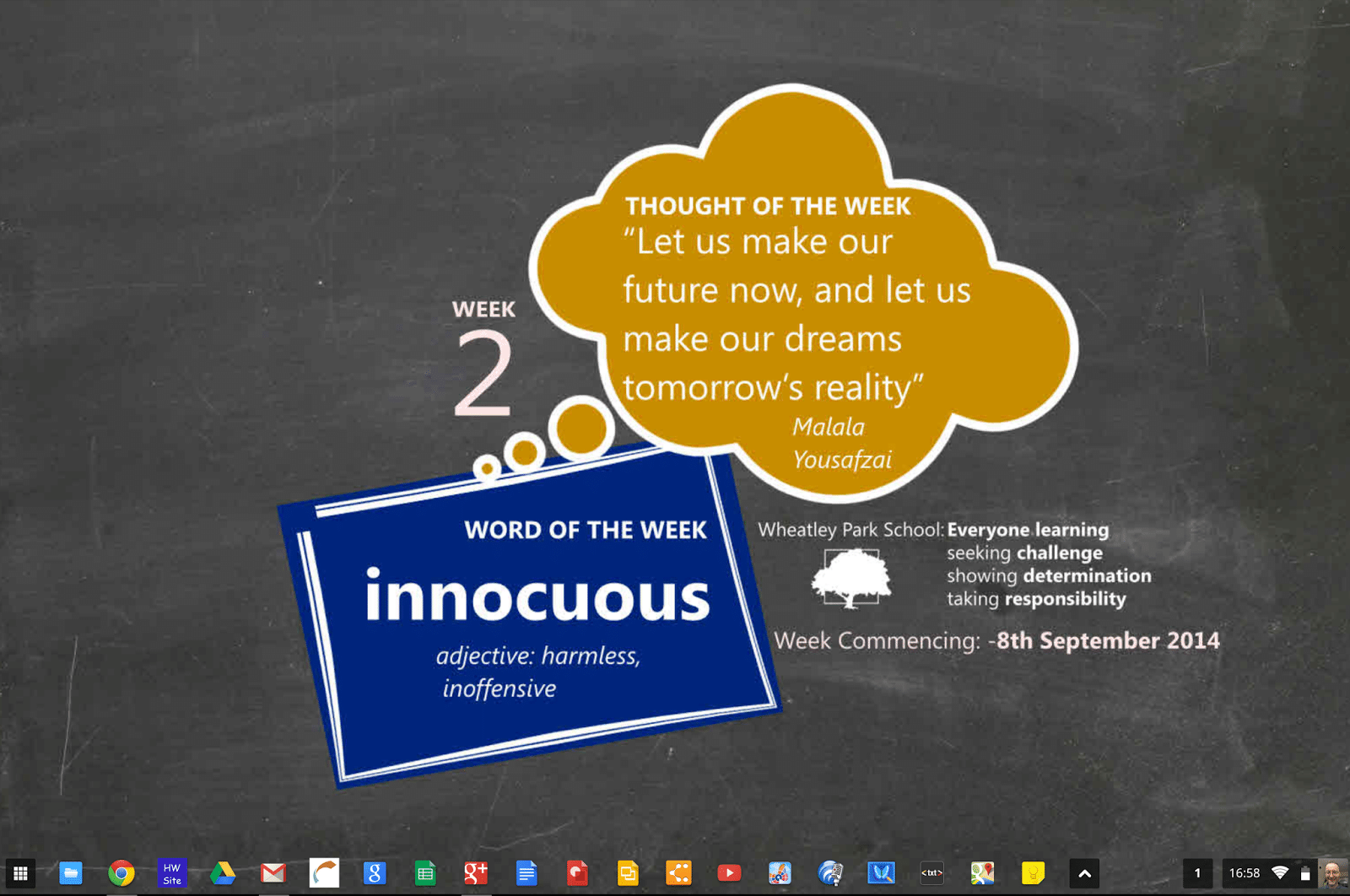 Batesburg-Leesville school district in South Carolina uses the desktop space to provide staff and students with Chromebook tech tips.
? Check out some of the other neat things Batesburg-Leesville schools are doing to build school culture in this episode of the Chromebook Classroom podcast!
Commerce Independent School District in Texas features student artwork as desktop wallpaper with a winning design for elementary, middle, and high school.

Designing Custom Chromebook Wallpaper
You will want to verify the resolution of your devices to determine the correct size for your image file. If you have multiple Chromebook models you may need to develop multiple version to ensure that it renders correctly.
To determine the resolution of your Chromebook, click on the "snowman" (three dots in the top right corner of the browser) and select settings.
From the settings page search for "displays." Inside of the displays section, you will see an option for "internal display" which will list the current resolution of your device.
There are lots of tools you can use to design your image file. Here are a couple of good options: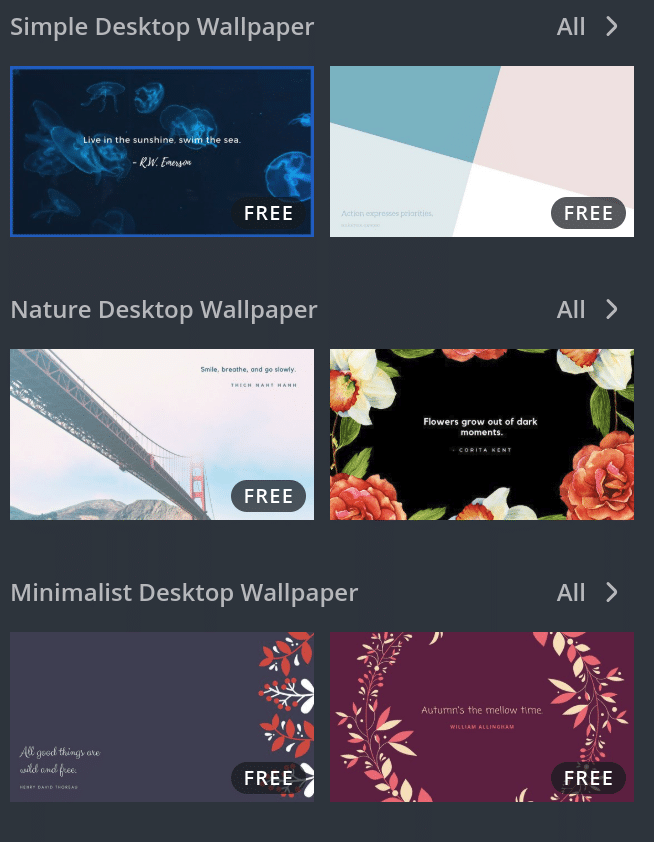 Google Slides – change the page size to match the size of your Chromebooks. You can create additional slides each time you want to change the wallpaper and can share the file with others to collaborate on creating new wallpaper designs.
Canva – use the desktop wallpaper project type which features dozen of professionally designed templates. If you want a design that stands out, use Canva!
Regardless of the tool you use, you will want to export your finished design as a .jpg file of 16 MB or less.
Pushing out your Wallpaper
You can deploy your wallpaper in two ways:
Device Configuration – Deploys wallpaper to a specific group of devices, regardless of the user. Wallpaper will be visible on the lock screen. Use this method for district branding and generic communication.
To push out wallpaper by device, log in to the admin console and visit Device Management > Chrome > Device Settings > Sign in Settings
For more information on this setting, you can read Google's help article here.
User Configuration – Use this method if you want to deploy different wallpapers based on user role (elementary student, high school student, teacher, etc).
Wallpaper can be deployed to any organizational unit within your G Suite domain. This is the best option for building-specific messaging.
To push out wallpaper by user, log in to the admin console and visit Device Management > Chrome > User Settings > General
Google's help article on user wallpaper is available here.
Can users change managed wallpaper?
Users will be unable to remove or replace district-managed wallpaper as long as the image file is still present in the admin console.
If you only want to take over the desktop image temporarily, there is a work-around you can use to give users the ability to replace the image you have pushed out.
Push out wallpaper using one of the above methods.

After a period of time, delete the image file from the admin console.

The district wallpaper will still be present, but users can change it as they like.
How would you use this feature in your district? Leave a comment to share your creative ideas!