Is virtual PD a waste of time?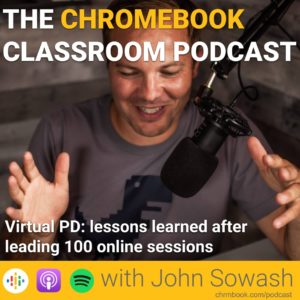 On March 12, 2020, I was attending the MACUL conference in Grand Rapids, Michigan when the news broke that the entire state would be under stay-at-home orders for several weeks due to COVID-19.
As someone who is a full time speaker and edTech consultant, this was a terrifying moment as I realized that all of my scheduled school visits and conferences sessions would most certainly be cancelled.
Since that date in March, I began providing virtual PD for schools.
I have never recommended virtual PD, believing that face-to-face events were a more effective way of providing training.
COVID forced me to confront my assumptions about virtual PD.
As I reflect back on the past 8 months and the 100+ hours of virtual learning I have facilitated, I would like to share some lessons that have learned about online PD. It CAN work!
4 key factors for good virtual PD
Over the past 8 months I have led nearly 90+ virtual sessions representing more than 100 hours of online learning.
Some of my early sessions weren't very good, but over time, I have developed a system that works well.
Effective online PD must be:
Focused
Responsive
Solution oriented
Resource rich.
In all of my online sessions I try to identify and solve a common problem that teachers are experiencing. By the end of the session I want them to have a clear solution to this issue and a selection of tools and resources they can use immediately with their students.
I took a moment to review my participant evaluations and was happy to learn that my virtual sessions have a 99.3% approval rating!
Professional development trends for 2021
Teachers have quickly adapted to the realities of teaching during the pandemic.
Early on, teachers needed basic training on Google Classroom, Meet, and Google Drive.
Now that we are 8+ months in to online learning, teachers need more advanced, grade and subject specific training.
"How do I teach algebra online through Google Classroom?"
"How am I going to give a spelling test virtually?"
"How do I manage all of the comments, files, and emails I get every day?"
"What tools can I use to accommodate students with special learning needs?"
These are the types of sessions teachers are asking for in 2021.
2021 District Webinar Subscription
To help districts provide focused professional development, I am offering a district webinar subscription for the remainder of the 2020-21 school year.
Each week from January 12 – May 21, 2021 I will be offering a 90 minute webinar focused on topics that will help your teachers thrive in this unique teaching environment.
At only $25/FTE (full time instructional employee), this webinar subscription program is a cost effect way to provide ongoing PD for your teachers with minimal administrative work.
To learn more about the program, visit SowashVentures.com/subscription