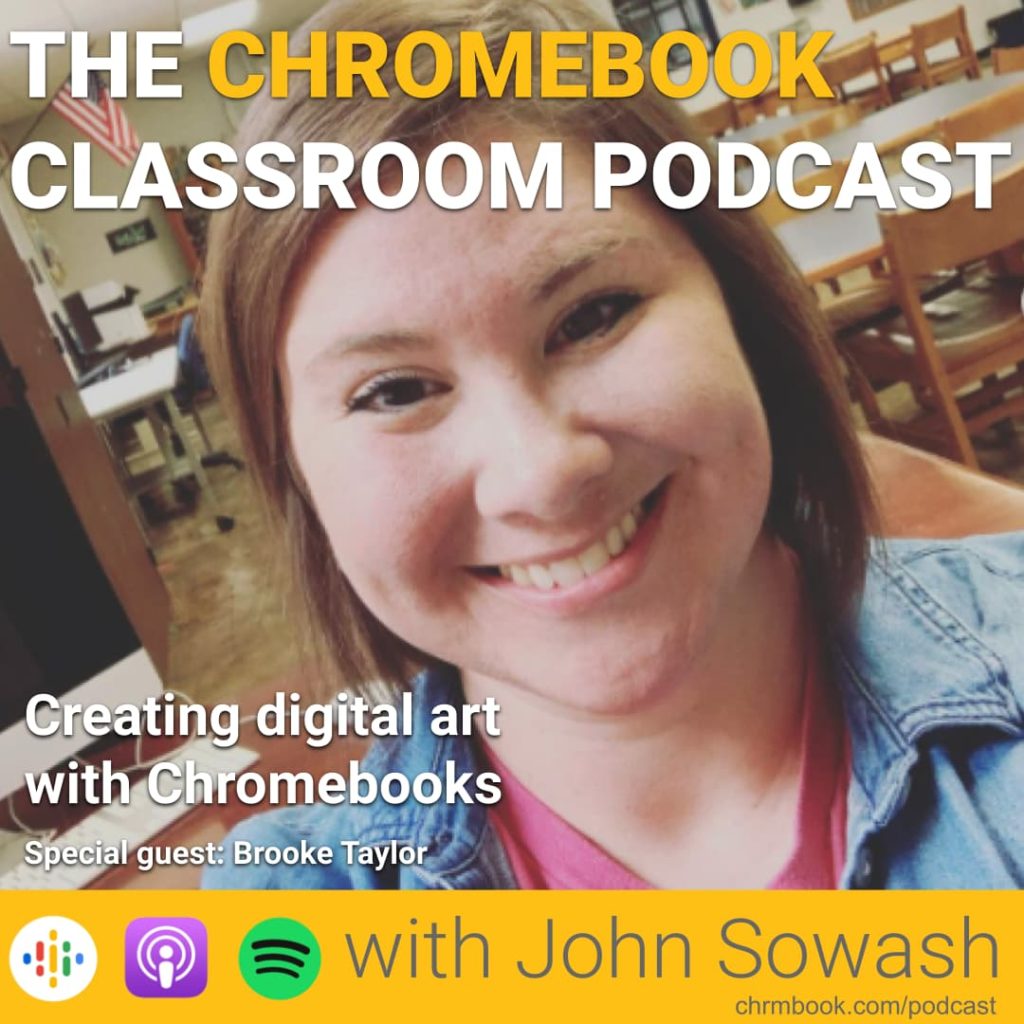 My guest on this episode is Brooke Taylor, a middle and high school art teacher in Bridgeport, Illinois.
Brooke and her students are fully embracing digital art by using Chromebooks, iPads, and drawing tablets to bring creative art into the world.
If you are interested in using ChromeOS for creative projects, I encourage you to listen to the great tips and project ideas Brooke generously shares during our conversation.
Check out the Red Hill Jr/Sr high Instagram account to see original artwork from Brooke's students!
Teaching art with Chromebooks
Brooke teaches a variety of art classes including painting & drawing, 3D art, and Digital Art to the middle and high school students at Red Hill Junior/Senior high.
Each Red Hill student has a school-provided Chromebook which they bring to class each day. Brooke is grateful that most of her art students have touch-screen Chromebooks to make art projects much easier.
In addition to Chromebooks, Brooke also has a class iPad and several Windows desktops, and a large format printer that is used for various projects.
There aren't enough of these other devices for everyone, so planning lessons that are Chromebook friendly is key.
Favorite Art Projects
Brooke starts the year with a Pixel art project which provides an opportunity to talk about retro video games. Pixel art combines art with Google Sheets, something the students are familiar with.
Later in the year, Brooke introduces an assignment called "double exposure" which challenges students to combine two photos in using Pixlr, a web-based photo editor.
Web-based tools like Pixlr are Chromebook friendly and teach students important basic art techniques.
Digital art without the Adobe Creative Cloud?
Without question, the Adobe Creative Suite (Photoshop, InDesign, Premier Pro, etc) is the standard for digital art. Unfortunately, this software is NOT compatible with Chromebooks.
Brooke and I had a very frank conversation about the benefits and challenges of doing art on a Chromebook and the need to give students experience with professional tools like the Adobe Creative Suite.
Brooke has been able to find several helpful, free tools that her students can use on their Chromebooks to design creative projects.
Some of her favorite applications include PhotoPea, Pixlr, Kleki and Canva.
Brooke also uses Google Drawing to teach students the basics of creating vector images and uses Google Classroom to collect and comment on student work.
Be sure to check out Brooke's Etsy shop and Teachers Pay Teachers site for cool artwork and lesson ideas!
Here are my favorite tools for being creative on a Chromebook.
Additional Resources and links:
Padlet (used for online art critiques)