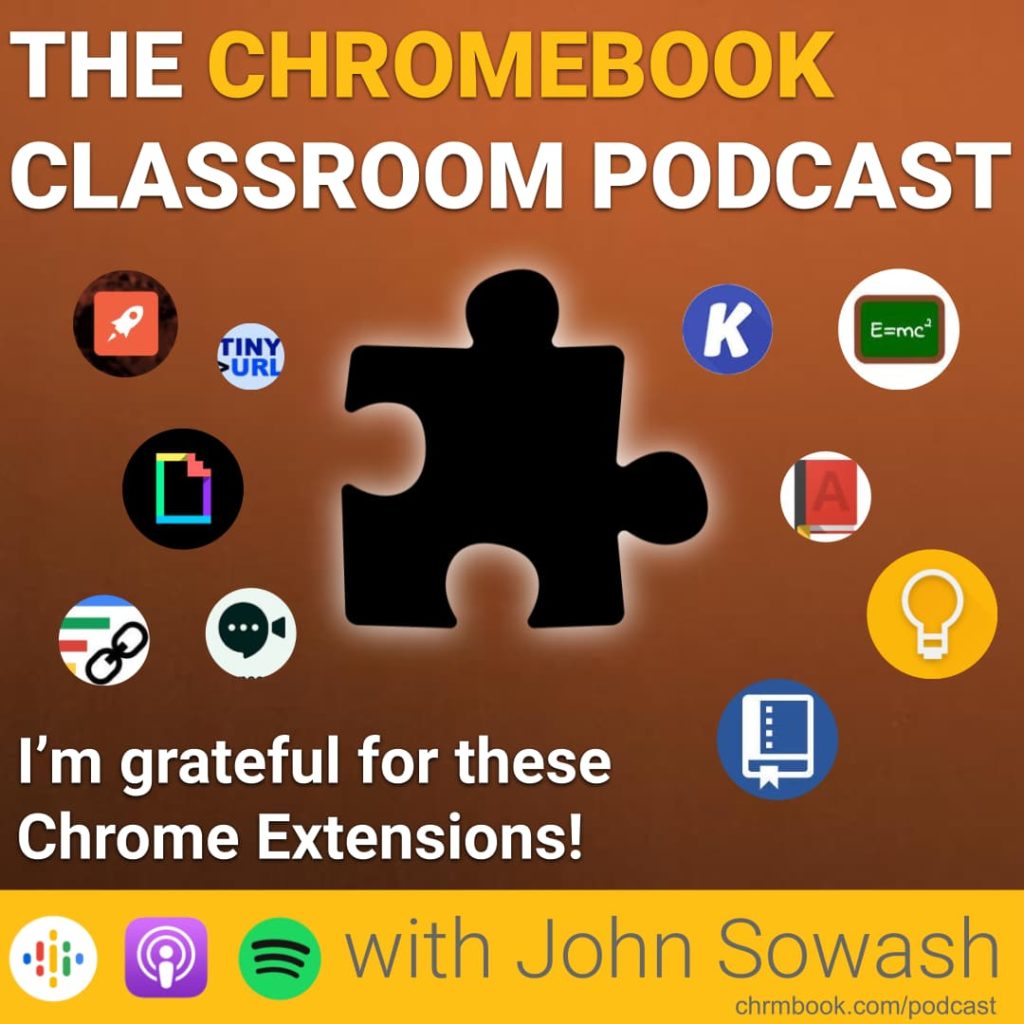 Last week was Thanksgiving in the United States. We spent most of the week visiting family, eating delicious food, and being thankful for our many blessings!
In the spirit of Thanksgiving, I wrote a list of Chrome extensions that I rely on regularly.
These simple tools help me work efficiently, simplify repetitive tasks, and add some fun to my daily digital routines.
In addition to making a list of my favorite extensions, I also asked friends on Twitter and Facebook to share their favorites. While there was some overlap between our lists, I did learn about some NEW extensions that I have included as well.
Top Chrome extensions for teachers
I selected my five favorite tools for helping teachers work more efficiently and productively. I tried to include some new tools on this list, not just perennial favorites like Screencastify and Bitmoji!
Top Chrome extensions for students
This episode also includes my top recommendations for students.
When compiling these tools, I was mindful of data privacy regulations that would prevent students from being able to access certain tools.
This collection contains privacy-friendly tools that **should** be acceptable by most school districts.
YOUR favorite extensions!
I invited my followers on Twitter and Facebook to share their favorite Chrome extensions. I've selected five of the most popular responses to include as well!
Here are five extensions that were recommended!
Toby for Tabs – organize your open tabs into collections…kind of like bookmarks! (Shared by Justin Cowen and Donna Golightly)
Wakelet – Wakelet is essentially Pinterest for education. Curate a collection of links and resources without the burden of managing a website. (Shared by Amanda Folgelman)
Read & Write for Google – This is an essential extension for students with special learning needs! There are LOTS of great features for teachers as well! (Shared by Mandy Powell-West and Amy Ryan)
Mote – This is one of the best Chrome extensions to emerge out of remote teaching. You can use mote to leave verbal comments on student documents or inside Google Classroom. (Shared by Mary Hankins and Tracy Johnson)
Black Menu for Google – This is an old classic recommended by Jacinta Keenan. Black Menu is a customizable menu of links to your favorite Google tools and products. It's like a super-powered "Google Waffle."
That's a round up of my favorite Chrome extensions for teachers and students. Happy Thanksgiving!
Additional resources: