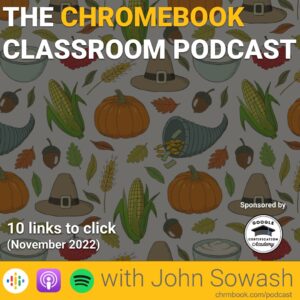 As part of my daily routine, I scan dozens of blogs, visit a handful of Facebook groups and skim through Twitter.
The goal: find the most helpful resources, tools, and articles that I can share with my teacher friends (that's you!)
Episode Sponsor: Google Certification Academy
Earn your Level 1 and Level 2 Google Certification in 2023!
Registration for the winter cohort of the Google Certification Academy is now open! Join me LIVE via Google Meet starting January 17 to prepare for your L1 and L2 certification exam.
Visit gEducator.com to learn more!
Here are my top 10 links for November 2022!
Timeline view for Sheets – There is a new time view option in sheets for creating a visual display of project deadlines or milestones. I can see this being an interesting option for historical reports as well!  
Expiring Access – Google is making it easier to set expiring access for shared Drive files. This update makes it much more intuitive to add an expiration date when sharing a file.
Auto Transcription for Google Meet – The auto transcription feature for Google Meet is very impressive. Here are a few of my discoveries and thoughts. 
Manage Shared Drive Storage – Google admins have two new options for managing storage including the ability to set a limit on the size of a Shared Drive. 
Session Buddy – Save and quickly open a collection of tabs with this Chrome extension. Great for SPED teachers or anyone who has a lot of preps back-to-back. 

How to handle student discord online  – Tim Cavey shared this thoughtful intervention between a group of MS boys who got into a war of words online. It's important to have a plan for these situations because they are spilling over into the classroom. 
Black Friday Deals on Chromebooks – My friends over at Chrome Unboxed are always on top of the best deals on new Google hardware. This is the page to watch to spot the best deals!
Black Friday Chromebook Deals – There are lots of "deals" on Chromebooks at this time of year, but not all of them are equal. Listen to this podcast episode to make sure you are getting the best deal. 
Gratefulness wall with Jamboard – this is a simple activity to help students develop a habit of gratefulness, just in time for Thanksgiving! 
Give thanks with Slides – Google's Applied Digital Skills curriculum has a new lesson on creating thank you cards with Google Slides. 
What awesome resource did I miss?
Got something that's too cool not to share? Hit me up on Twitter or Instagram (@jrsowash). I'm always on the hunt for interesting and useful resources!