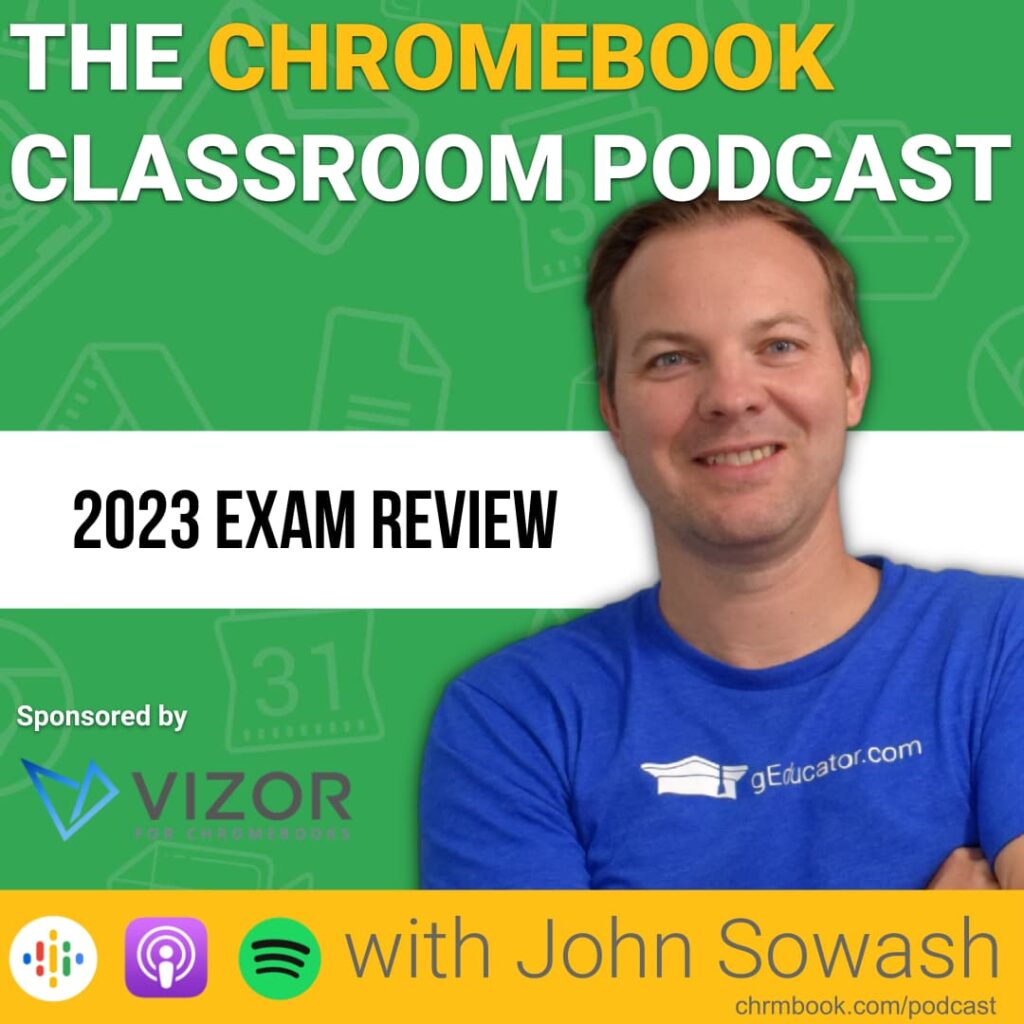 Hello Chromies!
In this episode you will hear my thoughts and advice on taking (and passing) the level 1 and level 2 Google educator exams.
I take these exams at least once a year and I'm always happy to share my experience to help you pass these exams.
I know that many of you are instructional coaches who are helping other teachers earn their certification. I hope this episode will provide useful information for you as well.
Episode Sponsor: VIZOR
Thanks to Vizor for supporting the Chromebook Classroom podcast!
VIZOR provides Chromebook 1:1 Management Software for Schools. You can schedule a no-obligation demo of VIZOR and receive 20% off your first year!
2023 Exam Updates
The exam format remains unchanged for 2023. The length, cost, and exam structure remains the same as it was in 2022.
There is a new question format and some updated questions for 2023. You'll definitely want to be familiar with the latest updates to Docs, Sheets, Meet, and Classroom before you attempt the L1 or L2 exams.
Download my free Google educator study guide for a complete overview of updates for 2023!
🧙‍♂️ There is no magic…
There is a growing number of educators who argue that the Google educator exams are a waste of time and money. The truth of this claim comes down to how you prepare for the exam.
There is nothing magical about becoming a Google certified educator. If you are expecting opportunities, gold stars, and rainbows to light your way after becoming certified, you're gonna be very disappointed. It doesn't work that way.
The value of these certifications lies in how you prepare. If you study with a group of educators, swapping ideas, strategies, and suggestions, your time and effort will be rewarded.
If you are simply trying to earn a badge; you will end up disappointed.
Related video: my Google educator certification was a complete waste of time
Advanced Certifications
During this episode I also reviewed three advanced Google Certifications:
Google Certified Trainer
Google Certified Innovator
Google Certified Coach
All three of these advanced certifications require that you have the level 1 and level 2 certification, so star there and see what happens.
This spring I will be offering a special course for educators interested in becoming Google Certified Trainers. I'm still working out the details. You can join the wait-list here.
This year Google is also offering two certifications for IT administrators:
I recently took (and passed) the ChromeOS admin exam…here's what you need to know in order to pass! I haven't taken the workspace admin exam, but it's on my list for this winter.
These certifications won't change your life by themselves, but they can open up doors that you can step through if you have the desire and determination to do so.