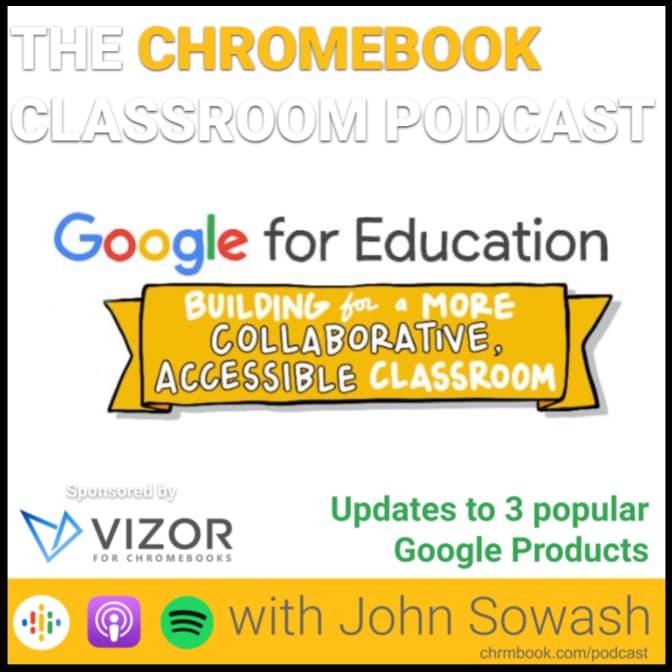 Today Google announced a number of new features and announcements during the 2023 BETT conference in London. Google Classroom, Meet, Docs, and ChromeOS are all receiving some nice new features for the classroom.
Morgan Weisman, product marketing manager for Google, joins me to break down the updates and share the inside scoop as a member of the Google for Education team.
If you want to know what cool new features are coming to your classroom this spring, this is the interview for you!
Episode Sponsor: VIZOR
VIZOR provides Chromebook 1:1 Management Software for Schools. Get 20% off your first year when you schedule a no-obligation demo.
Google's major announcements from BETT 2023
It sure is nice to be able to review major product announcements with a member of the Google for Education team! Morgan and I start by reviewing each of the major announcements for Google Classroom, Meet, Drive, and Chrome with some new details.
Morgan has been using several of these updates herself (like voting chips for Google Docs) and has also been able to observe some of these features being tested in schools across the world.
Time to Upgrade?
Nearly all of the updates this spring require schools to upgrade to the Education Plus or Teaching & Learning editions of Google Workspace. I asked Morgan to explain the rationale behind these decisions and what we can expect moving forward.
Google and AI tools for the Classroom
Since AI is the hot topic of the day, I had to ask Morgan about Google's current use of AI for tools like Meet and practice sets as well as their future plan for integrating generative AI into education products.
It doesn't look like tools like Bard will be available for EDU accounts anytime soon, and Google is carefully considering the impact of AI tools in education
More Admin controls
Google also snuck in some new policy tools for IT administrators which will help schools customize the user experience for teachers and students.
If you are interested in learning more about these policy tools, check out my Google Console training or the Chromebook Academy for IT admins.
For a full list of everything that was announced during the BETT conference be sure to check out this detailed blog post.