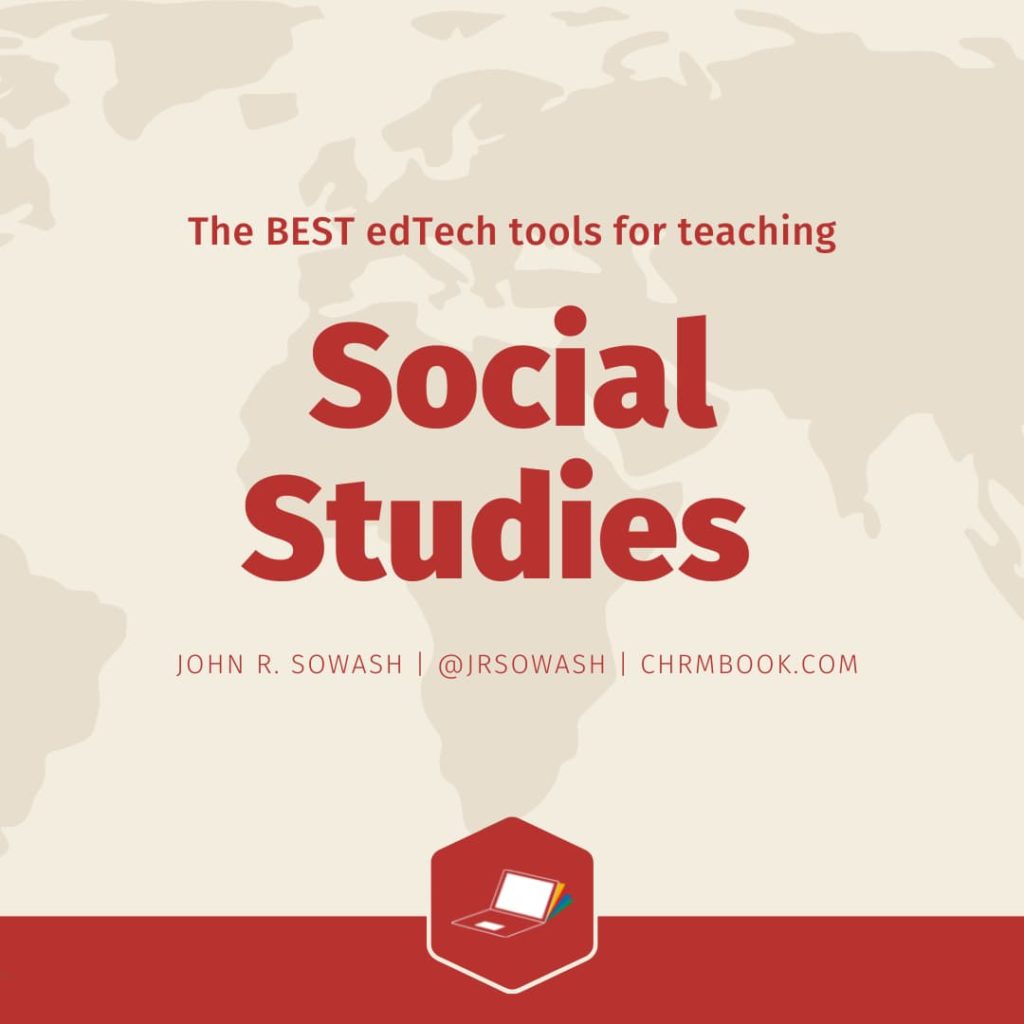 Understanding the past is essential if you want to change the future!
Some students consider social studies to be a dry, boring subject, but that doesn't have to be the case!
There are dozens of amazing web-based resources that social studies teachers can use to bring history, government, and economics to life.
The right map, video, or learning activity can help students grasp difficult concepts and make important connections.
Here are some of my favorite edTech tools for teaching history, geography, government, and economics!
Places and faces
Memorizing people, places, and dates is a key part of understanding history. The following tools will help your students memorize key places and faces.
Seterra – this is one of the most comprehensive geography quiz sites on the internet. If you need to practice your states, capitals, or landmarks, Seterra is a great resource! 100% free to use and you don't need to create an account.
ABCya – This is a great site for helping elementary students practice their states and capitals. ABCya offers a half-dozen different games, all available for free when you use a Chromebook!
Quizlet – bring a modern twist to classic notecards and vocabulary practice. The best part of Quizlet is the ability to search for existing flashcards, what a time-saver! Quizlet also supports diagrams which are helpful if you want students to identify landmarks on a map.
Flippity – Flippity makes it easy to turn a spreadsheet into a variety of games and practice activities. Do the work once, use your terms in a variety of ways!
Visual Thinking
Students frequently struggle to keep the "big picture" in focus.
Concept maps and graphic organizers provide an opportunity to see how the pieces fit together.
Here are some great tools for helping students link concepts together.
Related post: Visual thinking: 5 ideas for the K-12 classroom (featuring One by Wacom​)
Google Slides / Drawing – For simple graphic organizers and concept maps, Google Slides and drawing work very well, especially if you use slides for interactive notebooks.
GitMind – If you want your students to create really cool concept maps, check out GitMind! There are dozens of templates you can choose from (check out this cool family tree) and the end result is really cool!
Jamboard – if you want to sketch and connect without constraints, Jamboard is the tool for you! In this example, students use Jamboard to identify key contributions of the Greek empire.
Research Sites
Looking for accurate facts about a person, place, or event?
These sites are good resources for researching for a report, website, or video project.
CIA World Factbook – The CIA keeps track of everyone and everything! Now you can access their database of detailed information on countries, governments, and economic information.
Data USA – An easy-to-use database of information on places, occupations, and education in the United States. A great resource for research projects.
Time Maps – This website contains historical maps of all regions of the world. There is some premium content on the site, but the free content is useful.
World Data Atlas – A massive database of information on countries and global statistics. This is a good resource for upper elementary and middle school students as it is a little less overwhelming than the CIA world factbook.
World History Encyclopedia – If you are looking for resources on ancient history, check out the World History Encylopedia which contains information on the ancient Greeks, Romans, Egyptians, and more.
Don't forget to cite your sources!
If your students use any of the resources listed above, you'll want them to cite their sources. Cite this for me is a free Chrome extension that will quickly create APA or MLA citations that can be copied into a Google Document or Slide presentation.
There are a lot of citation tools on the internet…Cite this for me is my favorite!
Bring Social Studies to life with these EdTech tools!
"Those that fail to learn from history are doomed to repeat it." – Winston Churchill
Teaching students about history, culture, and government will give them the knowledge and insights necessary to change their future!
These are my favorite web-based tools for teaching social studies!
Sutori – Sutori is a creative timeline tool that can be used for teaching or student projects. Add interactive questions, discussions, videos, and more!
Check out this example comparing WW1 and WWII or this history of the web.
Sutori can be used for free however, some of the advanced features require a paid account.
Google Arts & Culture – Arts & Culture is a treasure trove of primary source material and historical artifacts. You can send your students on a virtual field trip or curate your own museum exhibit. This site is an essential resource for social studies teachers!
Knight Labs – This is an advanced resource for highly engaged students. Knight Labs (Northwestern University) created a series of templates you can use to design interactive timelines, story maps, and storylines using Google Sheets.
Google Earth – Explore the changing world! Google Earth provides numerous ways for students to explore nature, culture, and science. Take a voyage or create your own virtual field trip!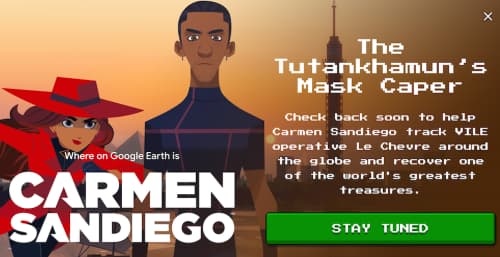 Where in the World is Carmen Sandiego? – If you grew up in the 1990's, you probably remember Carmen Sandiego! Your students can chase Carmen across the globe through an interactive game developed inside of Google Earth!
The four adventures that are available are ideal for grades 3-6. You can preview the teacher's guide here.
My Maps – If you want to design a custom map featuring survey data or economic information, check out My Maps. This tools is a part of Google Drive and allows you to display custom data on Google Maps. These maps can be shared with others just like a Google Doc or Site.
Adobe Express (formerly Adobe Spark) – Challenge your students to create a biography or country report with video! Spark Video is a simple tool for creating short video projects. Elementary students love Adobe Express and can create some really great video reports!
What did I miss?
The web is enormous and this is far from an exhaustive list of awesome science resources.
Did I miss one of your favorite tools for teaching social studies? Send me a tweet or drop a comment on this post and let me know what I missed!
If you teach classes other than science, you can check out my list of ELA tools, Science Tools or my favorite tools for Elementary classrooms.