Centralized device management is a key feature of ChromeOS, and one of the primary reasons Chromebooks are so popular in K-12 schools.
Before you can manage a Chromebook through the Google Admin console, you need to connect your Chromebooks to your Google Workspace domain by enrolling them.
The enrollment process isn't difficult, but it is time-consuming, especially if you are enrolling hundreds or thousands of devices.
There are a lot of great third party tools that simplify the enrollment process, like Centipede Vizor, and Chromebook Getter.
Device resellers also offer "white-glove" service, enrolling the devices for you so that they are ready to go as soon as they arrive at your school.
In an effort to further simplify Chromebook management, Google has introduce "zero-touch enrollment" (ZTE) for new Chromebooks.
How to setup ZTE
Zero-touch enrollment is pretty simple – Chromebooks are enrolled into your domain without the need to physically initiate keystrokes, enter login information or connect to wifi.
The concept of ZTE was introduced back in 2010 with Android devices. Google expanded ZTE include to Chromebooks in 2021.
In order to use ZTE you need three things:
Supported Chromebook – most devices released in 2021 or beyond support ZTE.
Pre-provisioning partner – this is your device reseller (CDW, Dell, CTL, etc)
Enrollment token – this is a unique code generated by the admin console that is provided to your provisioning partner.
This video from Google demonstrates the steps outlined above.
Which Chromebooks support ZTE?
There are currently more than 100 Chromebook models that support ZTE. New devices are added as they are released (eventually).
Popular education Chromebooks like the Lenovo 100e, CTL NL72, and HP 11 G9 all support ZTE.
Unfortunately, it doesn't appear that Google is updating the list of supported Chromebooks very frequently. In April of 2022 I helped a school purchase a cart of PX11E Chromebooks from CTL. This new model supports ZTE, but wasn't included on the official list of supported devices.
If you are buying Chromebooks released in 2021 or later, don't assume it doesn't support ZTE if it isn't on the list. Check with your sales rep to confirm!
Create your enrollment token
If you select a ZTE supported Chromebook and are buying them from a supported reseller, you will need to generate an enrollment token.
How to generate a Chromebook enrollment token:
Log in to the Google Admin console
Visit Device > Chrome > Devices
Select the organizational unit you would like your new devices to appear in.
Click the yellow + button in the bottom right corner of the screen and look for "enrollment token"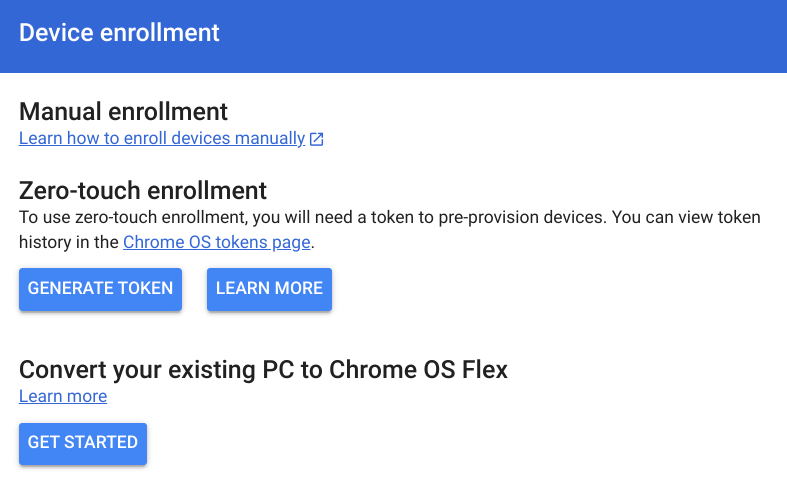 Enrollment tokens are specific to an organizational unit. Make sure you have selected the OU where you want your new devices to appear. This will save you an extra step later on.
There is a new "pre-provisioned" device status filter that you can use to track devices that you have purchased, but not yet received.
Important: connect to wifi
ZTE is initiated when a reseller scans a bar code on the Chromebook packaging; they never actually power up the device or connect it to wifi.
This means that your new Chromebooks MUST be connected to a wifi network before they can pull down your policy information from the admin console.
After being connected to a network for the first time, your device, user, and wifi settings will be applied and you can begin assigning Chromebooks to students.
Tip: temporarily set up an open wifi network to make this process easier. Chromebooks will pull down your wifi connection information on their first policy sync after which you can disable the open network.
Asset Management Information
ZTE bypasses the opportunity to enter asset information during the enrollment process. The good news is that it's pretty easy to add asset information after you have received your devices.
You can enter asset information through the admin console (slow and tedious), or use a tool like Chromebook Getter or Vizor.
Note: Vizor is a sponsor of the Chromebook Classroom podcast.
This could be awkward…
There is no fee to utilize zero touch enrollment.
In the past, device resellers would up-sell white-glove service to school districts for $3-11/device.
White glove service typically includes enrolling the device and checking for defective devices, but it can also include laser engraving, asset tagging, removing devices from packaging, and loading them into carts.
I have no problem purchasing white-glove service. In some situations, it's cheaper to pay for white-glove service than it is to hire a technician to enroll devices all summer long.
The introduction of ZTE does put resellers in an awkward situation.
The sales margins on Chromebooks are very small; most resellers make their profit on additional services like white-glove service. Perhaps this is one of the reasons that ZTE hasn't been heavily promoted.
I recently helped a small private school purchase 50 Chromebooks and had to specifically ask the sales rep if they supported ZTE, this wasn't something they proudly proclaimed!
There is no reason you should be paying for ZTE and if it isn't offered, make sure you ask your reseller if they support this feature.
What is your experience with ZTE?
Did you take advantage of ZTE on your last Chromebook order?
How did it go?
If you have any stories or tips to share, drop a comment below!