In early October I had the chance to attend a special event at the Google offices in Sunnyvale, California for Certified Teachers, Trainers, and Coaches. The "champions summit" was an amazing celebration of teachers and a glimpse into the future of education.
I became a Google Certified Innovator in 2009 when I attended the Google Teacher Academy in Boulder, Colorado. A few years later, I attended a special summit in Mountain View, CA and help develop what is now the Google Certified Trainer program.
These two programs have opened up tremendous opportunities for me as a classroom teacher, school principal, and educational consultant. It is because of my involvement with Google for Education that I have been able to support my family as a full time edTech consultant for more than 10 years.

Introducing: Google Champions!
Earlier this year, Google decided to unite the Trainer, Innovator, and Coach programs under the "Google Champion" banner. The summit I attended in Sunnyvale is one of four Champion summits taking place around the world this year.
During the summit we were celebrated and honored as influential educators, listened and learned from our peers, and met with various teams at Google to help guide future product developments around data-driven instruction and AI classroom assistants.
We also had a loads of fun with tours of the Google campus, lots of prizes, karaoke, selfie cookies, and LOTS of great food!
Become a Google Champion!
The Google Certification program has changed my life. What are you waiting for? Join the fun and become a Google Champion as an Innovator, Trainer, or Coach.
Before you can become a Google Champion, you need to earn your level 1 and level 2 educator certifications. This process will sharpen your use of Google tools and develop your vision for using technology in the classroom.
Each certification requires that you pass a 30 question test on the integration of Google tools in the classroom.
I have been helping teachers pass the L1 and L2 certification exams since 2016 and I have LOTS of resources to share with you!
With your L1 and L2 certificates in hand, you can apply to any (or all) of these champion programs:

Google Certified Innovator – this competitive program features the brightest and best technology using educators who want to shape the future of education. Innovator academies are held at Google offices around the world.
Google Certified Trainer – this program is for individuals who help other adults explore and master Google tools. Certified trainers receive advanced access to new features and updates and are listed in the Google Trainer directory. Certified trainers are authorized to provide professional development to schools and business.
Google Certified Coach – The coaches program is for individuals who work with classroom teachers and students to use technology to enhance classroom instruction.
Each of these programs require a rigorous application and review process and acceptance is not guaranteed. Google Champions are dedicated and hard-working, two traits you will need in order to pass the review process.
Google Certification Academy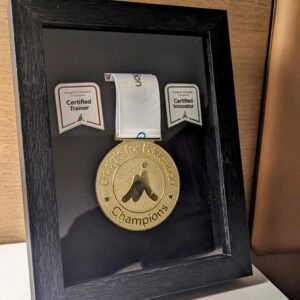 While you can complete the entire process on your own, it's a lot easier with an experienced guide and a good group of friends. That's exactly why I created the Google Certification Academy, a virtual experience that will put you on the path to becoming a Google for Education Champion!
The GCA is a LIVE virtual event that I personally host in June, July, and January. The cost to join is $199/person which includes lifetime access to a rich collection of resources.
The Google Champion program has had a profound impact on my life and career. I would love to help you join this amazing community of educators.