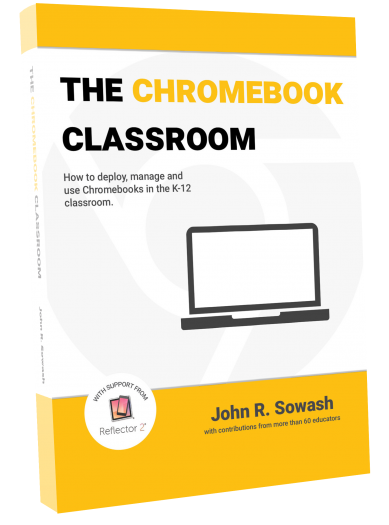 Do you have a Chromebook Classroom?
The Chromebook Classroom is the perfect companion for educators who are just getting started with Chromebooks – or looking for new ways to boost their students' learning through technology.
widgets Over 30 Lesson Ideas!
developer_board IT Deployment Guide!
"This is a fabulous book! It is beautifully written, with a relentless focus on meeting the needs of busy teachers; Easy to read and full of practical tips and tricks that will help any school in their journey."
Martin Hughes
Hamilton, New Zealand
"The Chromebook Classroom is a great and super easy read. It gets into the logistics of the how, why and ease of use for Google Chromebooks. I would recommend this book for any school admin, first time business user or IT department that is interested in diving into ChromeOS."
Kevin Hodges
Google, Inc
"For a relatively small book, it's hard to exaggerate the breadth Sowash manages to cover in The Chromebook Classroom… Beginners will appreciate the attention given to explanations of terms, and advanced users will like how ideas are connected with elements in various subjects at various levels. The Chromebook Classroom is a must-have for every teacher in schools starting to make use of these simple yet powerful devices.
Rushton Hurley
Next Vista for Learning
"A great tool to use for both rookie and seasoned teachers! Thanks for writing it! #EdTechBridge
Jay Eitner
Superintendent
Waterford Works, NJ
PURCHASE YOUR OWN COPY
Free shipping, bulk order discounts, and PO payment via Chrmbook.com
Section 1 – FREE Download!