How to archive your Google Classroom courses and close out the school year.
If you invest 1 hour to clean up and close your courses at the end of the school year, you will have a much more relaxing summer and make the start of next school year a LOT easier!
Here are five tasks I complete at the end of each year to organize Google Classroom, Gmail, Drive, and Calendar.
1. Return all student work in Google Classroom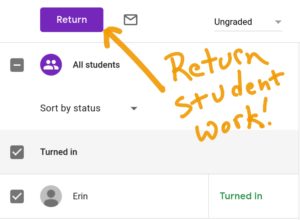 After your final grades have been posted, it is important that you RETURN all student assignments using Google Classroom.
When a student submits an assignment, you become the owner of their files.
You must RETURN the assignment to transfer ownership of the files back to the student which will clean up your Drive account.
Use the "to do" feature of Google Classroom to quickly scan your course to figure out which assignments need to be returned.
Returning assignments removes student files from your Dive account so that you can find the files you need.
2. Archive Google Classroom Courses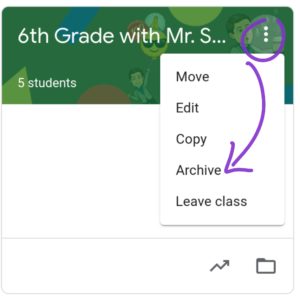 Once you have returned all of the student work, you can archive Google Classroom courses.
Archiving makes your classroom read-only which prevents students from turning things in or posting comments in the class.
Don't worry, you can always go into your course archive if you need to review something from an old course.
Note: I do NOT recommend deleting courses. You never know when you might need to document your interactions and communications with students.
3. Clean up your inbox
A messy inbox is overwhelming.
When you return to school in the fall, you don't want to be greeted by 5,000 emails from the PAST school year.
You need to ARCHIVE your old messages.
Archiving removes messages from your inbox without deleting them.
Archived messages can be easily viewed simply by searching for them.
I recommend that you to your OLDEST message and start archiving there.
Note: I don't recommend deleting emails as these messages document your work. Archiving messages moves them out of your inbox, but give you access should you ever need them. Your school G Suite account has free, unlimited storage, so there is no reason to worry about filling up your inbox.
4. Organize Google Drive
Trying to keep Google Drive organized is like herding cats… nearly impossible!
Sadly, Google Drive doesn't have an archive option like Gmail or Classroom (I wish it did), so I created my own.
I have a folder called "Archive" that I use to hide old files that I am no longer actively using. A few times each year I will scan through my Drive account and move old files into this folder.
Doing this reduces the number of folders displayed on my folder list which makes it easier to find what I need.
If there are files you no longer need, feel free to delete them, but remember: if you have shared the file with someone else, deleting it will remove their access as well.
Classroom Folder
You have a folder called "Classroom" which contains all of your course files.
I create an archive folder inside of the Classroom folder to hide my old class files.
Again, I don't recommend deleting old classroom files. These files serve as a record of who said and did what in your class. It's important to preserve that record in the event that you are asked to document your interactions with a student.
A quick note about "shared with me"
If you visit the "shared with me" portion of Google Drive it is probably filled with student files.
That's okay.
What should you do with them?
Nothing. Don't do a thing.
Because you RETURNED the assignments in Google Classroom, these files are now owned by the student. By the end of the summer, these files will "disappear" because they will be old.
Google shows you the most RECENT files in shared with me; Old files get pushed to the bottom where you won't see them.
5. Clear out Google Calendar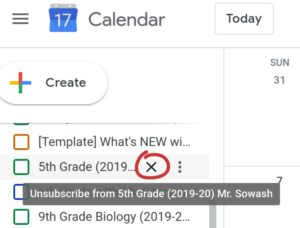 Every time you create a new course in Google Classroom, it adds a new calendar.
I don't find this to be terribly useful, but you can't turn it off.
If you aren't careful, after 2-3 years of using Google Classroom, you will have 20 Google Calendars to deal with.
I recommend that you hide these calendars at the end of the school year. This will make it easier to find and use the calendars that are important to you.
Now you can have a relaxing summer!
Knowing that Gmail, Google Drive, and Google Classroom are under control will give you the peace of mind that you need to have a relaxing summer. ☀️