Can Chromebooks help your class explore the world?
With Chromebooks in your classroom, exploring remote and exciting parts of the world has never been easier!
Joining me on this episode of the podcast are Kim Randall and Kelly Kermode, two wonderful and well traveled educators.
Kim has visited 65 different countries by flying 2.7 million miles on American Airlines. She is former elementary and middle school teacher current technology consultant.
Kelly Kermode is the integrated learning specialist for Forest Hills public schools in Grand Rapids, Michigan, and co-author with kim of Bring the World to your Classroom, a guide for incorporating world exploration into any subject area.
The importance of understanding our world
As Kelly and Kim have explored the world they have developed a passion for helping students and teachers explore global issues and understand important global and environmental challenges.
"As a midwesterner, it is surprising how disconnected the midwest is from other parts of the world. When you are on the coast is pretty easy to see how we are connected, but as you move into the middle of the United States it's easy to forget that we are a part of this larger global community. And that's my passion behind helping student get a new perspective on their world." (Kelly Kermode, author of Bring the World to your Classroom)
Exploring the world isn't something reserved for social studies and history class. The earth provides a rich opportunity to explore math, science, and even language arts. Kim and Kelly share a few ways to incorporate global exploration including Lit Trips which helps students explore the landscape and setting of literary works like the Diary of Anne Frank and Grapes of Wrath.
Maps are not just for social studies!
Get to know Google's Geo Tools
Google's corporate goal is to organize the world's information. That includes the world we live in!
The most stunning and amazing tool you can use to explore the world on your Chromebook is Google Earth.
"Google earth captures and hooks everyone immediate! Once I get teachers into Google Earth I just stop and let them explore. It's so amazing and overwhelming!" (Kim Randall, author of Bring the World to your Classroom)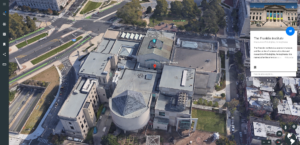 If you are an English teacher, you will be interested in the writing prompt idea made possible using Google Earth "I'm feeling lucky" button!
In 2017 Google earth was re-designed as a fully web-based tool that works beautifully on a Chromebook!
Kim and Kelly walk us through some of the features of Google earth and ideas for using it in your classroom.
They also recommend another Google tool called Tour Builder which you (or your students) can use to create a custom tour.
If students are uninterested in what you are teaching, their retention and the depth of what they are learning is very surface level. Tools like Google earth can increase student engagement and interest, leading to deeper learning.
Pegman, MyMaps, and more Google Geo Tools!
Google Earth isn't the only tool you can use in your classroom!
Kim and Kelly share some tips on using "Pegman", and creating custom maps using Google MyMaps.
"Putting data onto the visual canvas of a map helps bring data to life. Some students don't want to look through a spreadsheet full of numbers."
Using maps in your classroom is a great way to break out of the rut of always using Google Docs, presentations, etc. While these are great tools, they get a LOT of use. Why not try something different?
Kim shares an example of a teacher who is having her students publish video book reports on Google maps, linked to the setting of the book.
What about Virtual Reality?
We wrap things up by talking about virtual reality tools like Google Expeditions, Google Cardboard, and Tour Creator. If you haven't experience virtual reality, you MUST try it out!
Creating virtual reality tours is a growing industry that we should give our students an opportunity to explore. One of them might become the "Steve Jobs" of virtual reality!
Kim and Kelly are passionate about helping teachers and students explore the world using Chromebooks. Their book is a wonderful resource for helping you learn the tools and strategies to get started. Pick up a copy and begin exploring your world!