Which Chromebook is right for my classroom?
How to find the right Chromebook for your classroom?
Chromebooks come in dozens of different versions from many recognizable hardware partners, such as HP, Acer, Lenovo and Dell, with prices ranging from a little over $100 to just over $1,000. The good news is that deciding which Chromebook to buy boils down to only a few factors.
All Chromebooks come equipped with WiFi, Bluetooth, webcam, and integrated microphones.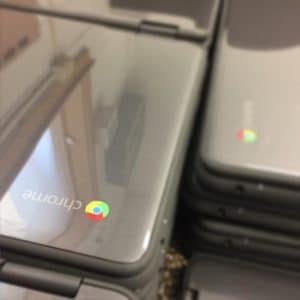 Chromebook battery life is universally outstanding, with all models boasting a minimum six hours of run time and some extending beyond 10 hours of life on a single charge. Because these devices run on a lightweight OS with cloud storage, concerns about hardware configuration (processor speeds, hard disk space, etc.) are less important. That said, more powerful models do load faster and are able to process high-demand activities, such as video streaming, more easily.
Of course, even Chromebooks have some limitations.
They are general purpose devices designed to meet most users' everyday needs. Chromebooks are NOT optimized for specialized computing needs, such as high-end graphic design software, proprietary programs, or peripheral support (interactive whiteboards, 3D printers, labware, etc.).
Schools will still need to provide access to traditional computers to run specialized software and peripherals. The goal is to have the right devices available when necessary, while having an overall reduction in device and IT support costs.
If you're helping a school district choose which Chromebook to order, here are the key considerations.
Are you more of a "visual learner?" Check out this video which highlights the same key decisions listed below.
Screen Size
Chromebook screen sizes vary widely. Schools with smaller desks or those considering a take-home program should choose models with screens between 10 and 11 inches. This allows students to fit both a Chromebook and a textbook on their desks and to easily transport their computers in their backpacks.
Teachers, on the other hand, do better with a larger, 14-inch screen. This makes updating gradebooks and multi-tasking much easier. Classes that rely on devices for multimedia creation, such as broadcasting or graphic design, also benefit from a larger screen size.
Another important consideration are the requirements for computer-based assessment. Many of the most popular assessments will support testing on Chromebooks, but have requirements related to screen size (usually 11" and above). Be sure to review the hardware requirements for the tests your school has adopted before making purchasing decisions.

Touch Screen
Touch screen technology is becoming much more common on laptops.
Most Chromebook manufacturers are offering a touch screen version of their devices, as well. This may seem like an unnecessary premium feature, but students can use touch screens for many educational activities, including finger writing, tablet-like app interactions, navigation, and learning games.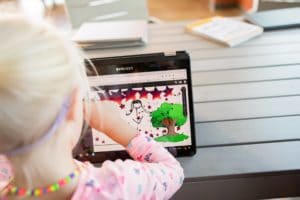 Touch screens also provide benefits for students with special needs, such as improving communication for students with autism or boosting fine motor skills for students with physical disabilities. Meanwhile, the cost of these devices continues to drop, making them nearly the same price as their non-touch screen counterparts.
For example, several manufacturers provide touch screen versions of their devices for a small ($30-50) additional fee. For comparison, Chromebooks with touch screens turn out to be less than half as expensive as iPads.
The ability to run Android applications on many Chromebooks adds an additional reason for considering touch-screen Chromebooks.
As a technology integration specialist, I test a lot of new technology and strategies with my own kids. In our house we have an iMac, Chromebooks, a Chromebase, Android Tablets, and iPads. All but 2 of these devices are touch-enabled. When asked which device was their favorite, my kids chose our 21″ touch Chromebase from Acer. While the 8 and 6 year old can use a traditional mouse and trackpad, Lillian, age 4, prefers the touchscreen "It's a lot easier to use and random stuff doesn't happen like when I use the mouse. I really like to draw on the computer!"
Is a touch screen an essential feature of a Chromebook? A poll of Chromebook users revealed that 84% of them feel that touch will become an essential device feature.
Durability
Probably the most challenging question for school administrators to consider is the cost/benefit equation of investing in more durable Chromebooks.
Low-end Chromebooks can be purchased for less than $200 per device. These budget devices feature slower processors, lower screen quality and are constructed from lightweight materials, making them more susceptible to physical damage. A low-end Chromebooks may be sufficient for personal, light computing, but will not withstand the rigors of the school environment.
Mid-grade Chromebooks feature shock bumpers around the screen and outside of the device to help the Chromebook survive moderate bumps and falls. Their enclosed keyboards will help protect the device from liquid spills. They also have enclosed screen hinges, addressing one of the most common failure points in laptops. Mid-level Chromebooks offer sufficient, but not extreme, processing power and battery life.
Classroom-optimized Chromebooks offer thicker, heavier construction specifically designed to tolerate more violent drops, dings, bumps, and crashes.
Finally, high-end Chromebooks are customized to provide powerful computing experiences – likely to be most helpful for administrators, teachers, and other staff.
A $149 "consumer" Chromebook tends to last one to three years in a classroom environment. A more expensive "ruggedized" Chromebook costs around $350 and can last three to five years.
Which device provides the greatest value?
It's a tough question.
Low-end Chromebooks are on the verge of becoming "disposable" devices. While this trend may not be the best for the environment, it does give school administrators more options around budgeting and device refresh strategies.
Being able to regularly cycle new devices into a school gives users access to the latest advancements in memory, processing power, WiFi technologies, etc. At the same time, schools may not have the liquid cash to do a large device purchase every couple of years, especially if the technology is being funded by state and federal grants or local bond proposals.
Consider your repurchase funding strategy before choosing the inexpensive or durable route.
Technical "Stuff"
For most other computer purchases, processor speed, memory, and hard disk space play a primary role in device selection. For Chromebooks, these elements are less important. The average user won't notice a difference between any off-the-shelf Chromebook and a higher-end device.
For "power users," adding additional memory (RAM) to a configuration will provide the biggest performance payoff. Most Chromebooks come standard with either 2 or 4GB of RAM, which is sufficient, but not excessive.
Power users may experience a lag with these devices during daily use. Upgrading to a Chromebook model with a minimum of 4GB of RAM will significantly improve their experience.
Disk space is typically a big factor when purchasing a new device. That's not the case with Chromebooks which primarily store files in Google Drive, making disk space less important.
However, if you plan on using your Chromebook offline or plan on using Android apps, you will want to give more thought to your disk storage capacity.
Chromebook Purchase Profiles
Note: Device availability and pricing changes constantly. The sample devices provided here simply provide a reference and may not be the best option currently available.
The Elementary Student
Elementary students CAN use Chromebooks! Adding touch capability makes them the perfect device for young learners. A convertible Chromebook can be used as a laptop or as a tablet and is ideal for young learners.
Screen Size

: 10-13"

Form Factor

: Convertible (touch-screen)

Durability

: Mid-grade

RAM

: 4GB

Price

: $199-299
Sample Device: Lenovo 300e ($269 from Lenovo)
The Middle School Student
Middle School students can be a bit rough on computers, so pick a device that is designed to take a beating! These devices don't need a lot of extras, keeping their cost low.
Screen Size

: 10-13"

Form Factor

: Traditional (touch-screen recommended)

Durability

: High

RAM

: 4GB

Price

: $199-299
Sample Device: Lenovo 300e ($269 from Lenovo)
The High School Student
High school students do a lot of work with multimedia, so give them a little bit of extra power by selecting a model with at minimum of 4GB of RAM. Newer Chromebooks also offer dual cameras to capture images and video in tablet mode. Look for a model that offers an enclosed keyboard (limits spill damage) and rugged screen hinges.
Screen Size

: 10-13"

Form Factor

: Traditional (touch-screen recommended with dual cameras)

Durability

: High

RAM

: 4GB+

Price

: $299-399
Sample Device: Acer Chromebook Spin ($266 from NewEgg)
The Spreadsheet Ninja
Spreadsheet Ninjas will appreciate a larger 14"+ screen. The 4GB RAM upgrade will ensure that large spreadsheets load quickly and responsively.
Screen Size

: 14-17"

Form Factor

: Traditional (touch-screen optional)

Durability

: Low

RAM

: 4GB+

Price

: $199-299
Sample Device: Acer Chromebook 14" ($263 from Amazon)
The School Administrator
Administrators are power users and need a machine that is fast and pleasant to use. Keyboard,trackpad, and screen quality are key. Select a device with an HD display, backlit keyboard, high-end trackpad and a powerful processor. Administrators who are frequently on the move may appreciate a convertible device with a touch screen.
Screen Size

: 14-17"

Form Factor

: Traditional / convertible

Durability

: Low

RAM

: 4GB+

Price

: $399-699
Sample Device: Samsung Chromebook Pro ($529.00 on Amazon)
The School Secretary
School secretaries can keep track of attendance, email, lunch counts, and more with a large desktop Chromebase. The Chromebase is simply a desktop version of a Chromebook with external keyboard and mouse.
Screen Size

: 17-23"

Form Factor

: Desktop

Durability

: Low

RAM

: 4GB

Price

: $299-499
Sample Device: Acer Chromebase 24" ($475 from Amazon)
Where can I buy a Chromebook?
Chromebooks can be purchased at nearly any technology retailer, however, schools are best served by establishing a relationship with an authorized Chromebook Reseller. Authorized resellers can provide discounted pricing, assistance in selecting the best devices for your needs, technical support, and training to help staff hit the ground running.
To find a device reseller near you, visit the official Google For Education Partner directory.
Don't forget your management license!
If you want the ability to manage your Chromebooks through the Google Admin console you will also need to purchase a $30 management license for each device. This is a one time purchase which lasts for the life of the device.
While you can purchases licenses individual through the Google Admin console, if you purchase your devices from an authorized reseller the license fee is typically rolled into the cost of the device.
The Chromebook management license is essential to effectively managing Chromebooks for a classroom setting.