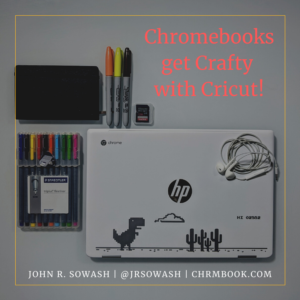 Get Crafty! Connect your Cricut to your Chromebook!
Android Apps make the impossible possible (like connecting a Cricut cutting machine to a Chromebook)
A few weeks ago I wanted to work on a project that required a vinyl cutter (check my Instagram account for some examples!).
My sister in law does all kinds of crafty things with a Cricut cutting machine, so I started to research getting one, taking advantage of some great black-friday sales.
The problem: I only use a Chromebook and it didn't look like the Cricut would work with ChromeOS. At least that's what it said on their website:
Important: Design Space is not compatible with Chromebooks, or Unix/Linux Computers.
Android Apps: the solution I was looking for
Design Space, the software used to communicate with the Cricut cutter, is only available for Mac and PC. It does, nowever have an Android App.
I quickly opened up the Google Play Store on my Chromebook to see if I could download the Design Space Android App.
Note: just because an Android app exisists, doesn't mean it will be compatible with your Chromebook. Always double check to see if you can install it on your Chromebook.
Sure enough, the app was compatible!
Again, all of the articles and videos I watched said that I wouldn't be able to connect a Cricut cutter to my Chromebook, but I ignored them and bought one anyway!
Note: I bought the Cricut Air 2 (in black, of course), but any Cricut model should work just fine with your Chromebook.
I've never used the desktop version of Design Space, but I'm pretty sure that the Android app is simplified.
If you are a veteran Cricut user, you might find the Android app restrictive when compared with the desktop version. For someone like me, who has never used the "regular" version, it works great and does everything I need it to do!
I have connected my Cricut to multple Chromebooks including the HP x360 and the Samsung Chromebook Pro. While they both work well, any Android-compatible Chromebook should work fine.
Tip: To figure out if your chromebook is Android-compatible, check this list.
How I connected my Chromebook to a Cricut Cutting Machine
After a short 2-day wait (thanks Amazon!) I pulled my Cricut out of the packaging and set out to connect it to my Chromebook.
Here are the specific steps I followed to connect my Cricut to my Chromebook:
1. Download the Design Space app from the Google Play store.
2. Open the app and sign in / create an account
Note: the first time I opened the app it took a while to load. Let it sit for a few minutes if it doesn't show up right away.
Tip: The green button in the image below says "machine set up", but I don't recommend using it." Click "sign in" and using your existing account or creating a new one. We'll connect your device in the next step.
3. Turn on your Cricut cutter
The cutter must be on in order for it to broadcast a Bluetooth signal for your Chromebook to find.
4. Open the system launcher on your chromebook (i.e. click the time) and select Bluetooth.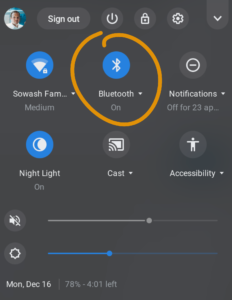 5. Your Cricut cutter should appear in the Bluetooth menu. Select it to connect it to your device.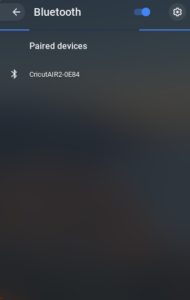 Tip: The first time you connect your Cricut cutter to your Chromebook you will be prompted to enter a PIN code. The default code is 0000. Unless you have changed it, that should work!
6. Prepare a project in Design Space.
When you get to the "make" screen, you will be prompted to select your Cricut (it should already be connected), and now you are ready to cut!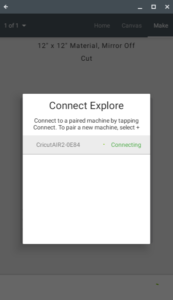 Android Apps make your Chromebook better!
If I have the option, I would prefer to use a web application over a mobile app.
Web apps are faster, smoother, and more reliable on a Chromebook than Android Applications.
That being said, having the option to dip into the Google Play store to access tools that DON'T have a full featured web app is a nice option!
So yes, you CAN connect your Cricut cutting machine to a Chromebook thanks to the Design Space Android app!
FTC Disclaimer: This post contains affiliate links.