Chromebook Lesson Ideas
Google Slides Journal Template
About the Project
Writing takes practice and a daily journal is a great way to encourage students to develop a writing habit. This project uses Google Slides to create an infinitely expandable student journal which is great for daily or weekly journaling assignments.

Lesson Overview
This student journal template is designed to be simple and flexible. It requires minimal setup and work to start using it in yoru classroom.
To begin, you will want to provide each student in your class with a copy of the journal template. The easiest way to do this is through Google Classroom.
Create a new assignment
Attach your copy of the journal template
Make sure you use the "make a copy for each student" option
Post the assignment.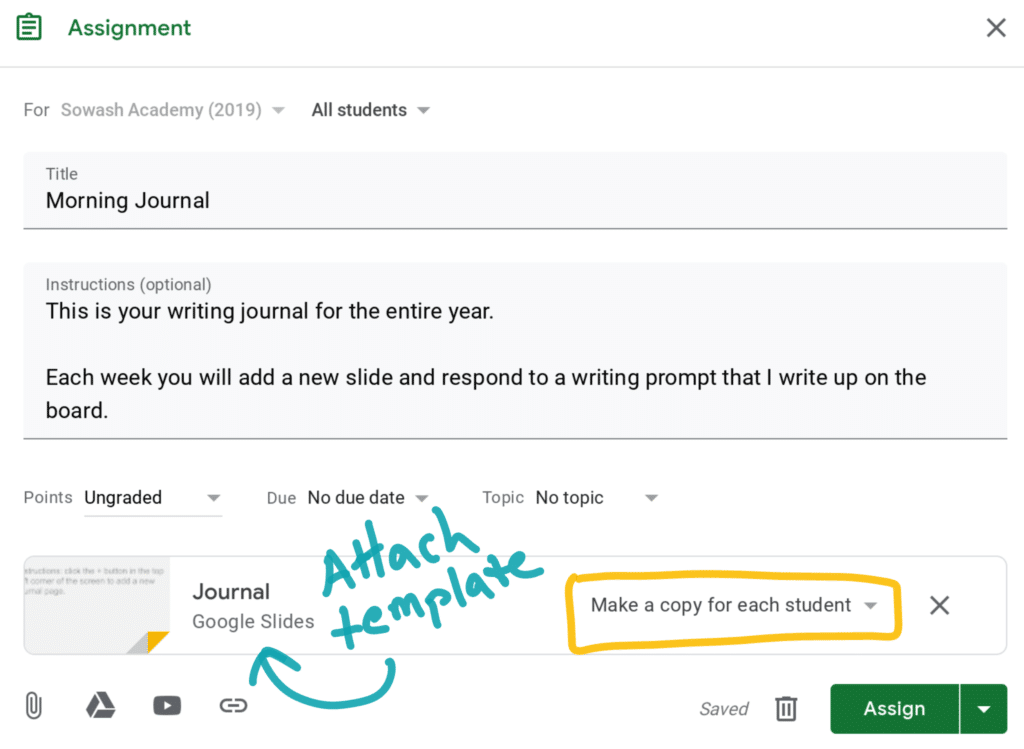 Great! Now that all of your students have their own copy of the template you can begin your first student journal assignment!
Provide your students with a writing prompt. You can write the prompt on your classroom whiteboard or post it in Google Classroom as an announcement.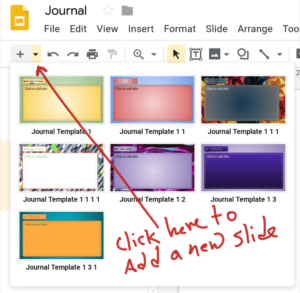 Students will insert a new slide for each journal response. They can choose from any one of the 7 designs that are included in the template. They can even customize the slide design if time allows.
You will probably need to walk students through the process of addin a new slide the first few times you do this assignment.
After completing their journal entry, students will submit their work through Google Classroom. You can review and spot-check submissions as desired.
When you are done, make sure you RETURN the assignment to students.
That's it! The next time you want to do a journal assignment, just provide the prompt and have students add a new slide to their presentation. You can re-use the document as many times as you wish!
Tips and Suggestions
This student journal template was created in Google Slides and features 7 slide designs.
Each design was created as a slide master to prevent students from inadvertantly editing or messing up the format of the slide. You can create additional designs by clicking on slide > edit master. Feel free to add additional elements to the design if you have a specific format for your journal responses.
You might even consider asking your students to create their own slide design. This is a fun way to give them more ownership in this assignment.
Update: I just discovered the "slip-n-slide" add-on for Google Slides! This add-on makes it possible to push out a new slide to existing student presentations. Select the folder with all of your student journals and slip-n-slide will add a slide for them!
Lesson Resources