How to Lock a Google Form Quiz with a Chromebook
Creating a Locked quiz with Chromebooks, Forms, and Google Classroom
Securely administering a quiz using Google Forms was a big challenge for teachers.
A lot of teachers were asking how to lock a Google form quiz.
In my own classroom I was reluctant to use Google forms for anything more than a simple chapter quiz because it was not a secure testing environment.
Back in June of 2018 Google announced they were working on a feature that prevent students from navigating the web during a quiz administered with Google Forms.
This feature is called locked mode for Google Forms.
Over time Google has added a lot of education-focused features to Google Forms such as auto-scoring, the ability to shuffle questions, using images as answers, and now a secure testing option!
Note: As of December 6, 2018 the locked quiz feature is only available to a small number of users who are testing. You can sign up to be a beta tester here (requires school admin approval). I anticipate that locked quizzes will become available to all G Suite for Education users in January 2019.
How to enabled Locked Quiz Mode
One of the best things about the new locked quiz mode is how easy it is to enable!
Here is what you need to do in order to enable locked quiz mode:
Open or create a Google Form.
Access settings for your form (gear icon in the top right corner)
Click on the "quizzes" tab
Click "Turn on locked quiz"
That's it!
Want to know how locked quiz mode works?
Are your Chromebooks compatible?
Does your IT department need to configure your network for locked quizzes?
Does locked quiz mode work on iPads?
Can students break the locked quiz mode?
I did extensive testing on this feature and did my best to "break" it and push it to the limits. Keep on reading!
Locked Quizzes (Video overview)
Prefer watching over reading? Check out my detailed video overview of locked quizzes for Google Forms, Classroom, and Chromebooks!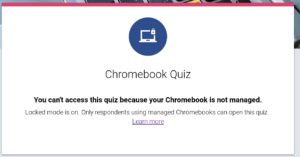 Locked quizzes are only available on managed Chromebooks
Locked quiz mode will not work if you are using iPads, PC, Mac, etc. You must use a managed Chromebook to take advantage of this feature.
Locked quiz mode utilizes ChromeOS secure boot which verifies that the operating system has not been modified or tampered with. Secure boot is enabled for devices that are registered to a school district.
Not sure if your Chromebooks are managed?
Click on the system options in the bottom right corner of your Chromebook and look for "This device is managed by…"
If your school has a bring your own device (BYOD) program and students are bringing their personal Chromebooks to class, locked quiz mode will NOT work.
Note: Managed Chromebooks must have ChromeOS version 68 or higher in order for locked quizzes to be available.
What happens when you enable locked quiz mode?
Locked quiz mode prevents students from accessing opening new tabs or accessing unauthorized digital content.
After opening a locked quiz, students are prompted this message:
"Locked mode is on. Once you start this quiz, you won't be able to open tabs or applications. To avoid losing any work in other tabs, make sure to save before you begin. All your tabs will reload after you submit this quiz."
After clicking "Start Quiz" The form become full screen and all browser controls and navigation is hidden to prevent students from accessing any other content while they are taking the quiz.
To exit the full screen mode student must submit the form or click the "exit" button in the top right corner.
Clicking exit without submitting a form will delete any responses that were entered in the form. Partial responses are NOT saved.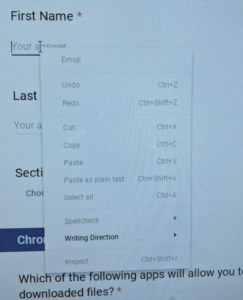 How Secure is a Locked Quiz?
I was impressed!
During a locked quiz students will be unable to:
Open a new tab
Access Chrome apps or extensions
Take a screenshot
Copy / paste text
View page source information
Google has also added a new feature that notifies the teacher by email if a student opens a locked quiz and closes it without submitting a response.
Accessibility features in locked mode
ChromeOS accessibility features are available during a locked quiz however you must use the keyboard shortcuts to activate them.
Students can use dictation and select-to-speak during a locked quiz. This is especially useful for students who have accommodations written into their IEP that require assessments to be read to them.
Because the shelf is hidden, keyboard shortcuts are the only way to activate accessibility features during a locked quiz:
Dictation: click text field and press Search + d
High Contrast Mode: ctrl + search + h
ChromeVox (text-to-speech): ctrl + alt + z
Docked magnifier: ctrl + search + d
Select-to-speak: Press and hold the search key (magnifying glass) and select the text you would like read
In the documentation on locked quizzes Google did indicate that certain Chrome extensions can also be made available during a locked quiz, but no information is currently available on which extensions can be used and how to enable them.
Google Classroom Quiz Lockdown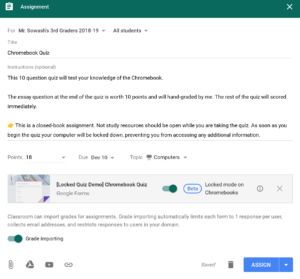 Locked quizzes works great with Google Classroom!
The new "Quiz Assignment" feature in Google Classroom makes it easy to create a quiz right from Google Classroom.
Important: Using the "Quiz Assignment" feature of Google Classroom is NOT required to take advantage of locked quiz mode.
If you have an existing form in Google Drive, you can post these assessments to Google Classroom by using the regular "assignment" feature and activating the "locked mode on Chromebooks" switch.
Google Classroom is NOT required to create locked quizzes. You can send students to a locked quiz via link, email, Schoology, Moodle, Seesaw, Canvas, Edmodo, or any other learning management system!
No Admin setup required for Locked Quizzes!
Unlike other secure testing environments like NWEA or SBAC, your school IT department doesn't need to add or configure anything for locked quiz mode to work!
As long as you are using a managed Chromebook and Google Forms, you can use this feature! No special extension, kiosk app, or network configuration required!
How to enable Locked quiz mode for a Google Form Quiz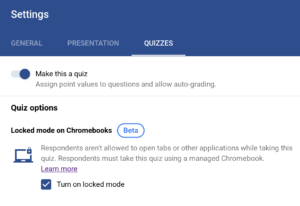 Good news! If you have been using Forms to create classroom assessments you can enabled locked quiz mode for your old forms!
To enable locked quiz mode visit the settings for your form, click on the quiz tab and look for "locked quiz"
Note: this feature is in beta testing as of December 6, 2018. If you are not a beta tester, you will not see this feature until it is publically released.
Locked quiz mode will adjust some settings for your form:
automatically collects student email addresses
Limit to 1 response
Restrict users to your school domain only
These settings will limit how you can use forms in your classroom: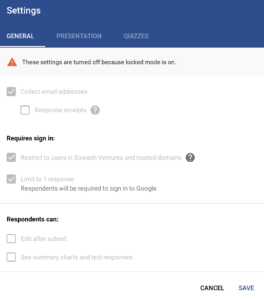 Because students are limited to 1 response, it will be difficult to use locked quiz mode for mastery assessments or practice quizzes.
Because locked quiz mode is limited to students in your domain, locked quizzes will not work if you have students from multiple school districts, in a home school setting, students who are using Gmail accounts, or in situations where teachers are in a different G Suite domain than the students.
Interested in learning more about Google Forms in the classroom? Check out Google Forms for Educators, my 5 week online course on how you can create awesome assessments and automate your classroom using Google Forms!
Resources: