Make Google Meet better by installing these 5 Chrome extensions!
Video conferencing tools have quickly become an essential part of the virtual classroom.
I have been answered the "Zoom vs. Google Meet" question dozens of times over the past few weeks.
Honestly, I don't really think it matters any more than picking Coke over Pepsi or Ford over Chevy.
When used correctly, with the proper security settings in place, both Zoom and Meet are very capable video conferencing tools.
Here's the thing… if you teach in a G Suite for Education school and you are using Chromebooks and Google Classroom…why wouldn't you use Google Meet?
Unfortunately, one of the big selling points of Zoom are the "fancy" features that are missing from Google Meet:
Seeing ALL of your students at the same time
Audience reactions
Mute-all
These missing features make Google Meet feel a bit less polished and capable than Zoom…until now!
There is a growing list of Chrome extensions that can enhance your Google Meet experience and add "Zoom-like" elements!
Let's take a look at some of my favorites!
Grid View for Google Meet
Grid view makes it possible to see all of your students on-screen at one time. I have successfully used Grid view in a session with more than 200 participants and it works great!
Keep in mind that when Grid View is active, all participant's screens are shown at the same time. If you are presenting something for your students, they should turn Grid view OFF so that your screen is larger.
Note: Google recently added "tiled view" to Google Meet which will display up to 49 participants at a time. While tile view is nice, Grid View provides some BONUS features like the ability to mirror your screen and the option to view your screen share in the Meet window.
⤵️ Click to install the Grid View Chrome Extension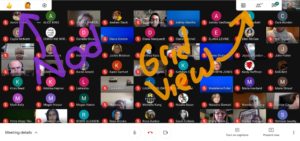 Nod reactions for Google Meet
The Nod Chrome extension adds in Facebook-like reactions. Students can clap, raise their hand, or LOL during your session without interrupting the speaker.
The Nod extension MUST be installed before you will see reactions from others in the call.
⤵️ Click to install the Nod Chrome Extension
Dualless window splitter
Use Dualless to split your screen into two windows so that you can screen share AND monitor your class at the same time.
If you wan to share your screen and keep track of the Meet chat and video windows you need to organize your tabs into two windows – one that contains the websites you want to share and another that lets you view the Google Meet.
If you have dual monitors you this is pretty easy. But if you are "dual-less", you can use this handy Chrome Extension!
⤵️ Click to install the Dualless Chrome Extension
Meet Attendance
This extension will record a list of everyone who is present in a live session. Attendance information is stored in a Google Sheet which is only accessible by the meeting creator.
Only the teacher needs to have this extension installed.
While it does work, the Meet attendance interface is a bit funky. You'll want to spend some time playing with it to understand how it works.
⤵️ Click to install the Meet Attendance Chrome Extension
Push to Talk
This is a great extension for young students who struggle to push the mute/unmute button. When this extension is installed, you must press the space bar to talk. Let go of the space bar and your mic is muted again.
While it's not perfect, this extension helps address the lack of a "mute all" button on Meet.
Tip: Once students join your Meet call, have the manually mute their mic. This is required before the push-to-talk extension will work. From this point forward they can use the spacebar to control their microphone.
⤵️ Click to install the Push to Talk Chrome Extension
BONUS: Highlight mouse cursor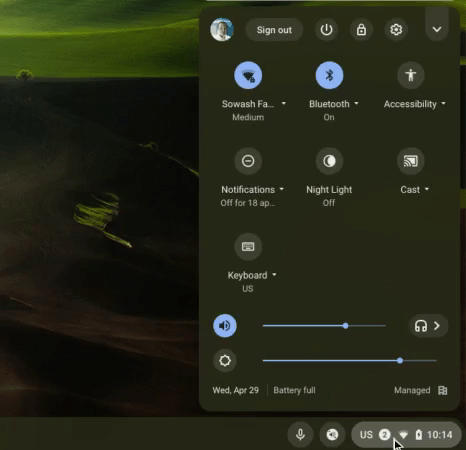 It can be difficult for participants to see and track your mouse cursor when you are sharing during a Meet session. Enable to the "highlight mouse cursor" accessibility feature on your Chromebook to add a red circle around your mouse. This makes it much easier to follow your virtual demonstration.
Read this post for detailed instructions on how to enable accesibility features on your Chromebook.
Still Missing from Meet
While the extensions above do fill in some missing Meet features, there are a few more that I don't have solutions for:
Mute all – The meeting creator should be able to mute all participants with a single click. I haven't found any magic solutions to make it easy to mute everyone in a Meet session, although Push to talk helps.
Remove all – The meeting host needs to be the last person to leave the Meet session. It is possible to manually remove participants, but this must be done one at a time. I would like to see an "end meeting" button which removes everyone from the meet.
Better moderator controls – Google has added a lot of great features including breakout rooms and background replacement. The moderator controls for these features leave a lot to be desired, however. Currently only one person can be the meeting hosting and it isn't possible to transfer host controls to someone else. This makes it tough to lead a meeting or virtual lessons with a co-teacher.
Breakout Room Management – Having the ability to use breakout rooms in Google Meet is great! It would be even better if breakout room assignments could be saved and teachers could send chat messages into all breakout rooms.
If you have solutions to any of these missing features please let me know!