Do you want Android apps for your Chromebook?
Google has been trying to combine the ChromeOS and Android ecosystems since 2016.
Is this the future of Chromebooks or a bad idea?
While I am a HUGE proponent of Chromebooks, I have been very sluggish to recommend running Android apps on a Chromebook.
Here to change my mind about Android apps for your Chromebook is Tom Mullaney, Digital Learning Coach at Carroll Middle School in Raleigh, NC.
I have been following Tom on Twitter for some time and have seen him putting out a lot of content on his blog and Twitter on how he is using Android apps on his Chromebook.
This should be a solid conversation!
Discovery (a space for learning)
Tom's school district has a unique program called "Discovery" that allows teachers and students to explore areas of interest.
Discovery is a 1-hour class that meets for one week. The topics for the class are chosen based on interest by staff and students and rotate on a regular basis. Any teacher can submit an idea for a class and as long as there are students interested in taking it, it gets added to the schedule.
Tom has led Discovery classes on setting up a WordPress blog, using Google's tour creator app, and digital art. Tom's digital art class led him to explore the use of Android apps on his Chromebook.
Jumping on the Android Bandwagon
If your Chromebooks is less than three years old, it **probably** has access to Google Play which is where you need to go to install Android Apps on your Chromebook.

The official list of Android-compatible Chromebooks is available here. Some of your older student devices may not be compatible.
At this time, most school districts have NOT enabled the use of Android apps on your Chromebook. If you want to experiment, sign in to your Chromebook using a personal Gmail account.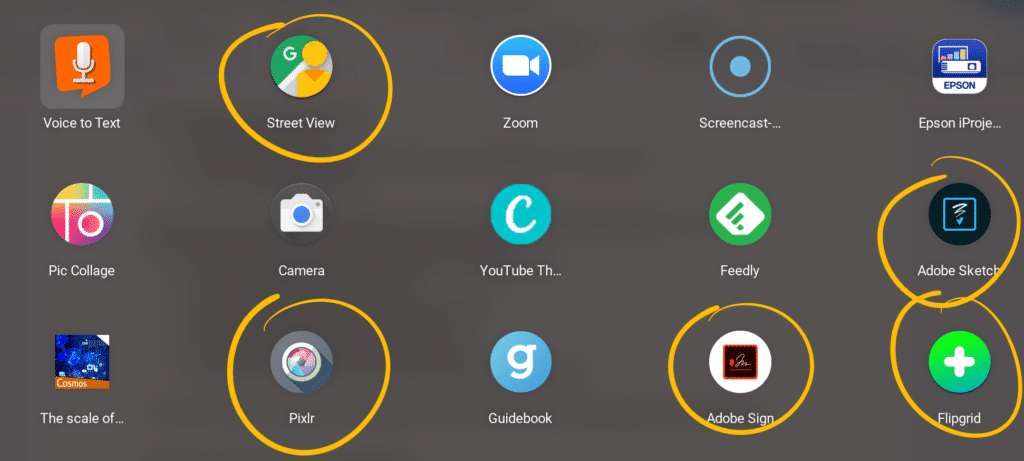 Android Apps have a few benefits:
Better offline access

Improve integration with the camera and microphone on your device

Touch-optimized interface
Once you have access to Google Play, you can begin installing Android apps on your Chromebook. Here are a few Android apps for your Chromebook:
Google Expeditions (lead students on a virtual field trip)

Google Keep (auto-transcription)

Google Classroom (share video instructions)

Adobe Sketch (create fun art projects)

Jamboard (collaborative white-board tool)

Science Journal (record science data through your device)
Tom has created several nice blog posts to share his favorite Android apps for the classroom.
It's time to get started…
It is time for school districts to begin testing and considering how access to Android applications can benefit the classroom. Here is what I recommend:
Start a Pilot Program: Select a class to test the use of Android apps during the 2019-20 school year. Art and science courses are great candidates.
Let Teachers Explore: Enable access to the Google Play store for your teachers. Let those who are interested explore and experiment with these new tools.
Consider your Chromebooks: Using Android apps on a low-powered, non-touch device is not fun. To get the best experience, you will need a touchscreen Chromebooks with a minimum of 4GB or RAM. School districts would be wise to consider this when making future device purchase decisions.
Google is still working the final bugs out of the combination of Android and Chrome. I recommend giving them 1 more year before considering a wide-scale rollout of Android Apps for students.
While originally very skeptical about this program, I am starting to see benefits for the use of Android apps on ChromeOS. I am personally starting to take advantage of a few Android apps and learning how to integrate them into my daily workflow.
The ChromeOs platform continues to get better. Every year new features and refinements make ChromeOS better for learning, productivity, creativity.