Is G Suite Enterprise for Education worth the cost?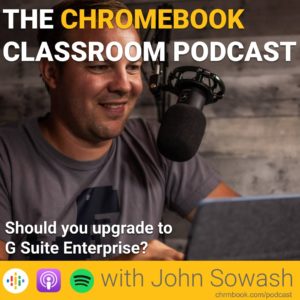 Should your district upgrade to the enterprise edition of G Suite for education? That's the question I would like to help you answer!
During this episode we will explore the differences between the free and paid versions of G Suite for Education, look at pricing, and try to decide if upgrading is a good fit for your district.
G Suite for Education Enterprise Features:
Google Meet features:
Up to 250 participants

Meeting recording

Livestream (up to 100,000 in-domain participants)

Breakout rooms

Poll questions

Q&A Moderation

Attendance reports
Google Classroom features:
Unlimited originality reports

Internal originality checks (scans documents in Google Drive in addition to the web)

Improved admin reports
Security and data privacy features:
Domain migration (requires 15% of staff to be licensed)

Shared Drive folder migration (requires 15% of staff to be licensed)

BigQuery logs

Enhanced mobile device management

Context aware access
This is only a partial list of the features of G Suite Enterprise. This document contains a complete list.
How much does G Suite for Education Enterprise cost?
G Suite for Education Enterprise at $48/year/user.

Full domain license

– All users receive a enterprise license.

Partial domain license

– select the users who need advanced features. Some domain-wide features such as domain migration, will not be available.
How to upgrade to G Suite for Education Enterprise
To upgrade to enterprise, contact the Google reseller that you used to purchase your Chromebooks or Chromebook licenses.
Tip: you can view your reseller by logging into the Google Admin console and visiting the "billing" app. Your reseller will be listed on this page.
If you don't have a reseller, you are welcome to contact my friends at Promevo (not a sponsor). They helped me upgrade my domain.

Did you upgrade to enterprise?
Did your district upgrade to enterprise? Leave me a comment and let me know why they did or did NOT.