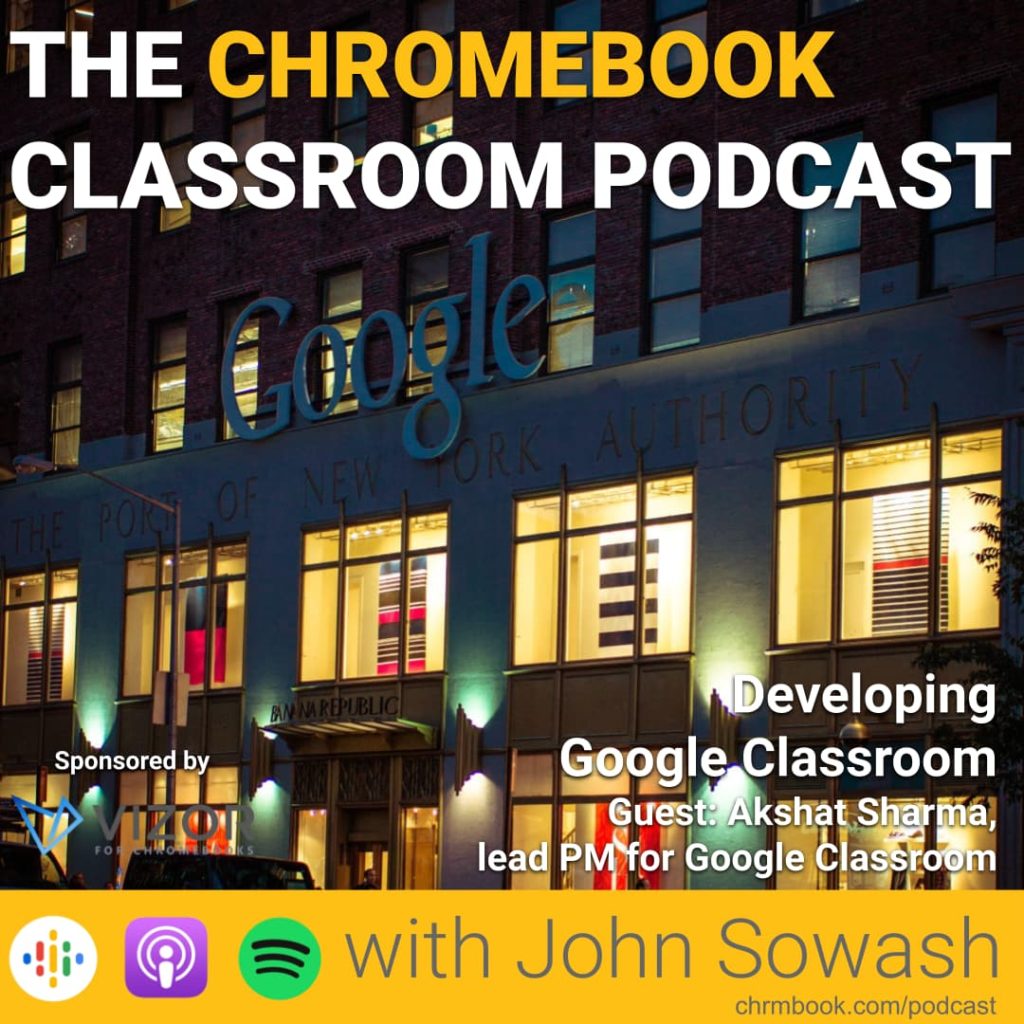 I spend a LOT of time using Google products, so it's a real pleasure when I have an opportunity to talk to one of the individuals that is responsible for the creation and development of the products I rely on daily.
My guest today is Akshat Sharma, the Lead Product Manager for Google Classroom.
Akshat is in charge of managing the group of developers at Google who maintain and add new features to Google Classroom.
Episode Sponsor: VIZOR
VIZOR provides Chromebook 1:1 Management Software for Schools. Get 20% off your first year when you schedule a no-obligation demo.
Classroom during the pandemic
Google Classroom experience explosive growth in 2019 as schools were forced to close because of the COVID pandemic.
As usage of Classroom increased, Akshat and his team had to predicting the demand curve in order to secure sufficient computing resources to keep Classroom running. This proved to be a very challenging time as demand continued to surge beyond everyone's expectations.
My mom uses Classroom with her students…
Google Classroom supports more than 150 million teachers and students, but there is one critical user that Akshat needs to keep happy: his mom!
You'll enjoy hearing about the conversations Akshat shared with his mom as she began using Google Classroom with her students.
Making Google Classroom better
Pretty much every teacher I talk with has a new feature or "fix" they would like to make to Google Classroom.
Akshat's team spends a LOT of time listening to teachers, collecting feedback, and watching students use the product.
All of this information is used to improve the existing set of core features (like adding the classwork page) and developing new features (like add-ons for Classroom…coming soon!)
Maintaining the simplicity and stability of Google Classroom is something that the development team takes very seriously. New features have to make sense and improve the overall experience.
If you've ever wondered "why haven't they added this feature to Classroom…", you'll find this discussion very interesting.
Credits: cover photo by Nan Palmero on Flickr