Chromebook Lesson Ideas
Audio Exit Tickets
About the Project
Exit tickets are quick, written reflections that students submit at the end of a class period to summarize their learning.
An exit ticket serves two purposes:
They force students to reflect on their learning for that class period
They provide valuable data to help the teacher to understand the impact of the lesson and plan future instruction.
For years I collected paper exit tickets at the end of class. It was a bit of a mess collecting, sorting, and (trying) to read and understand the responses. Tools like Google Classroom have made digital exit tickets much easier to facilitate.
But there is still one major problem: some students have a hard time expressing their thoughts through writing:
Some are slow typers
Some have difficulty spelling and putting words together
Just because a student struggles with writing, does not mean they don't have something to share. Give these students a voice by using audio reflections as a alternative exit ticket strategy.
Lesson Overview
Instead of asking students to complete a written reflection, ask them to verbally respond to your exit ticket prompt by recording their response using the microphone on their Chromebook.
Your students will need access to a recording tool in order to complete this assignment. I recommend AudioRecorder because it is so simple.
After recording and downloading their response, students will attach it to the assignment you created in Google Classroom.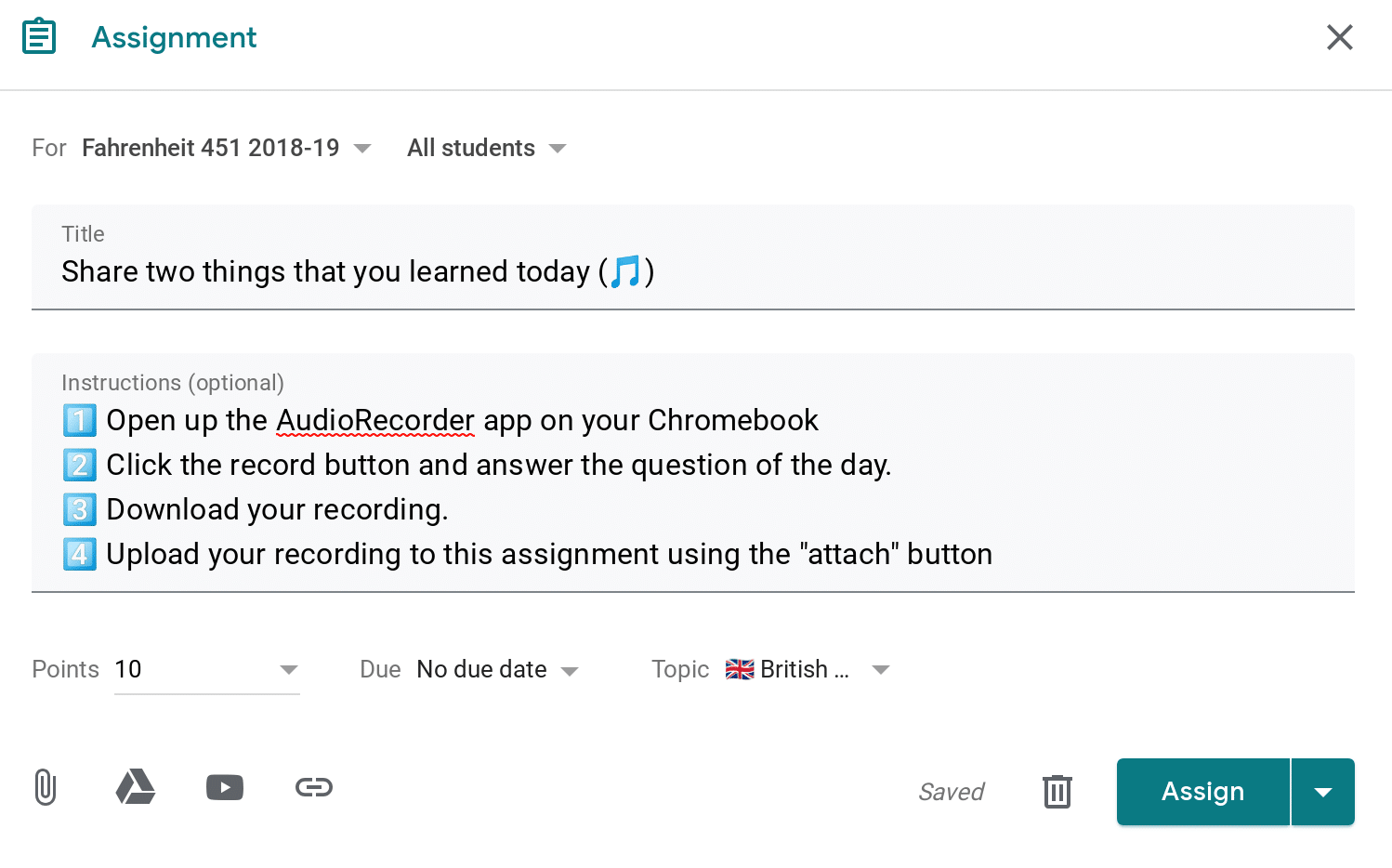 Tip: Use the "Assignment" feature in classroom, not the question feature. This will give your students the ability to upload their audio recording.
Google Classroom is able to recognize and play audio files, making it easy for teachers to listen and respond to the student responses.
Having done this activity in my own classroom many times, I am always struck by how different it is to hear my students rather than reading their responses; Audio exit tickets provide a much more personal experience and are a great alternative exit ticket strategy.
Documenting student work is a powerful classroom strategy. Check out this post for more simple ideas you can use in your classroom!
Tips and Suggestions
The microphone on your Chromebooks should be sufficient for this type of activity, but won't yield a high-quality recording. That's okay.
We are documenting student learning, not trying to produce an award winning podcast!
Your exit ticket question should not require more than a 45 second response.
We're going for a response that can be recorded in one-take without any editing.
Remind students that only you will be able to hear their response and that you aren't looking for perfection. Ums, pauses, and mistakes are okay.
Some students will complain about this assignment. Most likely they prefer to express themselves through writing. That is totally normal. Mix up the format of your digital exit tickets and explain that it is important to work on both verbal and written communication.
Lesson Resources