While this blog is primarily focused on ways to use Chromebooks in the classroom, I do occasionally like to demonstrate that Chromebooks are capable for handling all kinds of technology projects and hobbies.
My son John, is a big fan of Minecraft and Rocket league. Recently he asked if it was possible to use his Chromebook to record and edit some of his game play to share on his YouTube channel.
Honestly I wasn't 100% sure if this was possible, but I said we could try.
HDMI Capture card for your Chromebook
The first thing we had to do was figure out a way to connect our console (Nintendo Switch) to our Chromebook.
This setup will work Xbox, Playstation and any device that has an HDMI output.
John's HP Chromebook didn't have an HDMI port, so we purchased a video capture card that lets us connect the HDMI cable from the video game console to the USB port on the Chromebook.
Video capture cards are pretty basic and inexpensive. Most models won't specifically mention being compatible with a Chromebook, but they should work just fine.
We purchased this inexpensive model from Amazon for $20 and it works great.
This $150 capture card also works with Chromebooks and has a few additional features like dual audio input and the ability to record straight to an SD card.
Essentially, there is an option for every budget. You don't need something high-end to start streaming!
Split your video feed
It's pretty tough to play a video game by watching the Chromebook screen.
Ideally, we want the game to show up on our TV and on the Chromebook. To make this happen, we need one more piece of inexpensive equipment: an HDMI splitter.
This little box let's us connect two screens to the console. We run one HDMI cable to the TV and the second goes to the Chromebook.
We purchased this $15 unit from Amazon. You don't need anything fancy, and there isn't anything to set up or configure. Just plug in your HDMI cables.
This setup lets us play Rocket League, Minecraft, Zelda, etc using the TV, while the Chromebook is recording the action.
Okay, that's it for the setup. This image illustrates how everything is connected together.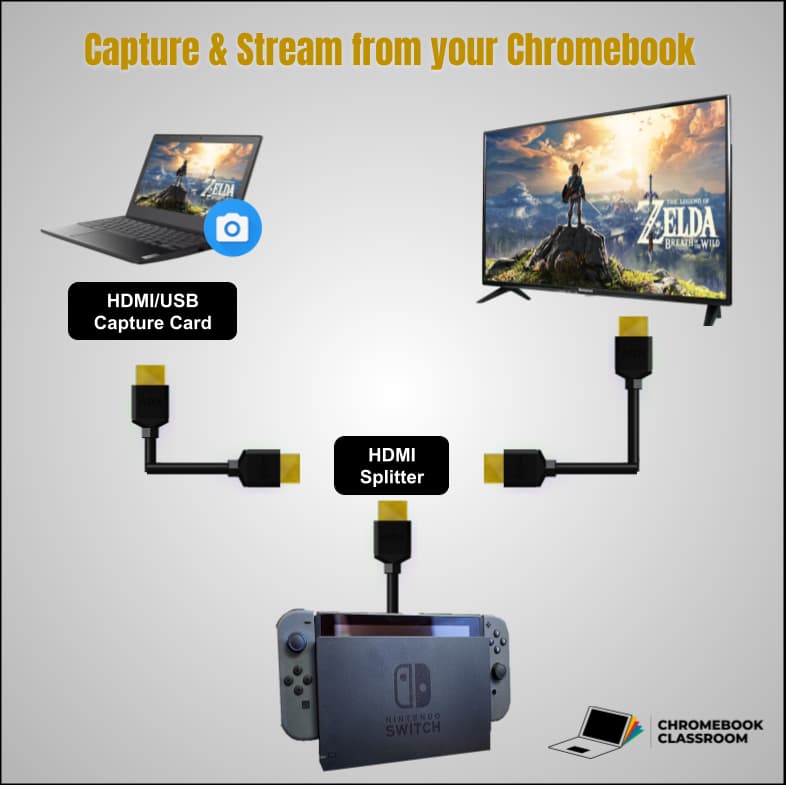 Record game footage with your Chromebook
Okay, now that we have all of our cables connected, we need to talk about how to actually view and record the action on the Chromebook.
You need an application that can show the video feed from your console on your Chromebook. We tried several different apps before we discovered an ultra simple solution: the camera app that comes with every Chromebook!
After all of our cables are connected, we open up the camera app (look for the blue camera icon). Initially, the camera app will activate your webcam. To change the source, click the circle arrow until your game feed is displayed.
Note: if you don't see the circle arrow, check your connections….
Great work! To record, just click the red button and start playing! There is no maximum length, provided you have enough local storage on your Chromebook.
Related Video: The Chromebook camera app is surprisingly good (tips, tricks & fixes)
Finding and your video game footage
Your video footage will be locally saved in the "camera" portion of your Chromebook as .webm video files. I would recommend uploading the clips to Google Drive or Google Photos for safekeeping.
You can use your favorite video editor to work with your clips, add a voice-over, music, transitions, etc. John uses WeVideo to edit his video game footage into videos like this.
Related post: Here are five weird things that I do to organize my Google Drive
Stream live from your Chromebook
The easiest way to stream game-play live is by using YouTube.
YouTube streaming is a nice option because it is free and doesn't require any additional software. Just head over to your YouTube channel, click "create" and select "go live."
Use the webcam option when setting up your stream. This will allow you to select your video capture card as your broadcast method.
Streaming via Twitch requires a bit more work because you will need to use a third party broadcasting service. Streamyard and Lightstream will both work, but require a paid subscription.
Taking your streaming game to the next level
The setup that John uses to record his game footage works great for simple, short recordings. If you plan on streaming for a long period of time, there are a few things you should know.
First, the processing power and storage capacity of Chromebooks can vary widely. The Chromebook John uses is a pretty basic model with 4GB of RAM and a low-end processor. For fast, multiplayer gameplay, low-end Chromebooks will drop some frames resulting in laggy, choppy footage. To avoid this, you'll want to look at a higher-end Chromebook with 8GB of RAM and a more powerful processor like the HP x360 or the Asus flip CX5.
Related: Which Chromebook is the best? (Gabe Brangers, Chrome Unboxed)
If you need to share multiple video streams, this setup might not work for you. The camera app for Chromebooks can only display one video at a time. This means you can't simultaneously record your video game footage AND your webcam.
To stream multiple video feeds you will need more sophisticated software.
So far, I haven't been able to find any free options that are easy to use on a Chromebook. Streamyard is one option that does support multiple cameras, if you upgrade to their $39/month professional plan.
A simpler option is to use a second device, like a phone or another computer to record your second camera feed.
Follow Johnny on Youtube
If you are a gamer, check out John's YouTube channel. Minecraft, Rocket League, and Zelda are his three favorite games. When he's not sharing gaming videos, he enjoys making trick shot videos!
If you have any tips for recording and streaming with a Chromebook, drop us a comment! We'd love to hear from you!
---
Note: this post contains affiliate links and I may earn a small commission when you click on a link, at no additional cost to you. This source of income allows me to keep this site ad-free and buy new shoes for my kids!