5 simple Jamboard lessons for any classroom!
Sick of doing the same thing over and over with your students?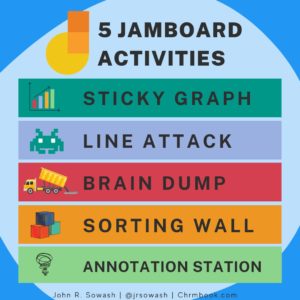 Spice things up with Jamboard, the free whiteboard app from Google which integrates with Google Classroom and Google Meet!
Start of your virtual lesson with a whole-class Jam activity or send your students into breakout rooms and ask them to complete a small group activity.
Three of these Jamboard activities work well as whole-class assignments. Two more work best as individual or small-group activities.
These Jamboard lessons work with Chromebooks, tablets, phones, and laptops. A touchscreen is nice, but not required.
Watch the video below for an overview of all five Jamboard activities. Then, check out the templates below the video!
1. Sticky Graph
In sticky graph, students type their name on a sticky note and "vote" by placing their sticky note on one of the options you provide for them.
The end result is a unique bar-graph of Jamboard sticky notes!
This Jamboard activity works well with a large group of students and is a great way to start a virtual lesson on Zoom or Google Meet.
Sticky Graph resources: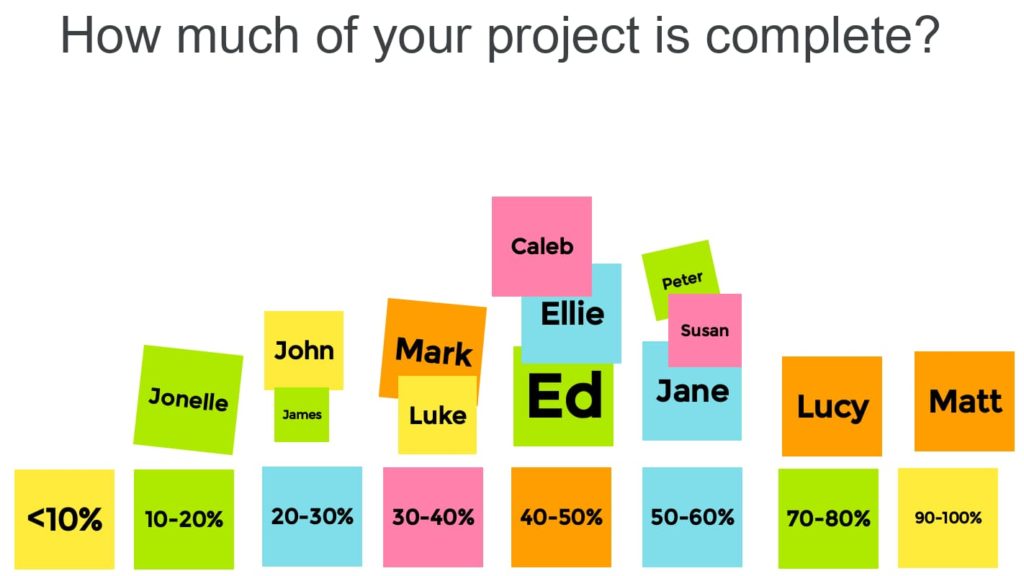 2. Line Attack
In line attack, students draw lines to represent relationships between objects. The more lines, the stronger the relationship!
This is one of the Jamboard activities that works well with a large group of students.
Yes, things will get a little messy, but that's a feature of this activity!
Line attack works well for science, language arts, and social studies courses….any subject with lots of interconnected elements.
For example, you might provide students a equation and ask them to graph the solution using Jamboard. As students begin drawing their lines, you will start to see a consensus develop on the correct line slope.
After providing students with some time to draw their solution, review their answers and point out any incorrect answers or misconceptions.
Line attack resources: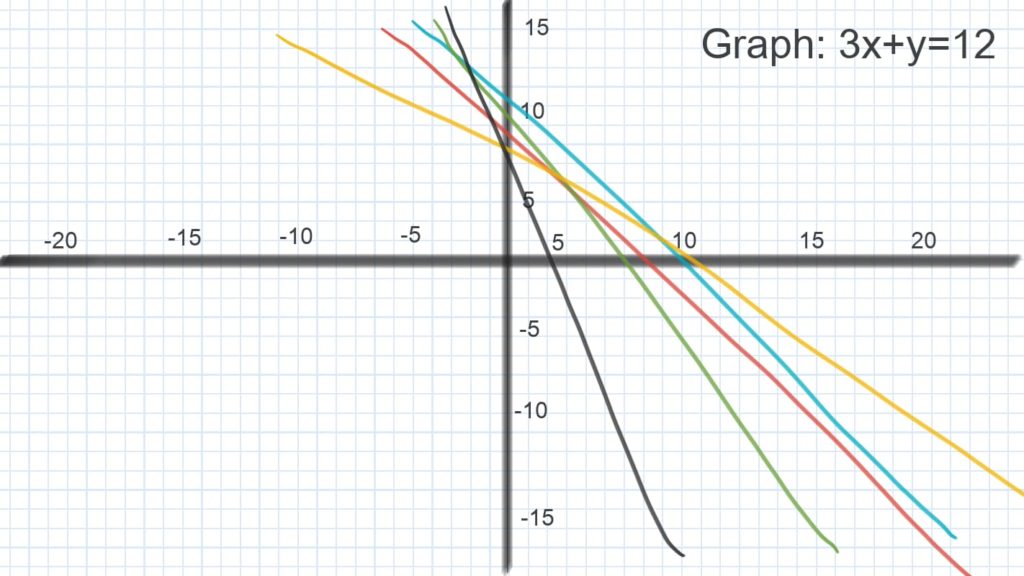 3. Brain Dump
The brain dump Jamboard activity works well at the end of a unit or major topic of study. I like using brain dump as a review activity.
To begin, create a Jam file that lists each of your major topics or objectives, one per frame (you can add up to 20 frames in one Jam file).
Share the Jam file with your students and ask them to add details and facts on to each frame using the sticky note tool.
Students can add ideas to any frame they want (up to 50 students can do this activity at the same time).
As students run out of ideas, begin sorting the sticky notes on each frame into groups. Spend time reviewing each objective, pointing out the key ideas, adding details that were missed, and removing inaccurate information.
When you have finished the activity, you can save the entire Jam file as a PDF that students can use to review for their upcoming assessment!
Brain dump resources: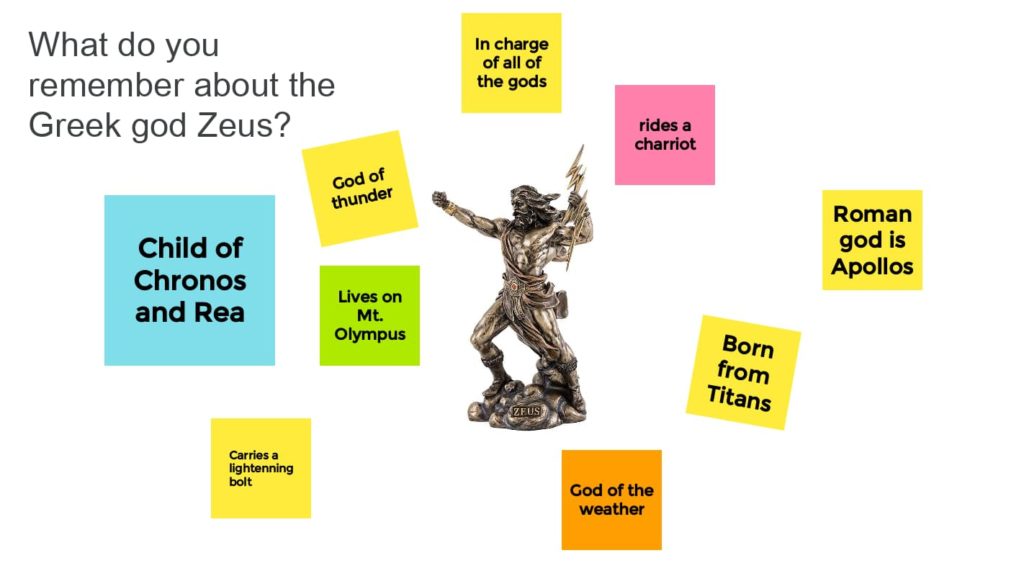 4. Annotation Station
Annotation station requires careful observation and attention to detail.
This is one of the Jamboard activities that works best as a small group or individual assignment. You might want to consider using breakout rooms in Google Meet or Zoom for this activity.
You will need to provide your students with an image to annotate. Students must add details and make observations about the image you share with them.
You can provide them with a map, a painting, a historic photo, or a diagram.
If you have touchscreen devices, students can use the pen tool to draw on top of the picture. For non-touch devices, use the sticky note tool to add observations.
After each student or group has had some time to make their notes, bring the group back together to compare notes. I'm sure that your students will probably identify details you probably hadn't considered.
The discussion that follows this annotation station activity is where the learning occurs!
Annotation station resources:
5. Sorting wall
In the sorting wall activity, students will map complex topics by grouping, organizing, and connecting related information.
This activity works well for any topic with a large number of interrelated learning objectives.
In the example below, students are asked to organize the principle characters from Romeo & Juliet. This complex story can be difficult to follow, but after spending some time sorting and organizing the characters, students should have a better understanding of how they relate to one another.
This activity can be done in small groups of 3-5 students or individually.
There is no right or wrong way to complete this activity, but students must be able to justify and explain their system.
Make sure you reserve time for students to share their finished frame with the class and explain how they chose to organize it.
Sorting wall resources: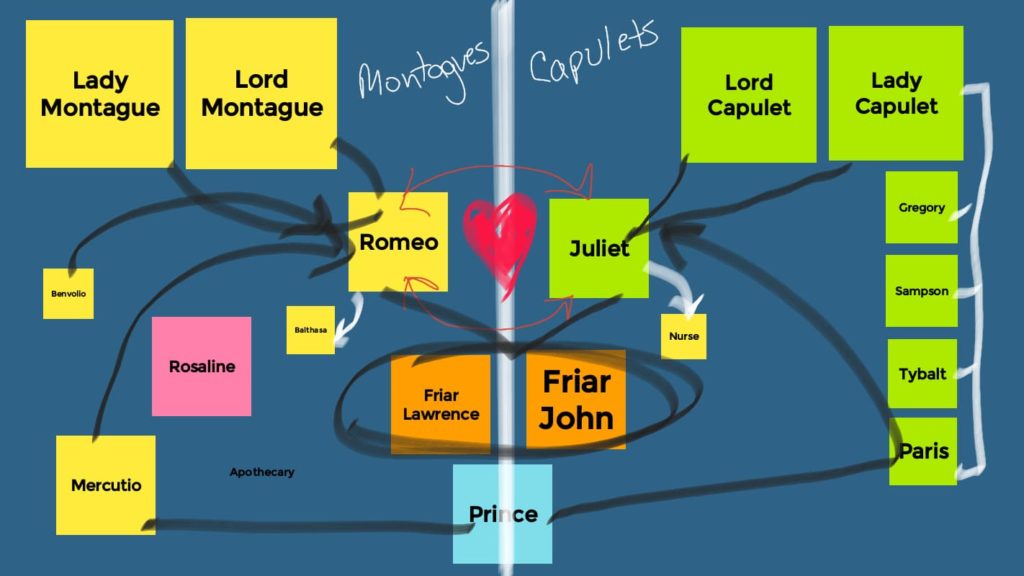 Using Jamboard with Google Classroom & Google Meet
To take full advantage of these lessons, it is helpful to know how Jamboard interacts with Google Classroom and Google Meet.