Today Google announced that it will be ending support for Jamboard, the whiteboarding application that was released in 2016.
Google is ushering in the "next phase" of digital whiteboarding by partnering with Figjam, Lucidspark, and Miro, three products with advanced whiteboard capabilities.
Teachers and students can continue using Jamboard without any disruption through October 1, 2024. On this date, Jamboard will become read-only and you will not be able to create new Jamboard activities.
It is disappointing when Google products are ushered into the "Google Graveyard," especially a tool that has been heavily adopted by teachers and has unique classroom applications.
I have created more than a dozen lessons with Jamboard. I know how much time and energy it takes to find and create these resources. While Jamboard is going away, there are ways that you can continue using the resources you have created.
September 28, 2023: Google announces it is sunsetting Jamboard
October 1, 2024: you will no longer be able to create NEW Jam files
December 1, 2024: The Jamboard service will no longer be available.
January 2025: Jamboard files will be removed from Google Drive
What about Jamboard hardware?
Schools that purchased the physical Jamboard can continue to use it through October 1, 2024. This date is the planed auto-update-expiration for this hardware. Support will and at this time and functionality will be limited.
Alternatives to Jamboard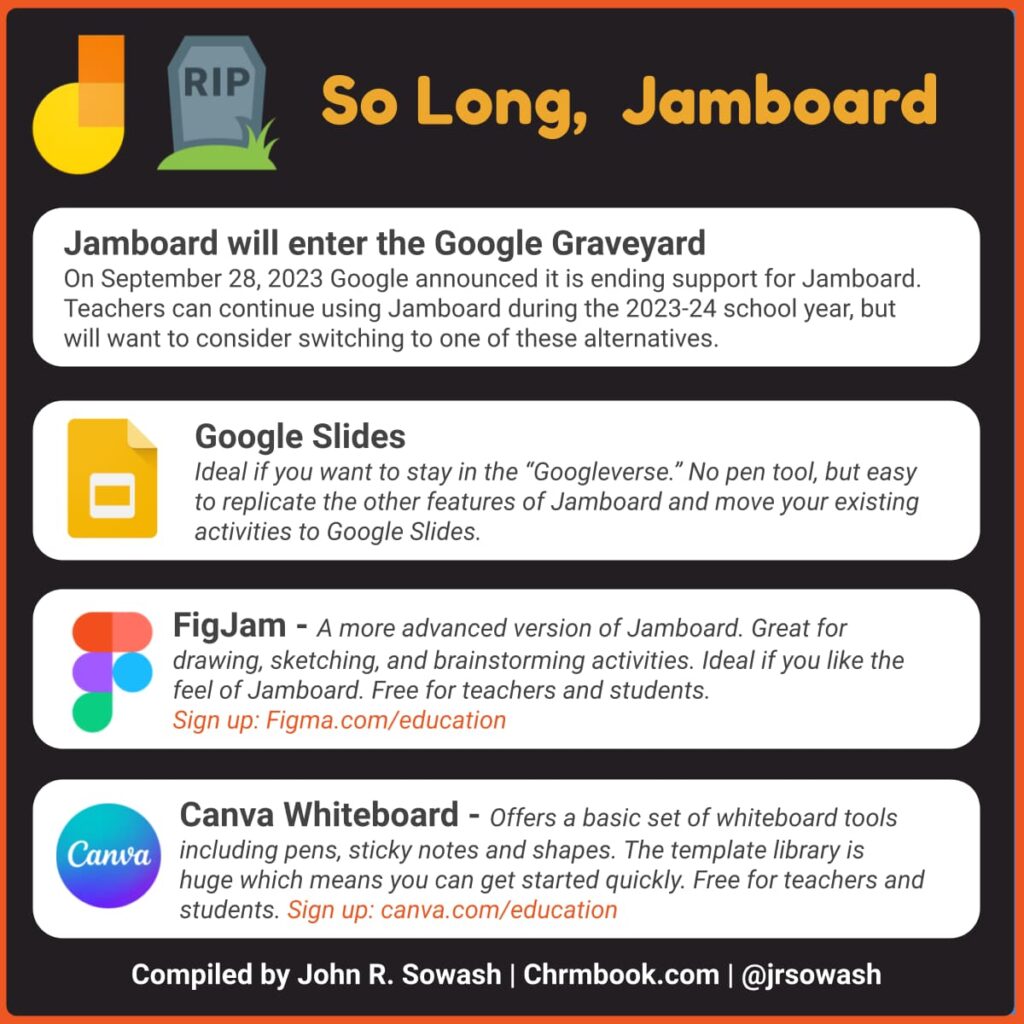 To be completely honest, Jamboard hasn't received any significant updates or new features in many years and was starting to feel a bit out of date. Personally, I think there are better options available that can take the place of Jamboard.
Here are three excellent Jamboard alternatives.
Google Slides
If you want to keep things within the "Googleverse", Google Slides is an easy Jamboard alternative. Google recently added the ability to annotate while presenting, almost like they knew they needed to add a drawing option before they eliminated Jamboard. 🤔
Related post: Use Google Slides like a Trapper Keeper!
Because Slides and Jamboard share similar page sizes, it's pretty easy to convert your Jamboard activities over to Google Slides, just like I did with the lesson below.
The feature that Google Slides does NOT offer is the ability to draw in the editor. If drawing on slides is an important feature for you, I think you should check out Figjam.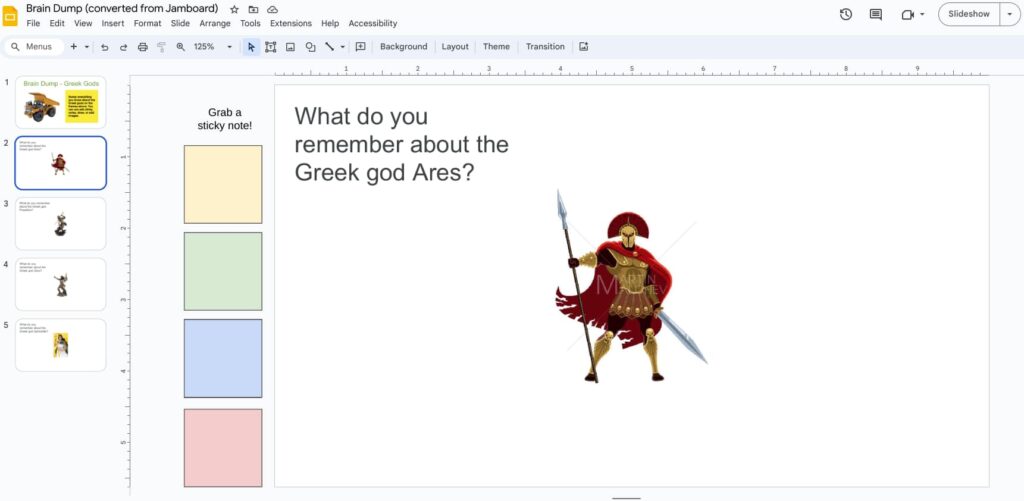 Figjam
If you like the open-ended, collaborative feel of Jamboard, you will feel right at home using Figjam! This free tool feels like a more advanced version of Jamboard with cool pens, widgets, stamps & stickers, and better classroom management tools.

Figjam is 100% free for teachers and students. You can sign up for a free education account by visiting Figma.com/education.
Related video: Figjam vs. Jamboard
Figjam is already integrated with Google Meet and is releasing an import tool that will convert your existing Jamboard activities into Figjam. The conversion tool will be ready later this year. 🎉
I have been working and using Figjam for nearly a year and it's really great. Figma (the company behind Figjam) partnered with me to create a video series for teachers which you can view here.
Canva
If you are using Canva to design banners, videos, and newsletters, you should check out their whiteboarding tool. Is there anything you CAN'T do with Canva?
Canva's whiteboard application offers basic brainstorming tools like sticky notes, shapes, lines, and free-drawing pens. It's not as advanced as Figjam, but has all of the basics you would expect.

The most impressive aspect of Canva are the templates. If you want a quick way to get started with a Venn diagram, concept map, or timeline, Canva has something for you!
My one complaint about Canva is the complexity of sharing and managing shared files with others. The collaborative elements of Canva aren't as intuitive as Google Drive or Figjam. If collaboration is your main focus, I think one of the other options would be a better fit for you. If you want students to work independently on a whiteboard assignment, Canva will work very well.
Canva is free for teachers and students, but you need to register for a free education upgrade by visiting cava.com/education. Once your account has been upgraded, you will have access to all of the whiteboarding tools.
So Long, Jamboard 👋
Losing access to a tool that you have used in your classroom is disappointing. You CAN continue to use Jamboard for the remainder of the 2023-24 school year. Next year, however, you will want to adopt a new tool to take the place of Jamboard in your classroom.