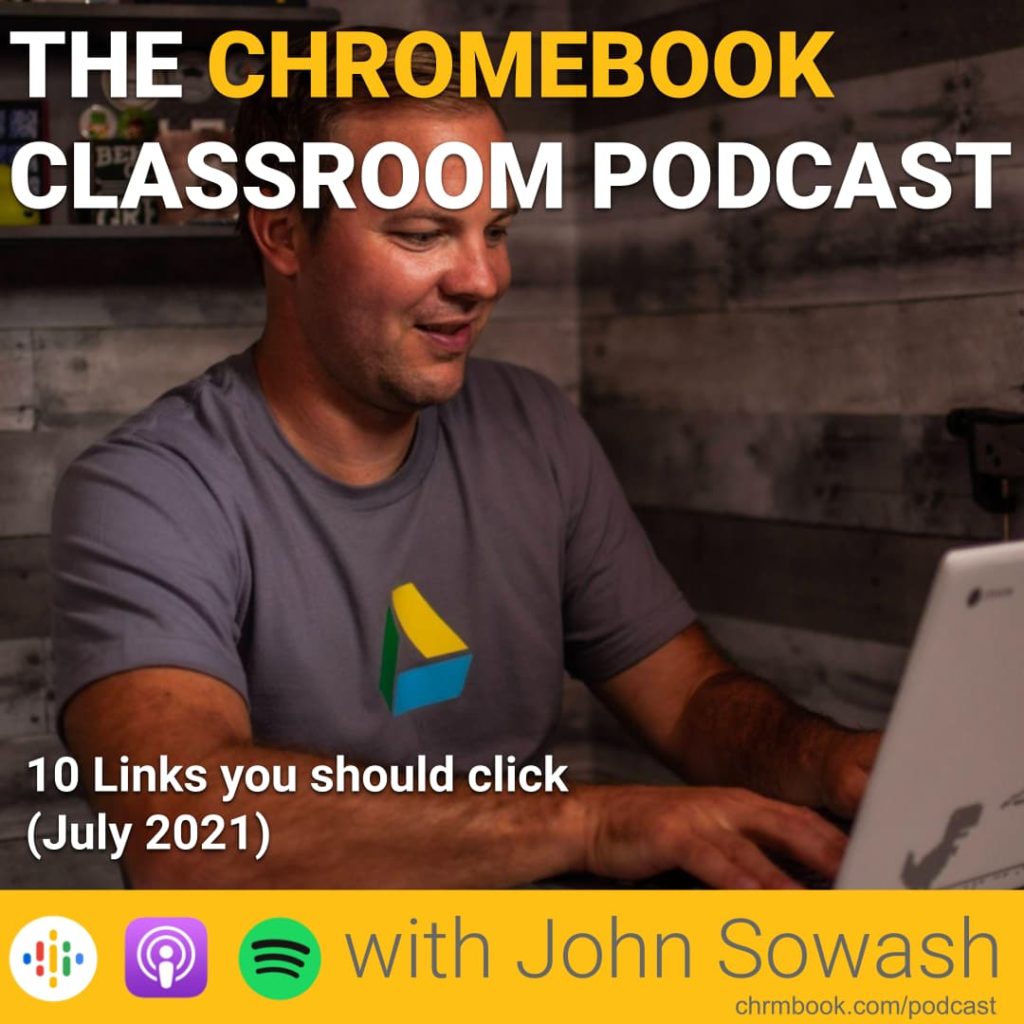 As part of my daily routine, I scan dozens of blogs, visit a handful of Facebook groups and skim through Twitter. The goal: find the most helpful resources, tools, and articles that I can share with my teacher friends (that's you!)
Here are my top 10 links for July 2021!
NEW online course – "Designed with Drive" is my new online course that will inspire you with creative ways to design learning activities with Google Drive. Click the link if you are interested in being a beta tester!

New age-based admin setting – Google is instituting a series of age-based policies to better protect students from inappropriate content. By September 1 Google admins need to identify organizational units that contain users OVER the age of 18. 
Custom templates for Google Sites – Using sites for portfolios and projects just got a lot easier! Teachers can now create and share custom templates with students. You can also use /copy or /template/preview to your site url to force a copy of your template. 
Attend a meeting in-person or virtually – Google Calendar now allows you to indicate how you will be attending a meeting. 
Android Apps for Windows Laptops – Microsoft announced that you will be able to use Android apps on PCs running Windows 11. This means better access to Jamboard, Google Classroom, and Google Keep!
Giphy Chrome Extension – I love dropping fun GIFS into my documents, presentations, and emails. The Giphy Chrome extension makes this easier than ever!

Chromebook training guide – fellow chromie Peter Horner put together a beautiful introduction to ChromeOS. This is a great resource for introducing students and teachers to the Chromebook.
July 17 is World emoji day! – Here are 10 fun ways you can use emoji to add some flair to your classroom!

Three questions for professional learning – Tim Cavey published a thoughtful blog post on three big questions to sustain a life-time of authentic learning. I was encouraged to consider these questions this summer as I reflect on my practice as an educator. 
A.I. Apocalypse – this summer I have been reading a series of imaginative novels by William Hertling about the emergence and evolution of A.I. computer systems. It's a fun series of books! 
What awesome resource did I miss?
Got something that's too cool not to share? Hit me up on Twitter or Instagram (@jrsowash). I'm always on the hunt for interesting and useful resources!