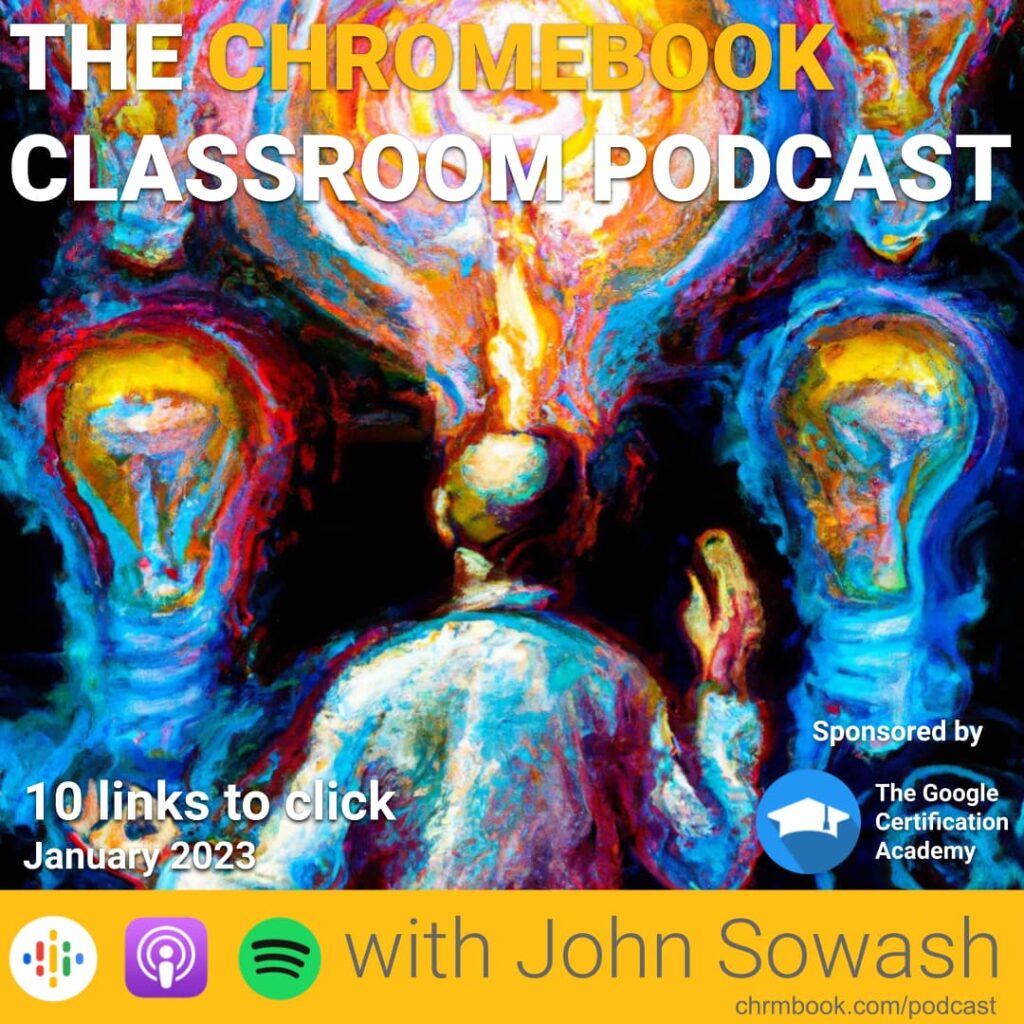 As part of my daily routine, I scan dozens of blogs, visit a handful of Facebook groups and skim through Twitter.
The goal: find the most helpful resources, tools, and articles that I can share with my teacher friends (that's you!)
Episode Sponsor: Google Certification Academy
Earn your Level 1 and Level 2 Google Certification in 2023!
Registration for the winter cohort of the Google Certification Academy is now open! Join me LIVE via Google Meet starting January 17 to prepare for your L1 and L2 certification exam.
Visit gEducator.com to learn more!
Here are my top 10 links for January 2023!
Sneaky Gmail trick – you can create unique email addresses by adding + to your existing email. This is one of five neat Gmail tricks shared on the Keyword blog.
Unclutter – some websites are so full of ads and distracting content that they are hard to read. Clean them up with the Unclutter Chrome extension! H/T to Richard Burns for sharing this extension. 

Shared Drive Updates – The default policies for shared drives will be updated to include a 100GB limit and restrict shared drive creation. These policies can be modified or removed by IT administrators, if desired.
Highlights from CES 2023 – The consumer electronics show highlights creative, innovative and absurd technology. This year we saw color-changing cars, dual-screen laptops, and electric roller skates.
2023 Google Educator exams – Every year I take the L1 and L2 Google Educator exams before the Google Certification Academy. Here's a summary of updates for 2023. 
Learn about Chat GPT – There's been a LOT of talk and discussion about AI written content. I'm still wrestling with the implications of this new tech myself, so I gathered a list of blog posts written by others that I have found useful.
Write Assist – The power of Chat GPT is now available as a Chrome extension. Simply right click on text and ask Chat GPT to finish one of dozens of queries.
This person does not exist – I was working with a group of MS students who needed images of people for a brochure on the book Holes. We used an interesting website of people who don't exist. 
This person does not exist…

[a thread] pic.twitter.com/tBVqPsXxpr

— John R. Sowash (@jrsowash) January 6, 2023
January 28 is data privacy day – This is my list of 10 lessons and activities for elementary, middle, and high school students to help them manage their digital footprint.
Clickbait as a class project? – Nicholas Ferroni had his HS students develop fake new headlines and articles. This is an interesting way to teach storytelling and writing. I'm a little nervous for the future, because these kids are GOOD!
What awesome resource did I miss?
Got something that's too cool not to share? Hit me up on Twitter or Instagram (@jrsowash). I'm always on the hunt for interesting and useful resources!