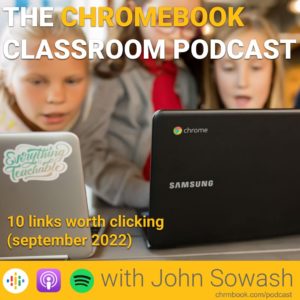 As part of my daily routine, I scan dozens of blogs, visit a handful of Facebook groups and skim through Twitter.
The goal: find the most helpful resources, tools, and articles that I can share with my teacher friends (that's you!)
Episode Sponsor: Wednesday Webinars with John
Wednesday webinars with John are back for the 2022-23 school year! Explore instructional strategies and earn continuing education credit by joining me each Wednesday starting in October.
Last year, nearly 300 hours of continuing education credit was earned through the Wednesday Webinar program.
Individual teacher and district subscriptions are available. Click here to learn more.
Here are my top 10 links for September 2022!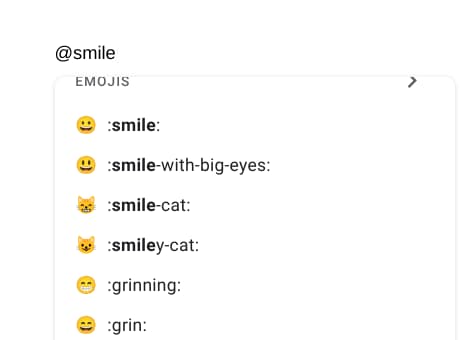 Emoji "smart chip:" You can quickly add emoji in a Google doc by typing @ and a simple description (i.e "laugh"). This will open up the "smart chip" menu with a variety of options. 
Named functions for Google Sheets – I'm not a Spreadsheet genius, so I only sort of understand how huge this update is, but my friend Ben Collins has a great explanation for all you spreadsheet ninjas!
Chrome tips from the Chrome team: Here are 5 helpful Chrome browser tips shared by some of the Google developers who built Chrome. Tab groups are my favorite!
Reading practice for elementary students – "Read Along" is a free tool created by Google to help young students practice reading fluency. This tool is now available for mobile devices and for the web. This is a great resource for at-home reading practice. 
Uninstall these 5 malicious Chrome extensions – Malicious Chrome extensions are something to be wary of. While Google has gotten better at detecting these types of extensions, there are a few that seem to escape detection. 
Play Kahoot through Google Meet? – Duo and Google Meet are being combined into one video messaging service. One of the benefits of this merger is the addition of integrations with Kahoot, Spotify, and YouTube that will enhance your virtual meeting experience. 
Magic Eraser – this photo editing website magically removes unwanted objects from a photo. It's surprisingly effective! Free to use if you don't need high-resolution images. 

How rugged are EDU Chromebooks – The guys from Chrome Unboxed tested the claims of the HP EDU Chromebook. Can it stand up to the stress of classroom use? 
M&M Data Lab – this was one of my favorite hands-on labs to do early in the school year. Use it to teach the scientific method!
Class Login Challenge – teaching students to sign in can be a challenge early in the school year. Try out this simple challenge to teach them the process (plus some bonus tips for simplifying the login process).  
What awesome resource did I miss?
Got something that's too cool not to share? Hit me up on Twitter or Instagram (@jrsowash). I'm always on the hunt for interesting and useful resources!