When I was a kid, I spent hours (and lots of money), buying, trading, and organizing baseball cards. 
Today, my 5 kids are into Pokemon cards.
There is something about the simplicity of a trading card….the photos, the facts, the ability to trade with others, that makes them a generational favorite.
Why not capitalize on this idea by asking your students to create trading cards for the characters in the novel you are reading or the historical figures you are studying. 
Character Trading Card Lesson Plan
First, compile a list of the key figures from the period of history or the book that you are studying. You can divide the list between your students or have each student create a card for each person on the list.
As a class, make a list of the key "stats" that should be included on each card. This might include their date of birth, key contributions, personality strengths & weaknesses, etc.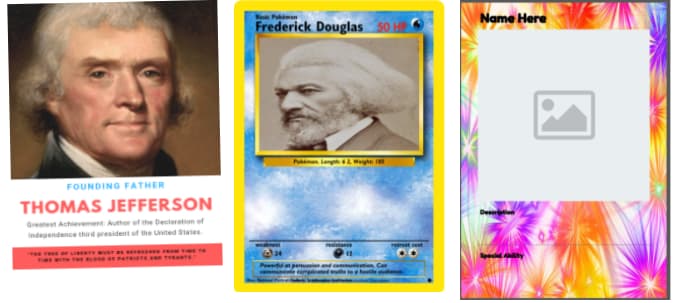 Trading Card Templates
I have found that it is best to provide students with a trading card template to work from. This will (hopefully) give them more time to focus on the content of each card without the need to worry about the design.
Looking for more classroom ideas? Check out this list of 10 free templates you can use in your classroom tomorrow!
Here are three trading card templates to use in your classroom
Google Slides – I created this trading card template when I was teaching Fahrenheit 451. Students were instructed to create a character card for each main character in the novel. Google Slides is an ideal platform is you turn this into a group activity or use Google Classroom.
Canva template – The "flyer" template works very well for trading Cards. This design is a bit bigger which provides more room for information about the character or historical figure. The Thomas Jefferson example above was created using Canva.
PokeCard.net – if your students are really into Pokemon, they can use this free website to create Pokemon-like character cards. You'll want to spend a bit more time discussing how to use the stat categories (Hit, weakness, retreat, etc) for your cards. Don't worry, I'm sure your students will suggest ways to align these stats to historical or literary figures!
How did you use this lesson in your classroom?
Did you use this idea in your classroom? Leave me a comment and let me know how it went and if you have any additional tips you can share!