G Suite for Education is now Google Workspace for Education.
In the past, the name change was just that….a re-branding without any noticeable change in the products that we know and love.
This time, Google is shaking things up a bit.
Google is also introducing three new product tiers offering expanded features and capabilities.
I have to admit I'm a bit sad to see Google depart from the "free for everyone" model.
Simplicity has always been one of Google's best attributes.
Change is hard…but we will adjust.
You can find information and pricing on the new Google Workspace upgrade options over on Google's website, but, after exhaustively reading through everything, I found it a bit confusing.
This is my attempt at clarifying and explaining (in plain English) the various versions of Google Workspace for Education.
Podcast episode: 50+ updates to your favorite Google products!
Google Workspace for Education – Fundamentals
The base tier of Google Workspace for education is what we have all known as as "G Suite for Education."
This is the free product tier that is currently being used by well over 170 million teachers and students around the globe.
I am pleased to note that Google has made a vocal commitment to maintaining a free option to all schools and will continue to develop this free tier of products.
"Education Fundamentals has always been, and will always be free. We will continue to invest in it by adding new functionality." – Shantanu Sinha, Product and Design Lead, Google for Education
New storage limit
There is one notable change to the new Fundamentals tier – free, unlimited storage is going away.
Citing "storage inequity," Google is instituting a 100TB pooled data storage cap limit on all Google Workspace for Education domains.
This new policy goes into effect in July 2022.
According to Google's blog post, only 1% of Google domains currently exceed the 100TB data cap.
Additional storage is included with most of the Google Workspace upgrades.
IT admins with access to the Google Admin Console can run a data usage report to determine how much total storage your domain is using and which users are consuming the most data.
This support article was provided to help IT admins understand and prepare for this policy change.

Should you upgrade?
I am pleased that Google has committed to maintaining and improving the free product tier for schools. Google Workspace is, in my opinion, the most innovative platform for teaching and learning.
I am concerned about the data cap that is being implemented.
While most schools may not be close to that cap today, there are serious questions that need to be answered about long term data retention and storage.
Most schools suspend old student accounts, but do not delete them. This practice retains student data in Google Vault which is required by state and federal policies in most states.
I would like to see more clarification about how data retained in Google Vault impacts a the data storage cap.
Google Workspace for Education – Education Standard
The first Google Workspace upgrade is "Education Standard" which provides IT administrators additional tools for reviewing, monitoring, and securing Google Workspace data and users.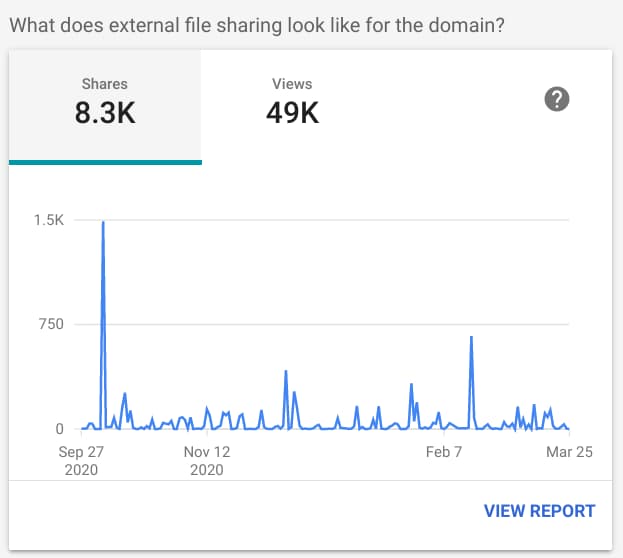 Education standard upgrades:
Security center & investigation: The security center allows IT admins to investigate technical issues or potential inappropriate behavior or communicate across the entire Google Workspace suite of tools. The security center is similar in some ways to Google Vault, but in a less intense interface.
Data regions – Organizations can specify the geographic location of that data center that stores district data. This is typically a concern of higher-education research institutions which receive federal grant funding.
BigQuery log analysis (Gmail & Classroom) – BigQuery is like spreadsheets on steroids. With BigQuery you can analyze and interpret petabytes of data to spot trends and actionable insights. Google is implementing log analysis for Gmail and Classroom to give IT admins a high level overview of usage and potential problems. Additional tools are scheduled to be supported in the future.
Domain migration – Google is currently beta testing a migration tool that would help districts move data from various cloud services (Dropbox, Box, Office365, Exchange, etc) to Google Workspace. The migration tool will also support Google > Google migrations which could be helpful for districts with split domains.
Automated group membership – Building out an effective Google Group structure is essential to effectively managing information, services, and security settings. Making sure that new hires and new students get added to the correct group is important, and easy to forget. This new feature allows IT admins to set rules based on user OU, username convention, or profile information to determine which groups they need to be added to. This is a very useful feature for large organizations.

Education Standard upgrade: $3/student/year
The Education Standard tier is only offered as a whole-domain upgrade. Faculty and staff are automatically included.
Note: The education standard upgrade has been announced, but will not be available for purchase until June 2021.
Should you upgrade?
This is the least compelling upgrade option.
For the average K-12 school, the security center and automated group memberships are the only two features that will be used on a regular basis.
These features are very good. They will save IT admins a lot of time and help monitor data security and student safety concerns.
This tier does NOT include any additional storage.
Bottom line: For a district of 5,000 students (a rough national average), upgrading to Education Standard would incur an annual cost of $15,000. That's a pretty hefty price tag for two additional features.
Google Workspace for Education – Teaching & Learning Upgrade
The Teaching and Learning upgrade provides instructional staff with enhanced features that will improve their ability to teach remotely.
Teaching and Learning upgrade features:
Unlimited originality reports – originality reports are a feature of Google Classroom that checks student document submissions for plagiarism. Originality reports will soon be expanded to look for plagiarism from internal Google Drive files as well. Without the teaching and learning upgrade teachers can use the originality report feature five times per class.
Enhanced Google Meet – The upgraded Google Meet experience includes increased capacity to 250 participants, the ability to record meetings, and access to breakout rooms, polling, and Q&A.
Google Classroom Add-ons – Enables popular edTech tools like Adobe, IXL and Kahoot to integrate directly with Google Classroom. Additional details coming soon.
Extra 100GB storage per license – Teachers with the teaching & learning upgrade will receive an additional 100GB of storage to make room for Meeting recordings and other saved data.
Teaching and Learning Upgrade: $4/user/month
The teaching and learning upgrade is available as a partial-upgrade.
You can upgrade as many or as few users as desired. This allows IT admins to provide remote teachers access to enhanced tools that may not be necessary for those teaching in-person.
Note: The teaching and learning upgrade has been announced, but will not be available for purchase until June 2021.
Should you upgrade?
Remote teaching staff will appreciate access to the premium features of Google Meet and will need the additional 100GB of storage for the Meet recordings.
We don't know much about the Google classroom add-ons, so it's tough to determine if this is a good value.
The flexible licensing option makes this incredibly affordable.
You can purchase this upgrade for teachers who are running your virtual program or upgrade all of your instructional staff.
You can also purchase the upgrade for heavy data users (Yearbook teacher, broadcast team, etc).
The teaching and learning upgrade is a wonderful value that most districts should take advantage of.
Google Workspace for Education – Education Plus
Note: Schools that upgraded in 2020 as a response to the pandemic have automatically been migrated to this tier.
The Education Plus Upgrade includes all of the features of Education Standard and Teaching and Learning tiers.
In addition to everything mentioned above, the Education Plus upgrade includes:
Cloud search – Allows users to search across all Google Workspace products.
Google Meet Live Stream – publish your Meet sessions to up to 100,000 in-domain viewers.
Classroom roster sync – enables IT admins to sync district SIS with Google classroom for automatic rostering.
20GB storage per license – Added to your existing 100TB pooled storage limit
Education Plus upgrade: $5/student/year 
The Education Plus tier is only offered as a whole-domain upgrade. Faculty and staff accounts are included with student licensing.
Should you upgrade?
This option may be a good choice for larger schools that have exceeded the 100TB data limit and need more powerful tools for managing large enrollments.
To get the full value of this upgrade a district would need to take advantage of the security center, classroom roster sync, and automated group membership.
You will need to compare this solution against purchasing third party tools such as Okta (SSO), Little SIS (roster sync), Securly 360 Cloud (self-harm and cyberbullying), BetterCloud (security reporting), etc.
This isn't an inexpensive solution, but it does provide quite a bit of value and is worth considering.
What are your thoughts? What did I miss?
The only reason I would consider upgrading to Education Standard is to combine two Google domains using the migration tool. Other than that, there isn't enough value to justify the price.
The Teaching and Learning upgrade is a great deal. I would immediately sign up my teaching staff for this upgrade!
The Education Plus tier might be a good value, depending on how many of the advanced features you will utilize.
Is your district considering an upgrade?
Are you concerned with the data storage cap?
Leave me a comment and share your thoughts!