I'm a big believer in putting touch-screen Chromebooks in the classroom.
Providing students with a digital pen so that students can sketch, draw, and doodle opens up even more opportunities for creative learning!
Up until recently, purchasing digital pens for Chromebooks was nearly impossible.
The Universal Stylus Initiative (USI) is drastically improving the integration of pens with touch-screen Chromebooks.
Any USI pen works with any USI device, right out of the box with zero setup.
There are only a few USI pens on the market, and none of them are specifically designed for education.
Until now.
The Logitech Pen
The Logitech Pen is the first USI stylus that takes into consideration the unique needs of students:
Thick pen barrel for use by young students
Triangle barrel design to prevent roll-away
Colorful silicone grip for increased control
Drop and spill resistent design
Designed for frequent cleaning with antimicrobial claners
15-day battery life
Rechargable with any USB-C charger
Replaceable pen-tip specially designed for the classroom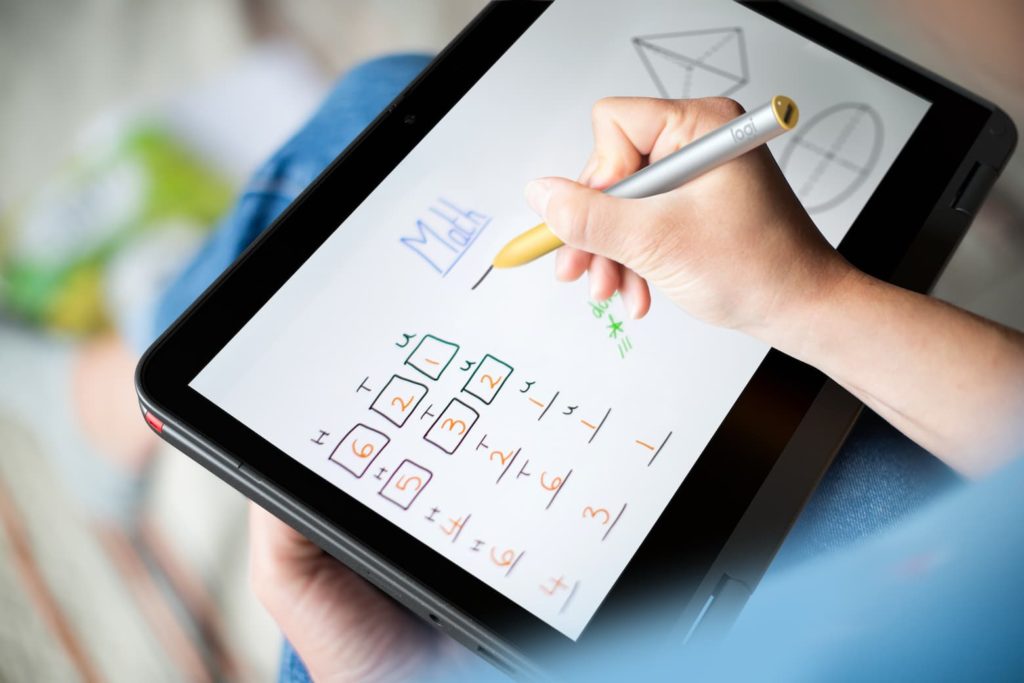 Pen performance
The Logitech Pen performs very well, just like the other USI pens I have tested from Penoval and Lenovo.
USI is a standard protocol that supports 4,096 levels of pressure sensitivity, palm rejection, and automatic device pairing. Every USI pen has these features.
All USI pens are based on the same software, so performance is virtually the same regardless of which pen you use.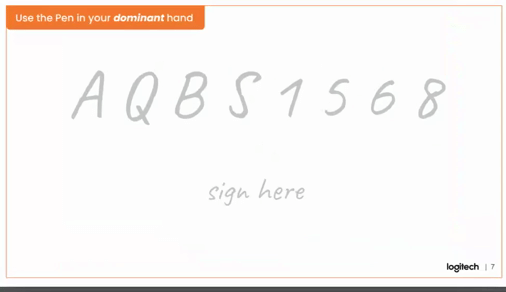 Designed for the Classroom
Since all USI pens use similar software, physical design is what sets USI pens apart.
The Logitech Pen has some pretty neat features that make it attractive for the classroom.
The thick, triangle barrel and silicone grip are perfect for smaller hands, but still comfortable for adults as well.
There are no buttons on the Logitech pen, which makes it easy to use, but may limit more advanced users who want a dedicated way to erase or click.
The triangular barrel shape prevents the Logitech Pen from rolling off of a table or desk, something that frequently happens with my other USI pens.
Over time, the tip of a digital pen will need to be replaced. The Logitech Pen has a replaceable tip that requires a special tool to remove, an intentional feature to prevent removal by students.
Related Video: 3 digital pens for your Chromebook.
Powered for the Classroom
Any teacher will tell you that charging devices is one of the most frustrating aspects of using technology in the classroom.
The last thing a teacher needs to worry about is charging a class set of digital pens.
Fortunately, Logitech thought of that as well!
The Logitech Pen is designed to operate for 15 days on a full charge.
The pen has a single USB-C port at the end of the pen that can be charged by any USB-C charger. This means that Chromebook chargers can also be used to charge the Logitech Pen!
Charging the pen for just 30 seconds will provide enough charge for 30 minutes of use.
That's something teachers can be excited about!
Pricing and Availability
The Logitech pen retails for $64.99 and is available for purchase through resellers such as CDW and Tiger Direct. The pen will begin shipping in April 2022.
Resellers may offer additional discounts for bulk purchases and bundling the pen with new Chromebooks.
At this time, Logitech does not plan on selling the pen directly to consumers.
Is it worth the cost?
$65 is a lot for a digital pen, but things are moving in the right direction.
You can get terrible pens for as little as $10 on Amazon, but I wouldn't recommend it.
You can get an Apple Pencil for $100+.
USI pens provide an experience similar to the Apple Pencil, at a much lower cost.
It's hard to imagine a wide-scale deployment of a digital pen at $65, but getting a set for a digital art class or special projects is now within reach.
I expect the price of USI pens to continue to drop over the next 3-5 years.
Eventually, these pens will become affordable enough for every student to carry one in their backpack.
For now, the Logitech Pen is a great choice for schools looking to enhance their touch screen Chromebooks and provide students the opportunity to explore creating with digital ink.