Are touchscreen Chromebooks worth the cost?
Should you purchase touchscreen Chromebooks for your district?
The number of touch-screen Chromebook models available for purchase has dramatically increased over the past three years. Today, nearly every model has a touch-screen variant.
Should you purchase touchscreen Chromebooks for your district? Is it worth the extra cost?
Here are the questions you should be asking.
What is the touchscreen premium?
Adding touch to a device will add $30-50 to the base purchase price of most Chromebooks.
| | | | |
| --- | --- | --- | --- |
| Model | Non-touch* | Touchscreen* | Difference |
| HP Chromebook 11 G7 | $175 | $206 | $31 |
| Dell 3100 | $192 | $225 | $33 |
| Lenovo 14e | $240 | $276 | $36 |
*Prices listed are from a Michigan statewide bid program and will vary regionally.
Don't neglect the repair cost
The purchase cost of a touch screen is the visible cost. The invisible cost is the price of repairing a broken screen. This is where you can see the greatest impact on your budget.
A replacement touchscreen will cost between $100-$200 which is equal to 30-50% of the original device purchase price. Make sure you factor this into your technology budget. You may also want to consider an extended warranty or damage protection to protect your investment.
? On the podcast: Eric Griffith has been repairing his district Chromebooks for years. Listen to his tips and suggestions for keep your Chromebook fleet in top condition.
What kind of touch screen do you need?
There are two different types of touchscreen panels:
Capacitive Touch

– this is the most common type of touch screen which is sufficient for clicking buttons, dragging items across the screen, and simple drawings using a finger.

Active Touch

– a more precise touchscreen technology the relies on a sophisticated digitizer that can sense pressure and angle, allow for precise drawing using a digital stylus.
Most classroom activities can get by with a capacitive touch screen. If you are purchasing Chromebooks for an art class, want to do sketching and drawing, or are giving them to your English teachers so that they can mark work digitally, you should be looking for an active touch device.
This is a helpful article on Capactive vs. Active touch devices.
Figuring out which type of touchscreen is offered in the Chromebook you are reviewing can be very difficult. This level of detail is generally not included in the spec sheet provided on the manufacturer website.
You will likely need to reach out to the manufacturer or request a review model to determine the quality of the touch panel in your device.
Is a touch screen worth this additional expense? Let's tackle that next.
What do you do with a touchscreen Chromebook?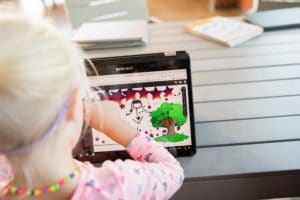 Before you spend district resources on touchscreen Chromebooks, you should make sure that you are going to use the value that touch provides.
The biggest ChromeOS development of the past three years is the opportunity to access Android apps on a Chromebook.
The Android ecosystem is a native touch-screen environment. Using an Android app on a non-touch device is weird and not very fun.
? On the podcast: Listen to my conversation with Tom Mullaney to learn more about using Android apps in the classroom.
Android on Chrome has a lot of potential for creative applications. Touch is an essential element of this equation.
Have you looked into deploying Android apps to your Chromebook fleet? This is an essential consideration before you purchase touchscreen Chromebooks.
Does a touchscreen improve student learning?
I am always in favor of providing teachers with instructional tools they can use in their classrooms.
Here are a few quick ways that a touchscreen Chromebook can support learning:
Math – showing work is nearly impossible without a touch-screen. Students can use tools like Google Keep, Ziteboard

and

Equatio

to show their work using the touchscreen.

English – Peer editing and grading is a lot easier when you can circle, highlight, and annotate right on top of a document. Teachers and students can use Kami

to annotate any document.

Social Studies – Have project groups collaborate together using Jamboard

by Google.

Science – Diagram and sketch on top of an image using Google Keep

or

Chrome Canvas

.

Art – so many cool options! Draw, sketch, and create using AutoDraw or Sketchpad.
? Looking for more lesson ideas? check out my Chromebook lesson library!
The Bottom Line
Touch is the future of computing. Within the next 5 years, all devices will come standard with touch.
Adding a touchscreen to your Chromebooks will increase the total cost of ownership, but does open up additional learning opportunities.
You need to decide if NOW is the time to bring touch screens into your district or if you want to WAIT until your next device refresh.
Is it worth the cost? Maybe.
If you aren't ready to embrace the world of touch-optimized tools and apps, then it's not worth the cost.
If you aren't prepared to introduce Android apps to your Chromebooks, you might want to hold off on purchasing touch screen devices.
If you want to expand the tools your teachers and students can access, touch is a great choice!