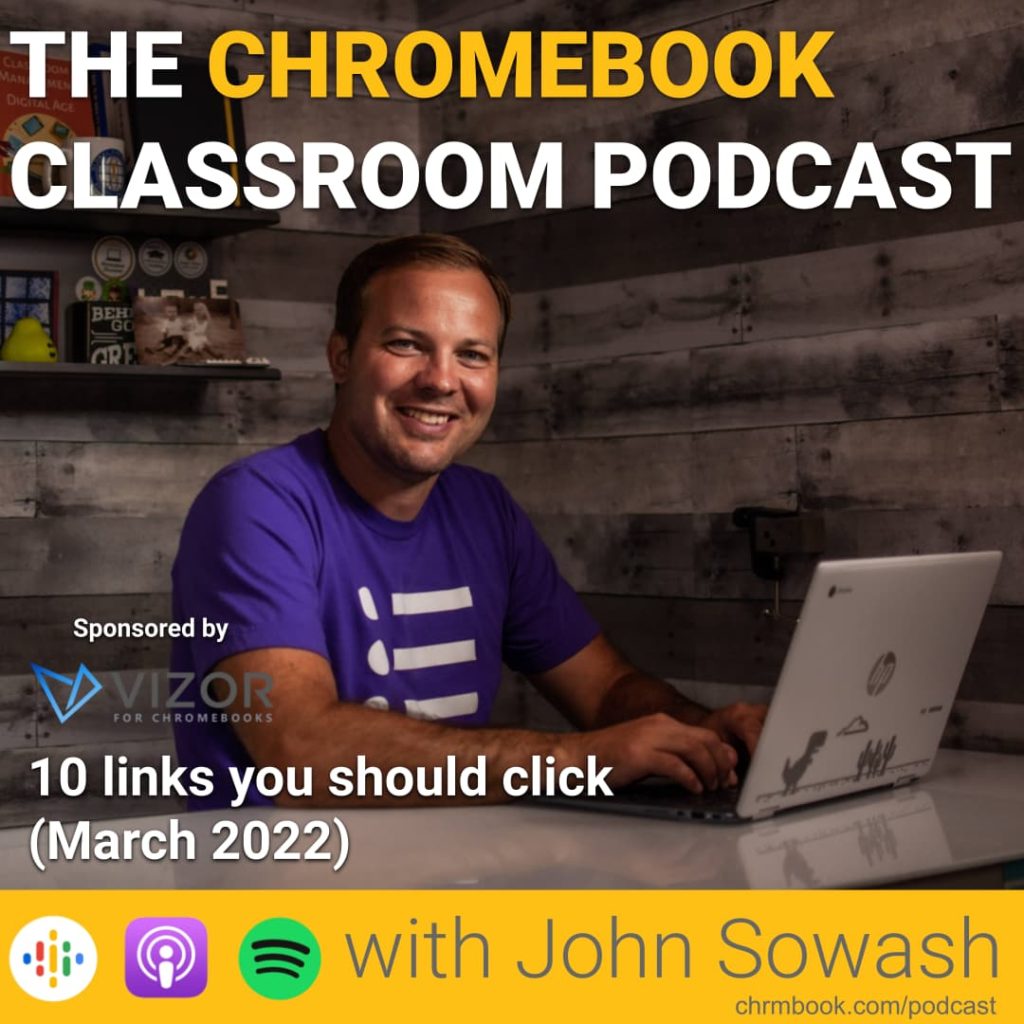 As part of my daily routine, I scan dozens of blogs, visit a handful of Facebook groups and skim through Twitter.
The goal: find the most helpful resources, tools, and articles that I can share with my teacher friends (that's you!)
Episode Sponsor: VIZOR
Thanks to Vizor for supporting the Chromebook Classroom podcast!
VIZOR provides Chromebook 1:1 Management Software for Schools. You can schedule a no-obligation demo of VIZOR and receive 20% off your first year!
Here are my top 10 links for March 2022!
Embed charts from Google Forms – You can now embed the charts automatically generated by Forms into Docs, Slides, and Sites. These charts automatically update as new data is received. 
Pageless documents – Google announced several new features for Google Docs including auto-summaries, pageless formatting, and new smart chips (coming soon)! 
ChromeOS Flex (beta) – Google opened up beta access to a new version of ChromeOS designed to run on old Mac and Windows devices. This is a variation of the Cloudready software developed by Neverware which was acquired by Google a year ago. 
IT Admin Tip: custom admin roles– I recently used the Google Admin Console to create three custom roles to delegate simple Chromebook management tasks. Here's what they look like.
Google Forms phishing scam – The scammers are back, and this time they're trying to trick us using Google Forms! 
Scan documents with Google Classroom – The Google Classroom mobile app has a "secret" document scanning feature. This is a great tool for digitizing hand-written assignments.  
Screen Pal (video where you type) – This is a cool new Chrome extension from Screen-Cast-Omatic that lets you add a video recording in any text box. It's like the video version of Mote!
Grammar practice with Slides – I created this Google Slide template for a teacher who needed a new way to help students complete their grammar exercises. 
30 ways to use Forms in the Classroom – Each year I update this list of ways educators are using Google Forms for assessments, feedback, grading, and other creative applications.
April fools pranks – Here's a list of some harmless tech pranks you can play on your students or administrators on April 1. 
What awesome resource did I miss?
Got something that's too cool not to share? Hit me up on Twitter or Instagram (@jrsowash). I'm always on the hunt for interesting and useful resources!