Today Google announced it is ending support for Jamboard, the collaborative whiteboarding tool that is a part of Google Drive.
Listen to this episode of the Chromebook Classroom podcast for my reaction to this shocking announcement, and some advice on what to do with all of your Jamboard lessons.
Episode Sponsor: VIZOR
VIZOR provides Chromebook 1:1 Management Software for Schools. Get 20% off your first year when you schedule a no-obligation demo.
Important Dates
This Jamboard announcement doesn't mean an immediate end for Jamboard. You have a reasonable amount of time to consider alternative tools and move existing lessons to a new product.
September 28, 2023: Google announces it is sunsetting Jamboard
October 1, 2024: you will no longer be able to create NEW Jam files
December 1, 2024: The Jamboard service will no longer be available.
January 2025: Jamboard files will be removed from Google Drive
Jamboard Alternatives
There are many excellent whiteboarding applications on the market, which is one of the reasons Google is ending support for Jamboard.
Google is recommending Figjam, Lucid, and Miro as Jamboard alternatives, and is working with all three companies to replicate integrations for Google Meet and build import tools to make it easy to move your existing Jam files.
In addition to Google's recommendations, I think Google Slides and Canva are good alternatives for teachers to consider.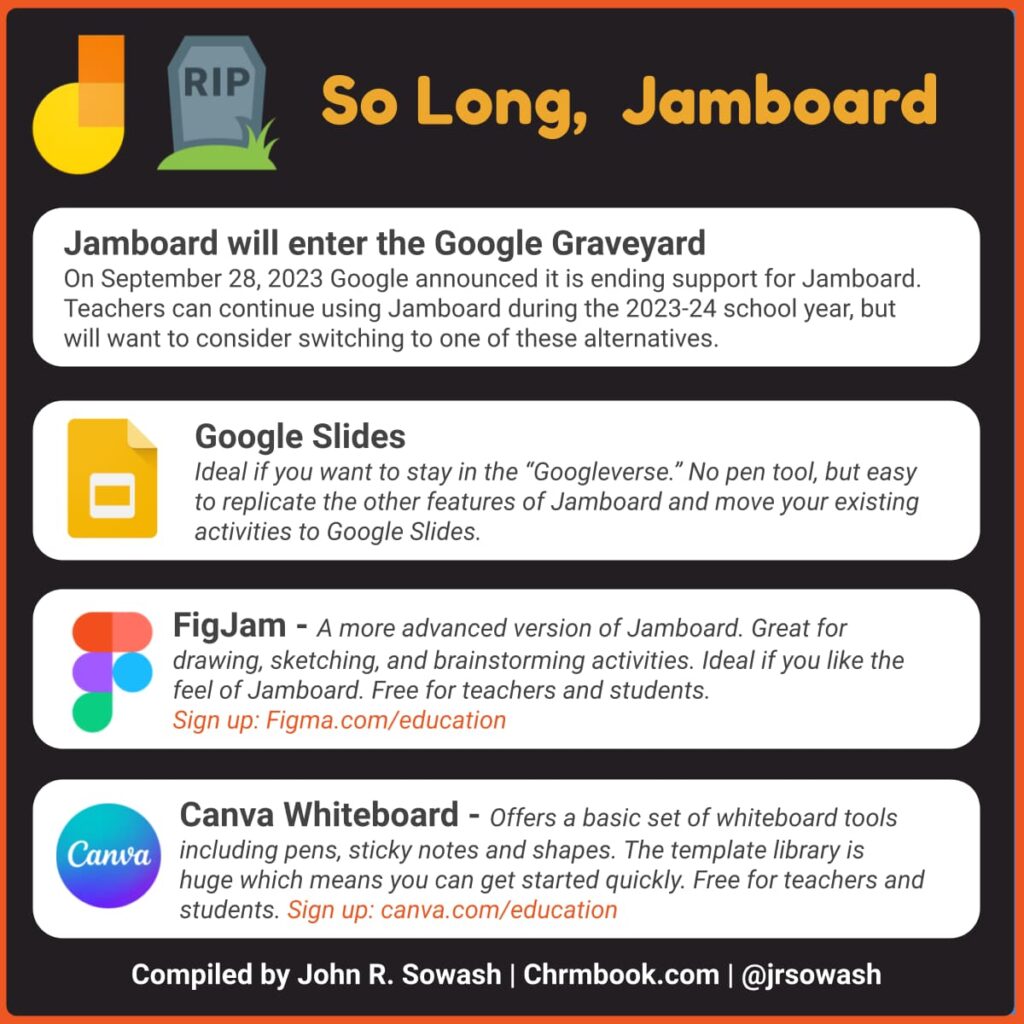 So long, friend
It's always sad when a tool you like is discontinued. Jamboard joins a long list of Google products that have ended up in the graveyard. Change is hard. Today we pour out a glass and shed a tear for Google Jamboard.