Can you record video on a Chromebook, or should you borrow an ipad?
This month's Chromebook question comes from Tim Cavey, a middle school math teacher and host of the Teachers on Fire podcast.
Tim teaches in a BYOD classroom in which 10-20% of his students bring in Chromebooks.
Tim would like to know if the students who bring Chromebooks to school should record video with these devices or if they are better off using a mobile phone or iPad.
Can a Chromebook record decent video?
Chromebook Video: Technical Specifications
To answer Tim's question, I we need to dig into the techinical specifications of video recorded on a Chromebook. The good news, is that Chromebooks record video at a resolution of 720p which is considered "high resolution."
Chromebook video resolution won't win any awards, but it gets the job done and falls within the recommended range for uploading video to YouTube, Facebook, etc.
iPads and most cellphones capture video at 1080p which is definitely better, but not essential. The video captured on a Chromebook is very sufficient for school-related projects.
Related Post: The best multimedia apps for Chromebooks.
The limitations of a single camera…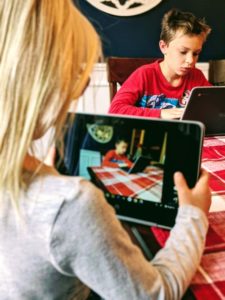 While the video resolution on Chromebooks is acceptible, the physical process of capturing video can be a bit awkward.
Most Chromebooks only feature a front-facing camera which makes capturing live-action video very difficult. When using a Chromebook, you will be limited to webcam style video with a single subject.
This single camera limitation may not be around for long.
There is a new batch of Chromebooks hitting the market that feature dual cameras, just like your phone or tablet.
This make it possible to use the screen as a viewfinder while pointing the rear camera at the action. These new devices make it more feasible to take video with your Chromebook.
Chromebooks with dual cameras (as of November 2019)
Related post: Which Chromebook is right for my classroom?
The best apps for recording video with a Chromebook
Default Camera App (It's been updated!) – The "camera" app on your Chromebook is the default tool for taking photos and videos with ChromeOS. Take a look…this app has been updated with some fancy new features! If you are an Android phone user you will immediately recognize the app as the same one that you use on your phone! I'm excited to see if Google's adds some of its fancy new AI photo tools to Chromebooks!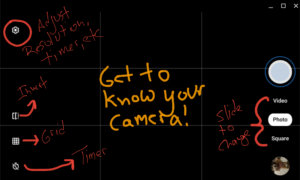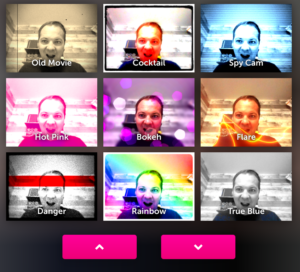 WebCamToy (Chrome App) – a funky fun app for taking silly still photos!
Screencastify (Chrome Extension) – Most people know Screencastify as a screencasting tool, but you can also use it to record first-person video. You can even to picture-in-picture while recording a screencast! (Note: I am a screencastify affiiate)
School Video Recorder (Chrome App) – this is a drop dead simple tool for recording video to Google Drive. This is a great tool for recording quick video reflections.
Check out my online Course: Designing Multimedia Project for Students
Conclusion…
Absolutely! Chromebooks can capture video and still photos that will work very well for a school project. The biggest limitation is the task of pointing and capturing action using a front-facing camera.
Thanks for the question, Tim! Good luck to you and your students this year!
FTC: this post contains affiliate links.