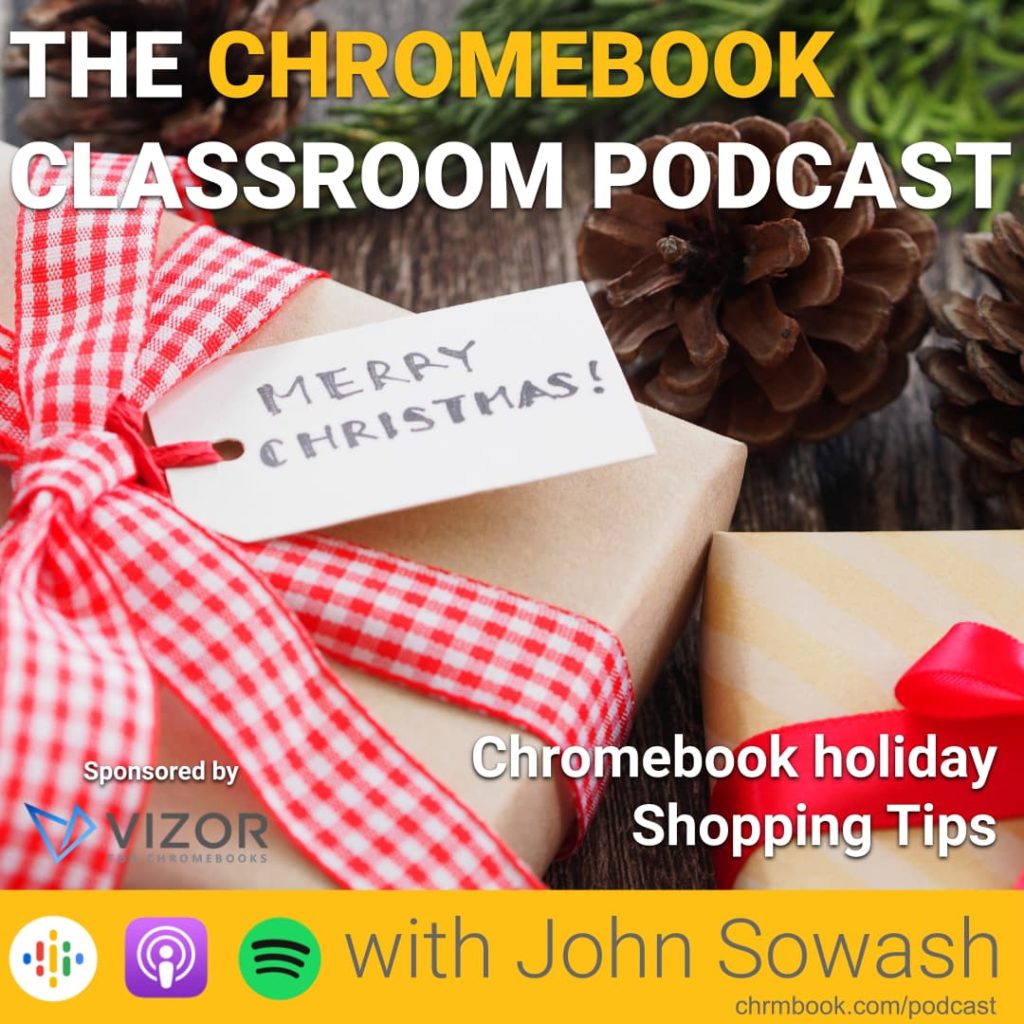 There are only a few weeks left in the 2021 holiday shopping season!
If a Chromebook is on the list for someone in your family, I have a few tips and suggestions for you!
Episode Sponsor: VIZOR
VIZOR provides Chromebook 1:1 Management Software for Schools. You can schedule a no-obligation demo of VIZOR before the end of the year for 20% off your first year.
Buying a Chromebook for someone this Christmas? Here are a few tips and ideas.
While Chromebooks come in various sizes and shapes, they all run the exact same operating system. You don't need to worry about compatibility or getting an "old" version.
Chromebooks vary widely in price. You can purchase them for $100 all the way up to $1,000+. The price you pay is dependent on these four factors:
Screen size and touch – The bigger the screen, the more you pay. Adding touch also impacts cost, but not as much as you might think.
A touchscreen Chromebook should only be $30-40 more than the non-touch model, which is why I typically recommend getting a touch screen if it is available.
RAM (4GB or 8GB) – The more apps and tabs you have open, the more RAM you will need.
4GB of RAM is standard, and acceptable if you are using your Chromebook to browse the web, do school work, play casual games and watch movies.
If you plan on doing video editing, playing a lot of intense games, or starting a podcast, I would recommend purchasing a device with 8GB of RAM.
Processor – Chromebooks come with a wide range of processors. Keeping track of the different processors is very challenging and technical.
In my opinion, RAM will have a more noticeable impact on your Chromebook experience than the speed of the processor.
Furthermore, the processor is usually linked with the size of the device and the amount of RAM. If you purchase a device with more RAM, you will probably end up with a more powerful processor as well.
Storage Capacity – Chromebooks come with an internal storage capacity ranging from 32-128GB+. Because Chromebooks are designed to run on the web, allowing you to save your documents, photos, etc in the cloud, having a lot of internal storage isn't necessary.
If you plan on running a lot of apps, you will need a decent amount of internal storage. 64GB is more than enough for the average user.
Where to find the best Chromebook deals
You can buy Chromebooks at nearly any online or traditional retail store, but that doesn't mean you should!
My biggest tip is to AVOID buying Chromebooks from Amazon. Their listings are a mess. There is a very good chance that you WON'T receive the Chromebook you think you are ordering. Amazon is full of inaccurate information and listings for old devices that you do NOT want to purchase.
My favorite place to purchase Chromebooks is at my local BestBuy. They usually have a nice selection of in-stock devices and offer some really nice discounts. Their website is well organized, but I still prefer to shop in-store.
Target, Walmart, and Costco are also good stores to check. Again, I would recommend visiting the actual retail store as navigating their online listings is challenging (especially Walmart).
Chromebook Accessories
Here are a few additional add-ons you can use as stocking stuffers for your Chromebook users!
USI Stylus – if you purchase a touch-screen Chromebook, I would recommend getting a digital pen. This model from Penoval ($49) is my favorite.
Drawing Tablet – If you didn't get a touch screen, or you have an aspiring artist in your family, consider purchasing a drawing tablet from Wacom. If you need to do precision drawing, a drawing tablet will give much better results than a touch screen.
USB-C Hub – Chromebooks don't come with a lot of ports, so you might need a dongle if you plan on plugging in webcams, microphones, SD cards, etc. I have been using this adapter from HooToo ($49) for three years and it works great!
Printer – Yes, you CAN print from a Chromebook, but not all printers work nicely with ChromeOS. I recommend Brother (I have this one) or HP (I have this one) for the best experience. I would AVOID Canon at all costs (read the comments on this post for confirmation)
Additional resources: