If you want to master a skill, you need to practice.
For teachers, giving students opportunities to practice can be difficult:
Creating practice problems is time-consuming
Students and parents are frustrated when they get stuck on a homework assignment
Grading practice problems quickly is difficult for teachers
Introducing Practice Sets for Google Classroom
Today the Google Classroom team is announcing a new feature called "practice sets" which aims to improve the ability for teachers to assign practice problems and assists students in successfully completing these practice opportunities.
This feature is being announced today with an open invitation for teachers to join the beta program to gain early access to practice sets.
Related post: listen to my interview with Taryn Sullivan, lead product manager for practice sets for Google Classroom!
A simple way to create practice activities
With practice sets, teachers can create practice problems inside Google Classroom using existing classroom resources like PDFs and images.
When I taught HS biology, I remember the burden of coming up with multiple questions and practice problems for my students. The ability to re-use existing content means I won't have to spend hours coming up with new problems and questions.
You can snap a photo of a homework problem from your class textbook or upload a PDF of a science problem from your lab notebook.
Initially, practice sets will support multiple choice, multi-select, and free response questions.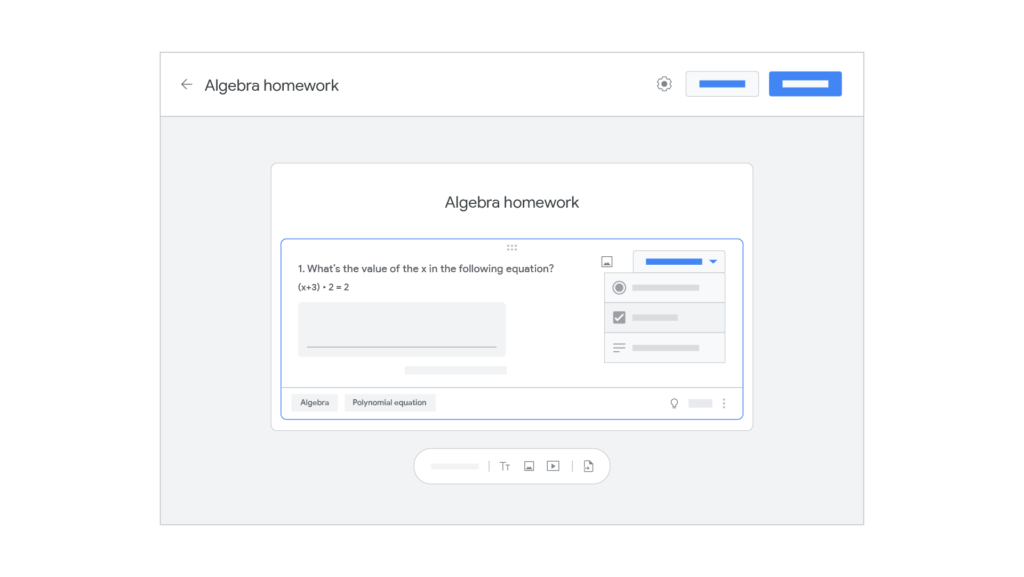 Just-in time help (with Google Magic)
It's super frustrating when students and parents work on homework assignments together and get stuck on a problem.
Google hopes that practice sets will solve the challenge of students getting stuck when working on homework activities.
Google is utilizing its machine learning abilities to provide suggestions and videos tips as students are working through an assignment.
In one of the demos, Google is able to look at an incorrect answer and point out where a mistake was made, allowing the student to try again….pretty cool!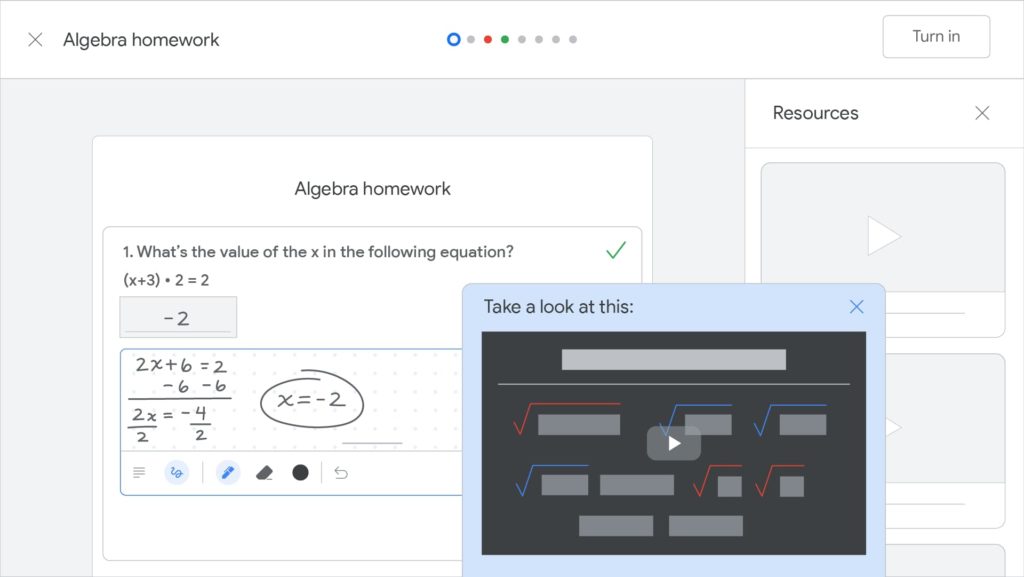 The hints and suggestions come from a highly curated collection of links and trusted resources to ensure that only accurate, helpful information is provided.
Teachers can preview their practice sets as a student to see what type of hints and hint cards are given.
Math instruction was a key focus for the development of practice sets. Students can use the built-in math keyboard to quickly add math symbols to show their work.
If you have a touch screen device, you can even show your work by writing your answer right on the screen!
"From the beginning we built practice sets to work well with math. Students can show their work using digital ink OR using the special math keyboard built into the practice sets tool." – Taryn Sullivan, lead PM for Practice Sets at Google
There's a lot of hope and promise for the suggestion features built in to practice sets, but like any tool powered by AI and machine learning, the results vary widely.
We'll have to wait to see if Google can truly deliver on its promise of providing students with just-in-time help.
Super auto grading
Grading might be the worst part of being a teacher (that or sub plans).
Classroom sets support an enhanced auto-grade feature that can intelligently grade student work, accounting for equivalencies and variations in student answers.
Taryn Sullivan, lead product manager for the Classroom Sets, said that her team took inspiration from the auto grading feature of Google Forms, but they wanted to make it even better.
"The autograder for practice sets is able to understand equivalent answers. The system knows that "3x+y" and "y+3x" are the same thing. This is going to really help teachers by providing better grading support for these practice activities." – Taryn Sullivan, lead PM for Practice Sets at Google
Initially, this feature looks to be aimed pretty specifically at math teachers. Many of the examples show how the auto grading can recognize that 1/2, 0.5, and 4/8 are all equivalent fractions.
Support for written variations (MI, Michigan, and Mich) is also being planned.
A new teacher dashboard will display all student attempts, giving teachers the ability to identify common mistakes and misconceptions which can be corrected during your next class period.
Again, this all sounds great…what teacher wouldn't want the ability to autograde homework assignments?
The true test will be the real-life performance.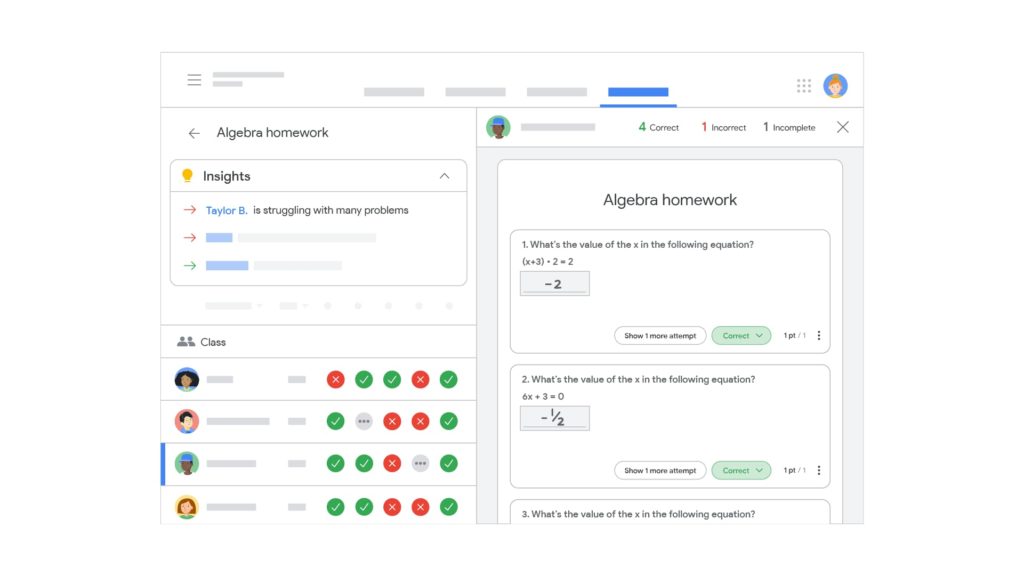 How to access practice sets
Practice sets for Google Classroom is still under development but the development team is looking for beta testers to give early feedback on the product.
Practice sets will only be available for districts that are using one of the premium versions of Google Workspace for education (Teaching & Learning or Education Plus).
Note: Initially, Practice Sets will only be available for the web version of Google Classroom. iOS support will be added at a later date.
The beta program is launching globally, however at this time this feature is only available in the English language (language support will be added in the future).
Anyone (teachers, principals or IT admins), are encouraged to apply for the beta program.
A full launch of practice sets is expected to occur sometime during the 2022-23 school year.
John's thoughts
The timing of this announcement is a little strange because Google has yet to officially release the features they announced at this time LAST YEAR!
I don't know anything about software development. I'm sure it takes a long time to create these new features, but if you can't launch them within a year of your announcement, you might want to hold off until things are closer to being finished.
I'm excited about getting beta access (pick me, Google!), but I'm worried that we might not see the final launch of practice sets for a year or more. Put on your patience pants! 👖
I am impressed with Google's ability to understand the needs of their users.
They did some solid market research.
This new feature does address some common classroom challenges:
It's hard to create high-quality activities.
Curating resources to help struggling students is a time-consuming task.
Teaching math with technology is hard (especially showing work).
Providing prompt feedback is challenging
I hope that practice sets can deliver solutions to these challenges.
Feature launches are fun; It's all excitement and promise, but when new features hit the "real world," they don't always live up to expectations.
If Google can deliver on their promises, practice sets will be a great addition for Google Classroom users.
If they don't, this will end up looking like another attempt of big-tech to "fix" classroom instruction or another delayed product launch that is "coming soon."