Today at the BETT conference in London, Google for Education announced a number of updates and improvements to tools including Classroom, Docs, Meet, and ChromeOS.
These spring updates fit into Google's past update cycle of announcing new features in the early spring and late summer.
While some of these updates were expected, there are a few interesting tools that should capture the attention of teachers. 🫣
I'm really happy Google chose to release these new features now, giving teachers a chance to test them out before the end of the school year.
Let's take a detailed look at these spring announcements from the BETT conference: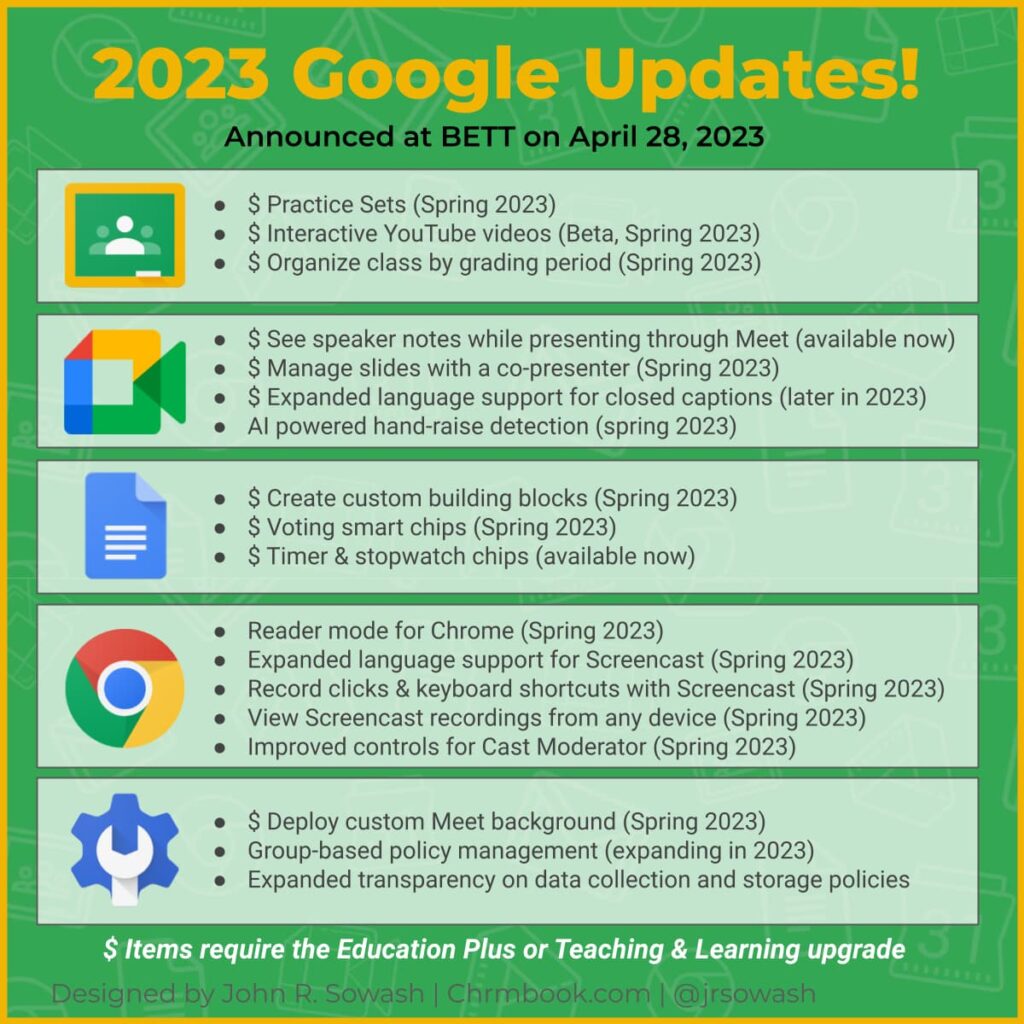 Note: updates marked with $ require the Education Plus or Teaching & Learning editions of Google Workspace for Education.
Google Classroom Updates
There are three nice new updates to Google Classroom that teachers will be able to test out before the end of the 2022-23 school year. All of these updates are scheduled to be released later this spring:
$ Practice Sets move to general availability
Practice sets are a premium feature for Google Classroom that simplifies the process of creating practice assignments for students. Students are provided with AI-powered suggestions and hints when they get stuck on a problem. While practice sets can be used with any age or subject area, it is clearly targeted toward math education with a rich selection of tools that math teachers will appreciate.
I have been beta testing practice sets for the last six months. This period was absolutely necessary for Google to refine and improve this feature before making it available to all Google Workspace plus customers.
One noteworthy addition is the ability to share and copy practice sets, making this something that a department or grade-level team can use together for common activities.
Practice sets will be available to all Google Workspace Education Plus and Teaching & Learning customers in the spring of 2023.
$ Interactive YouTube Videos (Beta opens in spring 2023)
This fun update makes it easy to turn any YouTube video into an assignment by adding multiple-choice questions that are automatically displayed to students as they watch the video.
The ability to add questions to a YouTube video further enhances the use of video for instruction, something that teachers AND students seem to enjoy.
As you might expect, this is another premium feature that will require that your district upgrade to the teaching and learning or Education Plus edition of Google Workspace for Education.
Click here if you are interested in beta testing this new feature! Google didn't announce when this feature will emerge from beta, but if past experience is any guide, it is likely to be 6-8 months before it becomes generally available.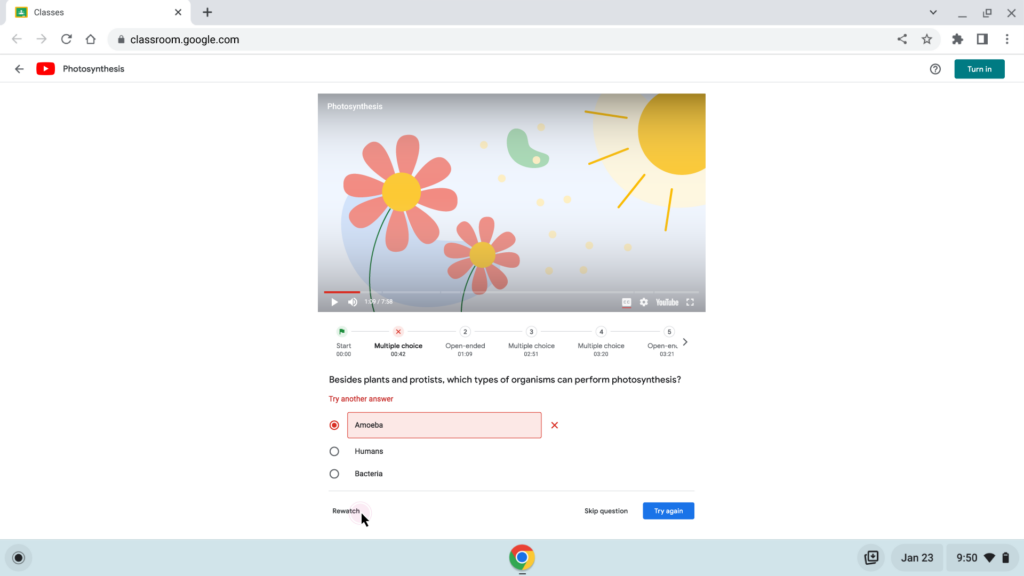 $ Organize your assignments by grading period (spring 2023)
There is a long and passionate debate about the best way to organize assignments in Google Classroom. I have been recommending that teachers create a new class each marking period to simplify their assignment page and prevent students from turning in old assignments. That recommendation might need an update with the latest Google Classroom feature.
Teachers will be able to specify a grading period which will automatically group assignments. This makes it easier for students to view assignments for the current period and provides more organizational flexibility.
This feature will be available to all education plus and teaching & learning editions and is expected to launch this spring.
EXCLUSIVE: during my interview with Googler Morgan Weisman on the Chromebook Classroom Podcast it was revealed that this grading period feature is the first step toward adding the ability to lock assignments in Google Classroom. This much-requested feature is under development!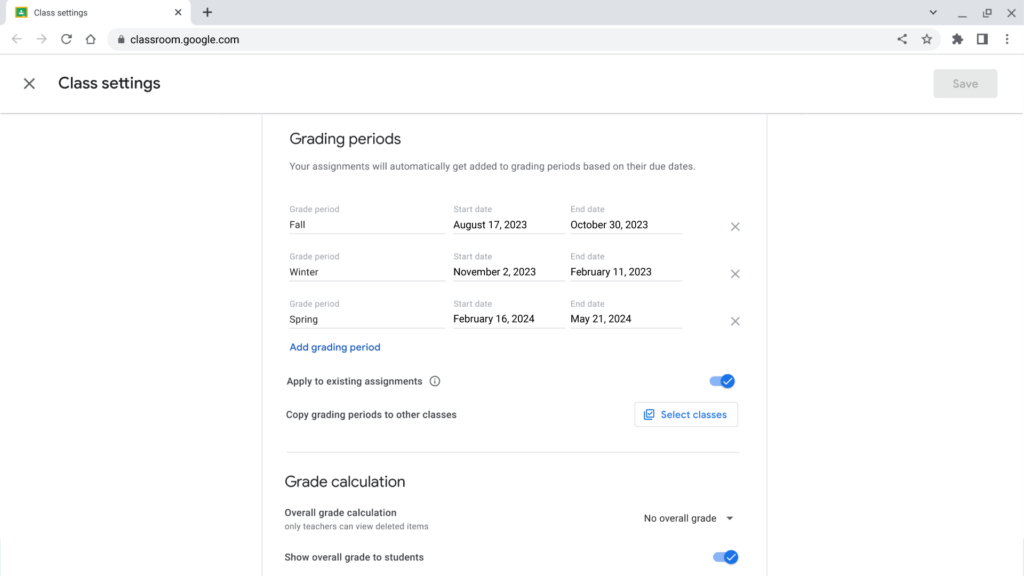 Google Meet Updates
While the pandemic may be over, Google continues to improve the video conferencing capabilities of Google Meet. Don't overlook these cool new features! Google Meet is becoming an interesting way to record and share presentations, facilitate group work, and support English language learners. Here are the latest updates to Google Meet for 2023.
$ Google Slides Integration – Earlier this year Google announced the ability to view speaker notes for Slides while presenting through Meet. Later this spring, co-presenters will also be able to advance and control a slide deck collaboratively while presenting through Meet. No more "next slide please!"
$ Expanded language support – Meet's auto caption and translation feature is pretty impressive. Later this year Google will be adding additional languages to this feature, which is great for students who are English language learners.
Hand raise detection – this is a fun new feature! Raising your hand IRL will also trigger Meet's hand raise feature. As someone who hosts a LOT of webinars, this is a great addition!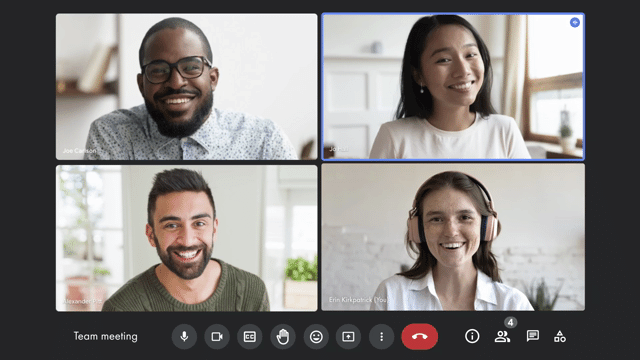 Google Doc Updates
It's been 18 months since Google introduced the idea of the "smart canvas" and "smart chips." I've been excited about these new features and the latest updates to Google Docs have a lot to offer.
$ Custom Building Blocks (Spring 2023)
Building blocks are templates that you can quickly insert into a Google Doc. Up to this point, only Google was able to create building blocks. This latest update will allow Education Plus domains to create and share custom building blocks.
This means you can turn your lesson plan template, rubric, or IEP forms into building blocks that you can quickly insert into any Document.
Related video: Smart chips for Google Docs
$ Voting Chips (spring 2023)
This new type of smart chip lets collaborators vote on ideas inside of Google Docs. This is an interesting new feature for staff collaboration, group projects, and whole-class activities.
Timer & stopwatch chips (available now)
These two new time-based smart chips have several interesting applications for teachers and students:
Set a countdown timer for idea generation
Time your presentation length
Calculate reading speed
Set a timer for quiet work
I'm eager to see how teachers take advantage of the new timer chips for Docs!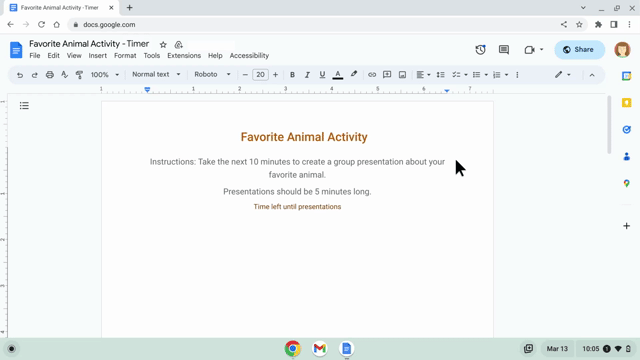 Chromebook Updates
ChromeOS continues to impress with new devices and special features that are great for teachers and students. These announcements are improvements for Cast Moderator and Screencast for Chrome which were announced in late 2022.
Screencast for ChromeOS (spring 2023)
If you haven't tried the Screencast video recorder for Chromebooks, you need to check it out! The latest updates include expanded language support, recording clicks and keyboard shortcuts, as well as the ability to view Screencast recordings on any device.
I'm really glad that Google is making Screencast recordings accessible on any device. Why go through the trouble of making a great video if it can only be viewed on a Chromebook?
Cast Moderator Updates (spring 2023)
If you missed the previous announcement, Cast moderator is a special software update for Chromecast that allows teachers and students to wirelessly share their screen to the front of the room. Today Google is announcing some nice improvements to Cast Moderator like the ability to freeze the screen and switch between tabs with a click.
Cast moderator features enhanced security controls and is designed to be managed and deployed across an entire district. Cast moderator supports managed Chromebooks and devices using a managed Chrome browser.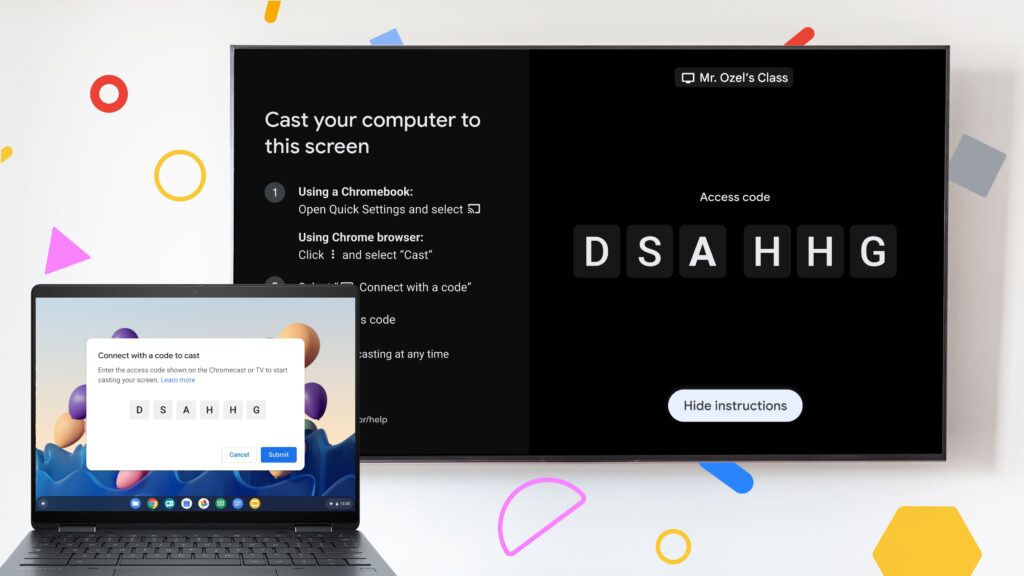 Reader mode for Chrome (spring 2023)
It is estimated that 20% of students struggle with a language-based learning disability, such as dyslexia. Reader mode for Chrome is a new feature that provides a simplified view for web articles with the ability to adjust the font size and contrast. This simplified view minimizes distracting content and improves text visibility.
Google Admin Updates
The ability to manage and customize user policies is a key reason why schools use Google Workspace for education. Google's spring updates include several nice updates for the Google Admin Console:
Deploy custom Meet backgrounds (spring 2023) – IT admins can now manage the availability of virtual backgrounds.
Expanded transparency on data collection & storage policies – Details were a little sparse on this announcement. Google recognizes that student data privacy is an important issue and is dedicated to providing IT administrators with more information on what data is being collected and where it is being stored. This seems to apply to Google's products as well as third-party tools such as Chrome extensions, add-ons, and Android applications.
Group-based policy management – Earlier this year Google enabled the ability to provision apps and extensions to groups in addition to organizational units. Google has committed to expanding group-based policies starting with user and browser-based settings in 2023.
Wow, that was a lot!
If you read all the way to the end of this post, congratulations! You are officially a Google nerd, and my kind of person 🤓!
I am eagerly awaiting access to these features, just like you, and will be sure to share my thoughts and ideas for using them in the classroom!